Food Trucks Hit Charlotte
With the recent arrival of a veritable fleet of food trucks, some of the Queen City's tastiest dishes are being served from the sides of parked vehicles.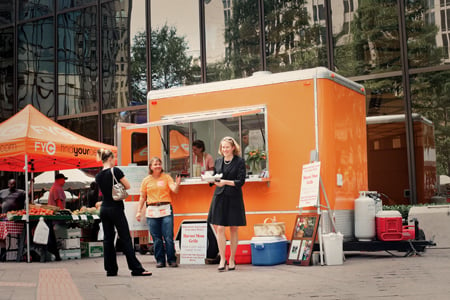 These chefs of the road are updating Twitter feeds and websites to share where you can find their roving kitchens, which offer inexpensive—and often gourmet—food. Whether you're looking for an afternoon cupcake snack or tacos for dinner, we've found nine trucks worth tracking around town.
Napolitanos
The Food: Old-school Italian
Best Dish: The caprese sandwich, featuring fresh mozzarella, tomato salad, and basil on garlic bread
Fun Fact: The truck's owners use recipes that go far back in their Italian family.
Find It: On Twitter at @NapolitanosMkt or napolitanositalianmarket.com
Cupcake Delirium
The Food: Cupcakes and cake pops
Best Dish: "The Elvis," a banana cupcake with peanut-butter frosting and brown-sugar candy bacon
Fun Fact: The owner's truck, which she calls "Baby Blue," is a converted van with a raised roof.
Find It: cupcakedelirium.com
Harvest Moon Grille
The Food: Fresh-from-the-farm dishes like deviled eggs and bacon
Best Dish: The carnitas: braised pork shank served with Ashe County cheddar cheese on a tortilla
Fun Fact: People know it as the Big Orange Truck and, since it was the city's first real food truck, it has a loyal following among local foodies.
Find It: harvestmoongrillecharlotte.com
Southern Cake Queen
The Food: Cakes and cupcakes
Best Dish: A strawberry cupcake with fresh strawberry puree and hot pink vanilla butter cream icing
Fun Fact: A financial planner by day, the owner can often be found selling her cupcakes at Price's Chicken Coop in her pink former UPS truck.
Find It: On Twitter at @southerncake or southerncakequeen.com
Holy Matrimony Wingzza Truck
The Food: Wings and Pizza
Best Dish: The Carolina Buffalo Wings offer a local, barbecue-flavored twist on the traditional buffalo wing sauce
Fun Fact: This former corporate executive creates six different sauces from scratch for both the wings and the pizza.
Find It: On Twitter at @WingzzaTruck
Roots
The Food: Fresh and local fare
Best Dish: Braised pork tacos in a crisp flour tortilla with cilantro and spicy peach salsa
Fun Fact: The truck owner is a classically trained chef who often joins with local farmers to host farm-focused catered dinners.
Find It: On Twitter at @rootsfarmfood or rootsfarmfood.com
Outdoor Feasts
The Food: All things pork
Best Dish: Boudin French sausage and rice with pork, bell peppers, and onions
Fun Fact: The owner, who goes by Dan the Pig Man, often serves his award-winning Carolina Pig Pucker BBQ sauce.
Find It: outdoorfeasts.com
Roaming Fork
The Food: SoCal-style tacos
Best Dish: Blackened fish taco with roasted corn salsa and cilantro lime sauce
Fun Fact: This oversize green truck with a fork painted on the side can occasionally be found on the streets of Gastonia and other nearby towns.
Find It: On Twitter at @roamingforknc or roamingfork.net