Football Sundays: Rooting for the "Home" Team
In a city full of transplants, bars cater to out-of-state NFL fans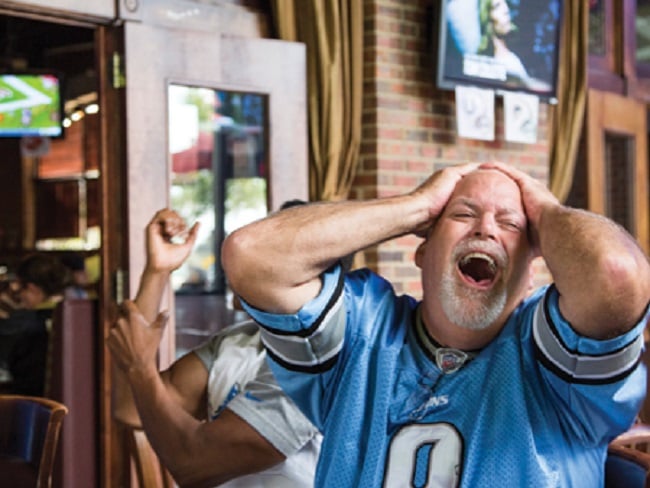 The Detroit Lions, my hometown team, are playing the Arizona Cardinals on television screens all around me. Fans in Lions jerseys fill the surrounding seats. In the Hickory Tavern near Northlake Mall on a Sunday afternoon in September, I start to tell them a story about Thanksgiving.
For years, my wife and I have argued about the proper time to eat Thanksgiving dinner. She says 2 p.m. I say 4, so I can watch the Lions game, which I've done every Thanksgiving that I can remember.
"My wife says, 'They lose every game. Every year, you're so mad by 2, why do you still …' "
Before I finish, everybody in the group smiles and nods.
These are my kind of people.
The team has Detroit in its name, but this is a state of Michigan group. Only Stephanie Mack and Tom Lukasik lived in the city. I grew up in the suburbs. Meg Collins is from Kalamazoo. David Roberts is from Flint. Tim and Eric LeVigne are from northwestern Michigan. I know Tim from church. He runs a Facebook page devoted to expat Detroit sports fans and coordinates these gatherings, which have been going on at Hickory Tavern for three years. There's also Jamie Merritt, a North Carolinian who became a Lions fan as a young boy because he liked the colors; and his girlfriend, Amy Branch.
I think I said hello to Merritt at the Toys "R" Us across from Concord Mills a few years ago. He was wearing a Barry Sanders jersey, and I always say hello to people in Detroit sports jerseys.
The game goes on. The Lions fans jump and yell and curse. It sounds like my family's living room in here. I long ago decided my fandom would transcend winning and losing. I got so sick of the spectacular ways the Lions lost that I now try to watch as a disinterested party. This remains a work in progress—see: anger at Thanksgiving.
My fellow fans and I share common experiences aside from rooting for the least-rootable team in sports. We fled Michigan for jobs. We stay down here because we love the weather and opportunities and because there's nothing to go back to. Still, there are some things we miss. Summers in Michigan are spectacular. I almost choke on my shrimp and grits when Stephanie and Tim say they miss Coney dogs—a hot dog with chili, mustard, and onions. I thought I was the only one.
As for the game, the Lions blow a second-half lead via a blocked field goal, a turnover negated by a penalty, a fumble deep in their own zone, and their baffling tendency to play with the same weaknesses they played with 20 years ago. They allow the winning touchdown with less than two minutes left, the 47-millionth time they break their fans' hearts.