For Charlton Alicea, Life Is A Cabaret
Revue's Q&A with a star of CPCC's upcoming production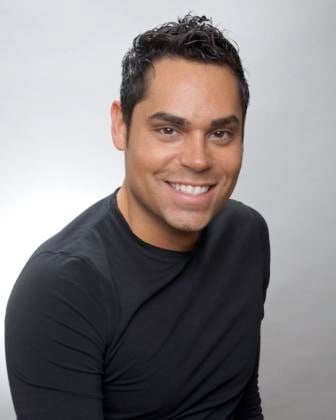 Charlton Alicea is a busy man. He dances professionally and teaches ballroom dancing. He's a hairstylist. He works part-time at Jeffre Scott Apothecary. And last year, he added "actor" to his resume when he starred in Theatre Charlotte's production of RENT. He's now taken on another role that involves acting, singing, and dancing. Some people have all the talent.
You can catch him next in CPCC's Cabaret. Feb 17-26. Details here.
Revue: Although you're a professional dancer, you had not acted professionally until your role as Angel in RENT at Theatre Charlotte last summer, right? And, now you have one of the leads in Cabaret. You haven't exactly had to start at the bottom and work your way up. Is your head spinning?
Charlton Alicea: [Laughs.] Well, I am pleasantly surprised. But, this is what I've always wanted to do and pursue as a passion. I feel like I breathed it into existence, in a way. I know that sounds strange, but I willed this to happen. I believe in the power of thought and energy. But, I do feel truly blessed.
In high school, I was involved in singing, dancing, and acting, but at that age, I felt like I had to focus on just one thing.
Revue: Is it a little intimidating to play an iconic role in a show that's been around since 1966?
CA: I'm a little bit nervous, because I want to do the role justice. But more than that, I'm honored to play a part I've always wanted to play. I have such great predecessors to look to. Joel Grey did the original, but since then, there's been Alan Cumming and John Stamos and Neal Patrick Harris. I've got a lot of great reference points to draw from in creating this character.
Revue: How do you plan to make the role your own?
CA: Well, I'll definitely bring some spiciness to it. There will be Latin heat for sure. [Laughs.] It wouldn't be me if I didn't, right?
Revue: What's your favorite song you get to sing?
CA: I love "Wilkommen," and "Two Little Ladies" is going to be a lot of fun.
Revue: It's hard to imagine there are people who aren't familiar with or haven't seen Cabaret. But, let's assume there are. How would you describe it to them? I thought it was supposed to be about drinking, partying and dancing — Life is a cabaret, and all that — until I saw the show when I was in my 20s. I was shocked at how dark it was.
CA: Yes, the story takes place in Berlin in the 1920s. I would say it reminds me of that phrase, "Life is like a dance, and you only get one performance." We only get one shot in this world, and we've got to live life to the fullest. In that respect, the show is a little like Breakfast at Tiffany's and RENT. Sally Bowles reminds me of Holly Golightly a lot. They're both Bohemian free spirits.
Revue: You get to dress in drag for this role, too. Is that going to become your trademark? Will you only take on roles that allow to dress in drag? I must say, you make a very attractive woman. You've got killer legs.
CA: [Laughs.] That'll be up to our costumer. I've seen both the old Joel Grey version, where he's in a bow tie and tails. And, the modern versions have the emcee shirtless with suspenders. We're sticking more to the traditional Cabaret.
Revue: [Any parallels you see between RENT and Cabaret?]
CA: Cabaret was really a precursor to RENT. What was going on in Berlin is similar to what was going on in Alphabet City in New York. In both cases, there's an external force that threatens people's existence.
Revue: The Nazis are beginning to come to power when this musical is set. How does your character feel about the Nazis? Where do his sympathies lie … or does he really just want to keep the party going?
CA: I definitely think he feels it's his job to keep the party going — that if he does that, he can keep the Nazis at bay. He sings "If You Could See Her" with a woman in a gorilla suit, but what he's really saying is, "If I were dating a Jewish woman …" He's more than just a party boy. He sees what's going on, and he's got a message. There's a dark cloud coming, but his service to his people is to just keep singing and dancing.
Revue: Why do you think this musical has been revived so frequently over the years?
CA: The issues it talks about are still just as prevalent today. The same story will keep coming around until we can overcome or surpass it.
Revue: What's next for you?
CA: Well, Angel and the Emcee were definitely at the top of my list. I do want to stretch myself, though. I'd like to play Scarecrow in The Wiz and the dentist in Little Shop of Horrors.
Editor's Note: A small part of this article — the question about parallels between RENT and Cabaret — has been amended since its original publication date.