Forever Home
An interior designer and her husband set out to design a home that would grow with their family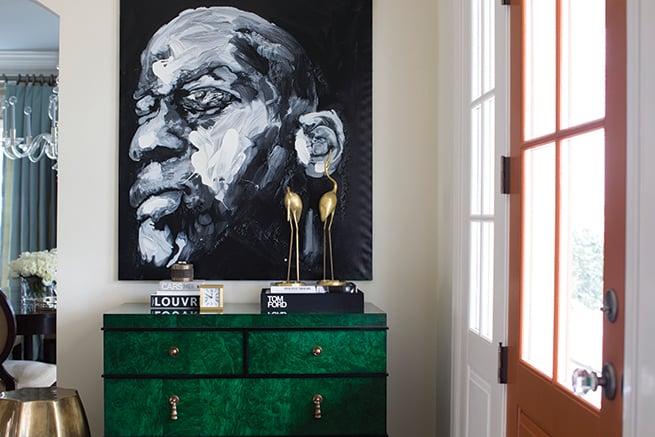 Before Traci Zeller and her then fiancé, Mike, walked down the aisle in 2002, the couple knew that they wanted to find a home to begin their lives together. But the two had to make some compromises early on. "Mike wanted new construction, and I wanted something in town," says Traci, an interior designer. "That's not easy to find!"
After looking at homes throughout Charlotte and nearly giving up hope that they would find a home that met both of their requirements, the couple came across the one remaining lot on a cul-de-sac in a quiet Cotswold neighborhood. With just nine custom homes planned for the quaint street, located close to town, Traci and Mike were smitten.
The couple scooped up the remaining lot on which a custom 4,000-square-foot spec home was already in the process of being built—at that point, the footers had been poured and the layout set—and began to customize the finishes that would become the foundation for their "forever home," as Traci calls it.
But like most couples, Traci and Mike started from scratch design-wise, combining what little furniture and accessories they had acquired as singles. "When we first moved in, half the house was empty," laughs Traci. "We would joke that you could stand in one room and hear the echo throughout."
Though they took their time furnishing the home—buying staple statement pieces in the beginning and investing in artwork and accessories they loved over the years—the design, what Traci calls modern classic, has barely evolved.
An orchid display by Pamela Lovett adds a posh, earthy touch to the textures and patterns in the Zellers' dining room.
With the addition of their now seven-year-old twin boys, the designer has tweaked things here and there to make the home functional yet stylish for the active family. "What was really important for me as a designer was that we built this house around living in a chic, sophisticated home without sacrificing the functionality because we have kids," she says. "My boys have grown up around beautiful things. There's no room in our house that's hands-off. I don't have to treat it with white gloves."
The great room and adjacent kitchen is just one example. "That room really has evolved the most," Traci says. She's constantly pulling furniture and accessories from this space to add finishing touches to others. "It ends up getting the leftovers, and I don't know why that is. [Though it's evolved], its overall design has been pretty constant for a while." Originally a "delightful shag rug" was the anchor to the room—"perfect for when the boys were crawling because it was so plush." But as the kids grew, so did the amount of toy parts the couple would find buried in the rug. Traci pulled the shag and replaced it with a subtle animal-print rug in a cozy, grayish brown by Suzanne Kasler.
Similar to the design of the rest of the home, the wine room—once designated a TV-viewing space—boasts a sophisticated but family-friendly décor so the Zellers can entertain with friends or hang out with their boys. Mike, a wine aficionado, asked Traci to design a space that would double as a place to entertain but also function as a tasting room. The result is a coupling of various staple pieces—such as a Hickory Chair sofa and chair and a Darryl Carter-designed coffee table turned tasting table from Thomasville—with splurges including Schumacher Chiang Mai fabric used for window treatments and complementing pillows and custom, temperature-controlled built-ins for wine storage.
Traci applied the same design principles of stylish yet comfortable living to her twins' bedroom. A painting of New York City, Mike's hometown, hangs above the dresser, serving as the inspiration for the playful room. From there Traci used another Schumacher fabric for the custom bedding and threw in color via the lime-green dresser and red tufted headboards to keep the room from feeling too grown up.
Ultimately, Traci is proud that although she and Mike have lived in their home for 11 years—seven with kids—the design hasn't changed much. "I'm a pretty consistent person," she says. "There are some things I'd do differently now, but they're relatively minor. I wanted it to look like a house that had been there for five or 50 years. We knew we would grow into it, and we totally have."