Forever Local?
Everyone seems to agree that eating food grown nearby is better than eating food grown far away. Yet the local food movement remains a decidedly boutique affair. Local farmers and entrepreneurs are working together to change that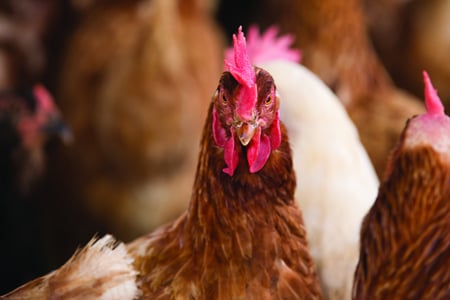 On the first 100-plus-degree day of 2012, the corn stalks lining the rural roads near Charles and Dana Burrage's farm seemed to be making an archway over the steamy pavement. Their neighbors' cornfields line their twenty-seven-acre property, aptly named Windy Hill Farm, in New London. It's possible that the corn they watch grow from their back porch will be the same corn ground at a local mill to feed their chickens, ducks, and pigs this fall.
The Burrages don't make as much money as they did in their old jobs—he drove a truck and she designed modular homes. Now they take pride in contributing to their community's health, gastronomically and economically. They're careful about how their animals are raised, fed, slaughtered, packaged, and sold. They do their best to buy from people they know, fellow farmers they can quiz about their practices eye-to-eye. "My money is going back to my neighbors," says Charles, which means more to him than any claim on a package's label because, he says, "'organic' feed can come from China."
After they married in 2004, the couple (he's thirty-one, she's twenty-nine) purchased their land to be a play place for their future children (Mason is now six and Brooke is three). It was supposed to be a place to take the kids camping and four-wheeling. Then Charles determined that he was getting sick after eating meat from area restaurants and grocery stores. That's when they decided to raise their own. They began with a couple of pigs and a few chickens—enough for their family and friends. Now they average ten head of cattle, a hundred pigs, forty sheep, seventy-five to a hundred turkeys, several ducks, and about 500 each of "layer" and "boiler" chickens (which they process themselves) on the farm year-round.
They don't give hormones or antibiotics to the animals, and the livestock are only allowed to graze on one section of a pasture at a time. This rotational grazing, Charles explains, gives "the land time to heal. It re-greens thicker and stronger." Charles says he's really a grass farmer, and it's his job to ensure the grass never gets too short.
Windy Hill sells its meat through online buyers' clubs and community-supported agriculture (CSA) programs. A full order gives customers twenty pounds of meat and two dozen eggs (white, brown, and light green), though customers can request a half order. The Burrages also sell their products à la carte at area farmers markets. They participate in several of them, all within a fifty-mile radius.
The farm is one of thousands in North Carolina that sells directly to its customers. It sounds like a lot, but most of those farms are very small operations, in some cases only serving one or two nearby markets. But they're the bulwarks of a growing segment of society that's interested in a deeper connection with its food. You've seen it happen in Charlotte, which all of the sudden has more than two dozen farmers markets, some operating all year long. You can arrange to pick up or receive shipments of produce from any of several local CSAs. And area restaurants proudly proclaim on their menus which ingredients are sourced locally.
"It costs me a lot to raise the animals the way we do," says Charles Burrage. "But for us, quality trumps quantity."
But the local food movement is still a boutique one. Farming is a difficult lifestyle—difficult and not lucrative. Farmland is expensive and might take years of revenue-free labor to convert for agriculture. For these and other reasons, locally grown or raised food costs more than its mass-produced counterparts. The Burrages, however, are not deterred. Nor are other hearty souls. In fact, a loosely connected group of local entrepreneurs—not all of them farmers—is busy developing creative ways to make it easy for everyone to access local food.
Figuring out how to make a living by farming is more of a struggle than one might imagine, especially for those who primarily raise and sell produce. A major obstacle for some farmers is land ownership—if they have to rent or lease it, they have less long-term security, no matter how in demand their goods may be. Another way for farmers to extend their selling season is to raise foods that have a naturally long shelf life or to make another type of product, such as cornmeal or canned goods.
Seasonal produce is something that Eric Williamson, owner of Coldwater Creek Farms, thinks about a lot as he ponders ways to stretch his selling season. Unlike the Burrages, whose meat products can be produced and sold anytime of the year, Williamson plants about fifty varieties of vegetables on his Cabarrus County farm each year. The problem is, he doesn't own the land. He leases it.
His other rented space, a booth at the Atherton Market, is full of large green-and-white coolers where the week's CSA pickings are iced and waiting for the prepaid customers to arrive with their shopping bags. As he talks, he turns a sweet potato over and over in his hands before snapping it in half. It's one of the many crops he grows that has a long shelf life, enabling him to maneuver around the "seasonal debate," or the idea that local food can only be consumed in a single season. For example, he sells garlic scapes—the tops of garlic plants used in soups and pestos—and celeriac, the turnip-like root of some celery plants. "We also try to do the bookends: the lettuces, the chards," he says. Those are plants that are grown in the early spring and late fall. What you will not find him selling, however, are tomatoes. "Everyone grows those," he says.
While his focus on unique produce attracts chefs and serious foodies to his stall, he's not sure that he'll be able to continue farming for much longer. "I can't plant things that are going to be there in the future because I don't own the land," he says. If he owned his land, he says, he'd plant peach trees or berry bushes. Beyond buying land, he estimates that it costs hundreds of thousands of dollars to get into the farming business. Plus, there is no 401(k) to look forward to after a lifetime of working twelve-hour days in the sun. "It can be love at times," he says. "There's nothing better than working outside. But it can also be really hard, and you begin to understand why people monocrop."
Monocrops—where only one type of plant is grown instead of a variety—are not good for the soil, and healthy soil is critical. Not long after settling down to farm, our ancient ancestors figured out that if you plant the same plant on the same land year after year, the land becomes depleted of certain nutrients, and their crops suffered for it. That's partially why industrial agribusinesses rely so heavily on chemicals to keep pests at bay and crop yields up—they have to pump the soil full of artificial fillers to convince the plants to grow.
In traditional farming, which is what most local farmers practice, animal manure isn't stored in slurry ponds that can contaminate waterways. Instead, it's returned to the earth as a natural fertilizer. And cover crops, such as barley and winter rye, are planted and tilled into the earth as "green manure." The resulting soil is full of microbes, worms, and bacteria, and it uses water more efficiently, so the plants thrive.
After a plot of land is developed or used for industrial farming, it takes at least three years to work the soil back into a healthy state, as it detoxes from years of chemical treatment and a lack of diversity. During that rehabilitation period, weeds tend to grow in abundance and produce doesn't, which ultimately means that the farmer isn't making much money—if any. If the land needs to be rehabbed, it could be years before it turns a profit.
LynnErin Tyler, the owner of Simply Local, became interested in local foods when she began shopping for milk without hormones or antibiotics. As she got more involved in the local food movement, she began to realize that the story behind the food matters. She makes an effort to meet all of the farmers and food producers whose products she sells. "I want to know the story behind it so that I can convey it to the customer," she says. She sells locally sourced pantry items, such as corn meal and pasta, at her Atherton Market booth.
While the state defines "local food" as food that's grown or produced in North Carolina, Tyler says, "I don't exclude something from South Carolina; if it's close, it's close." Her definition of local—food produced within 100 miles—is one that resonates with most of the people interviewed for this article. Some also include concerns about oil and gas: it takes a lot of fuel, for example, to transport blueberries to Charlotte from Chile.
National security concerns inevitably creep into conversations about what "local" means to serious foodies. They point out that when oil prices rise, so does the cost of food—petroleum is used in chemical pesticides, fertilizers, and plastic packaging. They want to foster a self-sufficient, regional food network where local food producers look to area farmers for their ingredients. Many claim certain foods—such as tomatoes and eggs—taste better when they haven't been grown in greenhouses or spent weeks in transit or sitting on a supermarket shelf.
"We got used to mediocre food. We've lost what 'good' is," says Alan Hersh of Chosen Roaster, which is based in Waxhaw. Hersh roasts a variety of nuts at several area farmers markets and creates custom trail mix with a broad selection of dried fruits. Not all of those items—like cashews and kiwi—are local, but he says he buys local whenever possible and argues that his products should be considered local since they're processed, packaged, and sold locally. He's working with the state's Department of Agriculture and Consumer Services to encourage farmers to dry the fruit often left on trees, bushes, and in fields after harvest time. To him, that's another way around the seasonal debate.
Legislators in Raleigh are paying attention to the local food industry, too. An opportunity to invest in local, often rural, economies is enticing, especially if new jobs are created.
"A food system," as defined in a 2010 North Carolina State University study "is all the processes involved in feeding people—growing, harvesting, processing, packaging, distributing, marketing, consuming, disposing, and recycling."
When the study was published, there were nearly 4,000 farmers in the state selling directly to their customers, with more than $29 million in annual sales. According to the report, North Carolinians spent more than $35 billion on groceries in 2009. The Center for Environmental Farming Systems, which produced the study, urges people to commit 10 percent of their food budget to local foods.
More than 72,000 Charlotteans live in "food deserts," or areas without access to fresh fruits and vegetables at nearby food stores. Farmers markets and CSAs could fill this void.
In response to the study, state legislators created the North Carolina Sustainable and Local Food Advisory Council. The panel convinced the legislature to pass a law preventing viable farmland from being annexed by municipalities. It has also secured $1.5 million in funding for a program encouraging military bases to buy more North Carolina-made-and-grown products, and it secured another $3.4 million (over two years) for the N.C. Agricultural Development and Farmland Preservation Trust Fund (ADFP). The council is now requesting $55,000 to conduct a statewide local food survey. And, it wants the state and local governments to commit 20 percent of their food budgets to local food purchases.
Closer to home, the Charlotte-Mecklenburg Food Policy Council also looks out for local farmers, counting among its achievements the rescue of one Cabarrus County farm that was slated to be paved over by the state's transportation department. The council also worked with UNC Charlotte on two food-related studies. One major finding raised alarm bells about nutrition in the city. As of mid-2010, 72,793 Charlotteans—mostly in poorer neighborhoods to the east and north of the center city—lived in "food deserts," or areas without access to fresh fruits and vegetables at nearby food stores. Ideally, farmers markets and CSAs would step in to fill this void.
Food stamp recipients can now spend their government subsidies at farmers markets. Potentially, this gives market vendors access to a much broader clientele. But are consumers willing to pay higher prices for local food?
"It costs me a lot to raise the animals the way we do," says Charles Burrage. "But for us, quality trumps quantity." He says slow and steady is the only option when quality meat is the goal, but the extra time it takes to properly raise animals means more caretaking costs and fewer slaughters. That also means his products have a higher price tag than similar cuts of meat in grocery stores.
For Lori O'Keefe, an audit director, there's more to local food than the price tag. It's also about being able to speak directly to and develop relationships with the people who produce the food she buys for her family. She participates in a CSA for produce and for dairy, which she picks up at Williamson's booth at Atherton Market.
For her, eating locally began with pick-your-own berry farms, then the farmers market. She said she discovered that, in her estimation, local food "just tastes better." Though, she also says,
"Helping local farmers is a driver for me. They aren't using all types of things that are bad for you and the environment."
She pays $283 for a half share of produce and $70 for a full share of dairy products, both for fifteen weeks' worth of groceries. Sometimes, she doesn't know what kind of haul she'll get. For instance, she didn't receive any squash this year because of a squash bug invasion. However, she likes receiving e-mail updates about such things, which helps her to feel more connected to the farm. And she says it's touching when Williamson calls to check on her if she's late or if she hasn't shown up for a couple weeks. (If she doesn't pick up her share, it's donated to charity.) Ultimately, she says, "I think it's a great deal. It's a lot for what you pay for. We get a huge bag of food for under twenty bucks."
One of the main challenges the local movement faces is developing a variety of ways to get the food to consumers. Grocery stores work because they are convenient. Not everyone is able to visit farmers markets when they are open, or has use for regular deliveries from CSAs. Local entrepreneurs are stepping up to fill in those gaps.
While Williamson's focus on unique produce attracts chefs and serious foodies to his stall, he's not sure that he'll be able to continue farming for much longer. "I can't plant things that are going to be there in the future because I don't own the land."
Laura Neff says she came up with the idea for her company, Nourish, while enduring a plant-based cleanse. She remembers grumbling to herself about how difficult and time consuming it was to prepare the foods required for such a diet. "I started saying that someone should do something about this," she says, chuckling. Then she realized she could do it herself. Not long afterward she met Julia Simon, a personal chef specializing in vegan and gluten-free food preparation who just so happened to have a client who was determined to eat a Charlotte-centric diet.
Originally, Neff and Simon had hoped to create meals—which they would deliver—for twenty customers per week. Three weeks after they began offering their services, they had forty-five clients and a waiting list. By mid-June, after only nine weeks in business, they signed a lease for a larger kitchen space.
They claim to source locally as much of their food as possible, purchasing items they don't have time to make, such as juice and baked goods, from other trusted local producers. Their business has already spawned another—a friend's son, a recent college graduate, and two of his friends have created a local food brokerage called Put a Fork in It. It's a similar delivery service, but for restaurants and other food producers. As with Nourish, Put a Fork in It customers place their orders online.
It's a model that could help the Burrages and Williamson focus on their farms—and give the nascent local food movement a fighting chance.
As the busy summer market season winds down, the Burrages are looking toward the future. Unlike produce farmers, Dana says, "We tend to have a really busy winter." And this year may be even busier since the couple has begun selling meat wholesale Hink's Grill, in Albemarle. The same week Hink's added their pork sausage to its menu, Charlotte's 300 East ordered ten pounds of ground beef; the chef is looking for a new local source for meat.
The Burrages say that even though selling to restaurants is nice—"They pay quickly and buy a lot at once," Dana says—they're also cognizant of farming's burnout potential, so they plan to pace themselves. "We don't necessarily want to expand because we want to stay a small, family-run farm," Dana says, "We just want to keep the momentum going."
Rhiannon Fionn is an independent journalist and reguular contributor to this magazine.