Former Dancer Lauren McDowell Goes Green in Style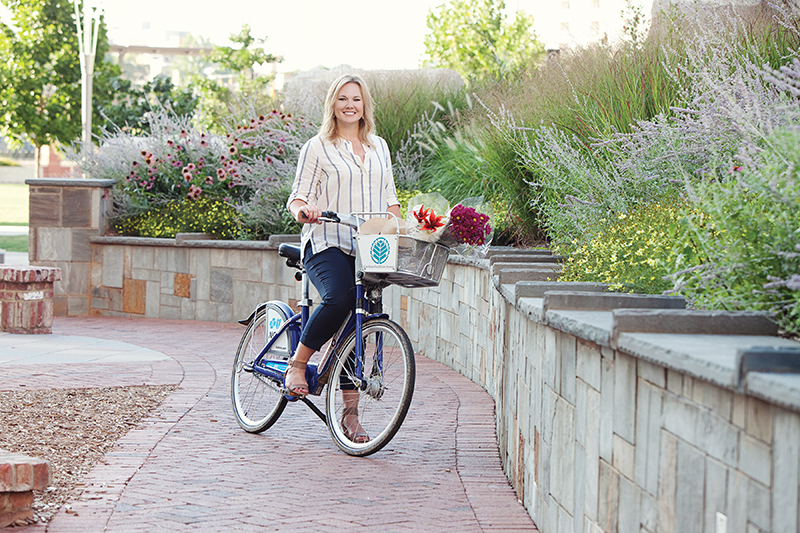 WHEN LAUREN MCDOWELL hung up her pointe shoes six years ago, she wasn't sure where her career would go next. She did know that she needed balance; she was about to get married. "I decided it wouldn't be good to be gone eight weeks at a time," she says. Her last dance performance was the night before her rehearsal dinner.
The classically trained dancer (she has a BFA in dance performance from East Carolina University) found a different kind of balance in the green building industry. At Barringer Construction, she's a liaison between the company and clients seeking LEED certification, an international green standard that's short for Leadership in Energy and Environmental Design. She follows the process from blueprints to light bulbs, tracking construction of healthy workspaces that are energy efficient. To date, she's certified 343,000 square feet of space, again finding a balance—this time, between what's good for the environment and what's good for business.
As co-chair of this month's Green Gala—the annual dinner and awards event sponsored by the U.S. Green Building Council—she's an anomaly in a business dominated by men. She's tall and tan with sparkling eyes, and she still moves with the elegance of a dancer. Her first career gives her an edge in a world of harried schedules and looming deadlines. "It takes a great deal of discipline to continue to practice and to work out," she says of the five years she spent as a performer and teacher. Discipline, coupled with a knack for improvisation, enables her to guide others in one of Charlotte's most dynamic sectors: the building industry.
---
GARDENING // When she's home for the weekend, McDowell enjoys gardening. She prefers native plant species, which require less water and attract a changing display of birds and butterflies.
---
GIVING BACK // McDowell is a regular volunteer on Habitat for Humanity construction sites. The nonprofit builds houses that are sold to qualified buyers at interest-free loans, and all Charlotte houses are built to LEED Silver standards.
---
COOKING // During her dance years, McDowell picked up restaurant jobs to ll daytime hours. She also picked up a love of cooking. This metallic gold KitchenAid mixer gets frequent use at home.
---
This article appears in the September 2016 issue of Charlotte Magazine
Did you like what you read here? Subscribe to Charlotte Magazine »
---