Former Pros Coach High School Teams
Students learn from the best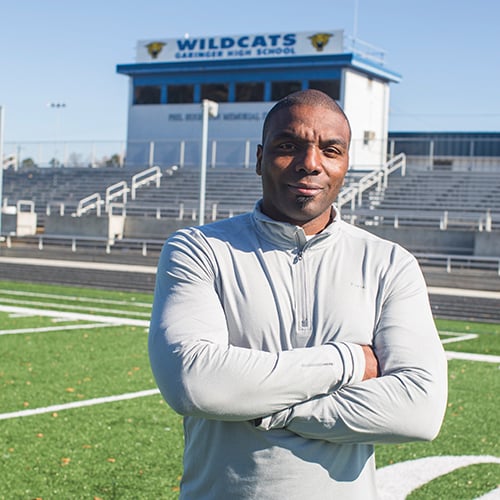 FORMER PATRIOTS and 49ers wide receiver Randy Moss is probably the biggest name among the former professional athletes who are coaching at Charlotte area high schools. When he's not making appearances on Fox Sports, he's associate head football coach at Victory Christian Center School. But he's not the only pro-turned-coach in Charlotte. Meet three other coaches leading local high school sports teams.
Photographs by Logan Cyrus
---
Clint Koppe
Math teacher and head baseball coach, East Mecklenburg High School
A pitcher, Koppe was drafted by the Oakland Athletics in 1991 after playing for the University of Texas at Austin. The Cincinnati Reds claimed him 1994, but Koppe never made it out of the minor leagues in his playing career.
Memorable coaching moment: "My first Senior Night as head coach in 2010. We beat the defending state champs, Ardrey Kell, 4-3, capping off East Meck's first winning season in five years. The following year, we beat them again on their Senior Night, 11-7."
What's the most difficult thing about coaching? "For me, time. … I carry a full class load teaching senior math and AP Statistics. I also keep up with the field maintenance all year long. And to top it off, each spring I have to split time between my on-field family [the boys' team] and my wife and young daughters at home."
How does your experience as a pro influence the way you coach? "There are several local coaches who are outstanding students of the game and impart that knowledge to their athletes, but I know how it feels to be so close to attaining the ultimate dream only to fall short. That's something a little extra that I can teach my boys."
---
Percell Gaskins
Head football coach, Garinger High School
A linebacker who was drafted by the St. Louis Rams in 1996, Gaskins played for the Carolina Panthers in 1997, followed by a stint on a Canadian football team. He came back to Charlotte to work for Charlotte-Mecklenburg Schools in 1998 but didn't start coaching football until this past fall, when he took the head coaching job at Garinger High. The team hasn't had a winning season since 2010.
Why he took the job: "[Garinger] is a school that has a rich, rich tradition. I believe there's gold in these kids. There's greatness in them."
Memorable coaching moment: "Coming out on homecoming and seeing a packed house, knowing that we were playing the No. 1 team in the state, which is Independence."
A moment he's looking forward to: "When I see my first crop of seniors walk across that stage and graduate and we have a plan in place for where they're going to go and what they're going to do. I think that will be the most rewarding."
---
Kim Yankowski Montgomery
Boys' and girls' soccer coach, Ardrey Kell High School
After playing soccer at N.C. State for four years, Montgomery played for the semipro Raleigh Wings in the W League and then in the short-lived Women's United Soccer Association (WUSA). She was on the Carolina Courage team that won the WUSA championship in 2002.
What do you most enjoy about coaching? "The moments you go through with these kids. … It's almost like you're still playing. You still get that intrinsic feeling of this awesome emotion that only sports can bring you. I love that."
Memorable coaching moment: "It was Senior Night [and the boys' team had just won a game against the No. 1 team in the state, Charlotte Catholic]. Your kids are doing a pileup on the field. I'm just sitting back, watching and enjoying. Why would I not coach? I love it. I'm passionate about it. I know the game. There's nothing I don't like about coaching. Except losing."
On juggling family and coaching: "I have two daughters, 10 and 8, and a phenomenal husband. During the season they become part of the team. I love that my kids are in that environment. They are at the games. They don't get to see Mom as much as they'd like, but they also see Mom in this position of a very strong female that works hard, and I just think that it's going to push them to be strong leaders and strong females as they grow up."