Fort Mill's Last Pitch
The Knights are moving uptown, and Charlotte can't wait. Only 25 years ago, a town just across the state line felt the same excitement. So what are the Knights leaving behind?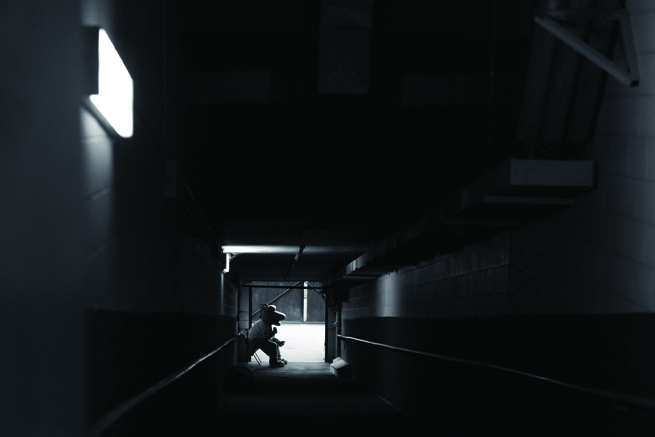 Josh Boyle sits on the edge of a massive parking lot, grilling out with his family. They're one of only three groups tailgating on the blacktop outside a stadium everybody here calls the Castle. A stack of unused red Solo cups sits atop a folding table, a garbage bag full of grease-stained plates dangles from the side of the table, and two coolers are stored just underneath.
Inside the stadium, the Knights are about to throw the first pitch of a weeknight game. So Boyle and family friend Danette McConnell pack up the grill and strap it down in the back of the family's pickup truck. A Fort Mill resident since he was 10 years old, Boyle, now 24, grew up going to Knights games. He calls the minor leaguers the hometown team.
This, though, is the Knights' last season here. In 2014, a new ballpark will open in uptown Charlotte, and the Castle will fall silent after nearly 25 years. Boyle, for one, is disappointed they are leaving. So is his friend McConnell. "I think they need to stay where they're at," she says. "They built this stadium for them to play here; that was the agreement. To me, the team is a part of Fort Mill. They are Fort Mill."
Others, though, will tell you the team name says it all: These are, after all, the Charlotte Knights. When the team first announced plans to move back in 2005, Fort Mill formed a committee to figure out how best to reuse the old stadium. Four people showed up. So despite Boyle and McConnell's wishes, the overriding sentiment here in this old mill town is that they're just fine with the Knights riding off into Charlotte and leaving them to the tranquility of their bedroom community.
Locals don't like it, but Fort Mill is usually referred to as a suburb of Charlotte. It is the first South Carolina town you hit heading south on Interstate 77. Even the mayor's welcome message on the town's official website boasts about Fort Mill's proximity to Charlotte.
That's one reason it was easy for then-team owner George Shinn to move the team south of the border in 1990.
This much is true about the state line: There are far more South Carolinians spending time in Charlotte every day than there are Charlotteans spending time in South Carolina.
Shinn bought the team in 1987, when the Knights were just a displaced team in need of a home. Until 1985, they'd played at Crockett Park, an old wooden ballpark named after the family that owned the team. Crockett Park was a fixture in Dilworth for more than 50 years. But after a high school game one night, three teenagers burned it to the ground. It took dozens of fire crews to calm the blaze. The Crockett family built a makeshift park in Charlotte to house the Knights temporarily and soon sold the team to Shinn. Already the owner of Charlotte's NBA team, the Hornets, Shinn had dreams of building a baseball stadium that would one day be expanded to house a major-league baseball team.
The Knights draw only about 3,400 fans a game in Fort Mill, leaving plenty of room for fans to stretch their arms in the 10,000-seat stadium.
But he wanted help paying for a new stadium. When he couldn't reach an agreement with Mecklenburg County leaders, he found that York County's were more than willing to play ball.
They came to Shinn with the idea, and they were at first turned away. Then Shinn and his Knights leadership team asked a consultant to look more closely at the possibility of moving over the border. Mark Farris, York County's economic development director, remembers the gist of the consultant's report: "As fast as York County is growing, you might want to move there."
It was a perfect combination for Shinn's financially minded interests: York County was growing (a 23 percent population jump in the 1980s), and the county was willing to help. While he paid to build the stadium, Shinn worked out a deal to give the facility back to the county and lease it for one dollar. In return, the county gave him a major tax break on the 32-acre property—as in, he didn't have to pay any taxes. Even today, the only money the town currently makes off the team comes from a share of the parking fees.
The deal didn't sit well with everyone in Fort Mill. Council Chairman Murray White helped broker the arrangement and lost his next election. Regardless, the town threw a party on opening day. Charles Powers, Fort Mill's mayor from 1984 to 2008, helped turn the bolt on a seat behind home plate. He and White threw out the first pitch. Powers's toss wasn't a strike, but the ball made it to the catcher's mitt. The stadium was filled that night. Fireworks went flying.
White, the ousted council chairman, remembers something else: "George Shinn and his number-two guy were both in the stands, handing out programs."
And just beyond the outfield wall was scenery admired by everyone—acres and acres of woodlands. The Knights were no longer in the city.
It's all still there, almost exactly as it was on opening day. Very little at the nondescript ballpark has changed since that first season. Except the crowds. The Knights set a record for league attendance in their first two seasons. But just a decade after they started rounding the bases in the Palmetto state, the team began to set a different kind of attendance mark: worst in the league. In 2005, the only other team in the Knights' league to have lower attendance numbers was the team from Canada, the Ottawa Lynx. By 2009, the Knights were dead last in the International League for attendance. They remain in that spot this year, filling about 3,400 of the 10,000 seats in the stadium on an average game night.
Part of the problem may be another record: The last time the team won the league regular-season championship was in 1999.
Longtime Fort Mill Councilman Larry Huntley remembers heading to a lot of games in those first few seasons, grabbing a hot dog and a soda, and making a night of it with his fellow Lions Club members. But he also clearly recalls when the excitement over the new thing to do in town started to wane. It was about the time Shinn sold the team to current owner Don Beaver in 1997 and the rumblings about moving back to Charlotte began.
"I always felt like it was a Charlotte team just playing in our county, and we were kind of proud of that," Huntley says. "I don't look at it as though they were our team, but I do think York County made a lot of concessions so they would stay. It's disappointing."
Homer rounds the bases with a fan.
Fort Mill's mayor, Danny Funderburk, says the town might have embraced the boys of summer more if they had taken a cue from other area sports teams and gone with a regional name, like the Carolina Panthers. "I think then more people here in Fort Mill would have taken stronger ownership," Funderburk says. "And that just didn't happen."
Just two miles from home plate, another Fort Mill attraction shares dual ownership with Charlotte and has done a better job of walking the state line. Carowinds, so named because original owner Earl Patterson Hall said the wind blowing across the two Carolinas would bring the people of both states together, was intentionally built on real estate straddling the two states. A special row of raised brick marks the actual state line through the park so visitors can stand with one foot in each state.
This spring, hundreds gathered along that very line to celebrate the park's 40th anniversary. Charlie Brown's friends Lucy and Sally were part of a crowd that included the Fort Mill High School marching band, Charlotte media, and loads of pink-cheeked locals in tank tops and shorts who came just to ride the rides. Forty years after it opened, Carowinds is about to expand again.
Heather McDonnell was a CMS social studies teacher living in south Charlotte about the time the Knights went public with plans to move to Fort Mill in the late 1980s. She and her husband made a move of their own in 2006, to Fort Mill. They moved to Baxter Village, which is one exit north of the stadium and also right off the interstate. Fort Mill's version of a modernized Norman Rockwell painting, Baxter Village is lined with pristine Charleston-style row homes and includes Baxter Town Center, where you can grab a cup of coffee, shop for an outfit, and drop your kids at dance class or Orchard Park Elementary School in just under two minutes.
"It's a town you want to raise your children in," McDonnell says, describing her adopted hometown. "It's a small community with great schools, not a lot of traffic. It's not super busy."
Now the owner of the village's popular cupcake bakery, Cupcrazed, McDonnell says the only drawback as a business owner is that a lot of people have a hard time seeing past the state line. "Customers make a big deal about crossing the border, but when I lived [in south Charlotte], it took me way longer to get to uptown than it takes now to get from Baxter to uptown."
This much is true about the state line: There are far more South Carolinians spending time in Charlotte every day than there are Charlotteans spending time in South Carolina. Farris, the York County economic development director, estimates that about 80 percent of people living in Baxter Village commute to work in Charlotte every day.
But Baxter Village is just one part of Fort Mill, and many see it as being on one side of a tale of two parts of the same city. Turn right off Exit 85 from I-77 and you're on the front doorstep of Baxter Village, in all its white-picket-fence, wraparound-porch glory. In addition to the gleaming shops and restaurants, there's an expansive Lowe's and a sparkling YMCA complete with four waterslides. Turn left at that same exit, though, and it's hard to find much more than a convenience store until you run into the less pristine old mill homes of the 1940s and 1950s. You'll find clotheslines in the yard and chicken-wire fences keeping assorted animals in. The town has grown, but much has stayed the same.
"My mother had a saying back in her day, that there will come a time when there are more come-heres than been-heres," Funderburk says. "And I think that's where we are." While he and Farris are equally reluctant to embrace the term "bedroom community," they both say it is an appropriate descriptor. "Nobody wants to admit it, but that's obviously the situation," Funderburk says. "We would not have grown the way we have in Fort Mill without the influence of Charlotte."
That influence continues to this day, with many in town confessing they head north for most of their entertainment. "We can do everything here [in Fort Mill], as far as day-to-day life, but we go to restaurants in Charlotte, movies, shopping," says McDonnell. Farris even remembers wearing a green frilly tux to his high school prom and driving his date to the Queen City to have dinner at a medieval restaurant on Morehead Street. The restaurant is long gone, but Farris says that kind of thing still happens, even with the retail development of the past two decades in Fort Mill.
The one place Fort Mill hasn't grown much is right around the Knights stadium at the Gold Hill Road exit. Pre-stadium, there was almost no infrastructure stretching out that way—no roads, water, or sewer—and the town used the stadium as a reason to put everything in place. "We really saw it as a potential area for growth," Farris says. A few subdivisions and commercial buildings were built, but potential investors stayed away, saying the land cost too much. The woods behind the stadium remain largely untouched.
Once the Knights leave, Cato Corporation, a Charlotte-based clothing manufacturer, has promised to buy the land, demolish the stadium, and develop a distribution plant and offices, shops, and homes in a development deal worth $450 million.
Turns out, all it took to finally transform the Gold Hill Road exit area was for the Knights to leave.
"We've had a really great 24 years out here," Knights Executive Vice President and Chief Operating Officer Dan Rajkowski says. "And I've put it this way: We're not really going anywhere; we're just kind of moving to a different neighborhood."
"My mother had a saying back in her day, that there will come a time when there are more come-heres than been-heres," Funderburk says.
Rajkowski and others predict attendance will double in the uptown ballpark. Season ticket sales are already up 30 percent for next season. Once again, expectations are high because of a Knights move across the state line, this time the other way.
At the Fort Mill stadium that night in May, though, some of the people who've embraced the Knights as their hometown team show signs of losing interest. After the pregame party, Josh Boyle and his tailgating friends manage to stay a full nine innings. But this particular game isn't finished then. It goes into extra innings. Boyles and his crew see no reason to stay any longer. They get up from their seats and walk up the stairs and back into the parking lot. And as they drive away from the Castle and into the South Carolina night, the game being played inside the stadium remains tied, the numbers on the scoreboard the same for both sides.
Michelle Boudin is a reporter for NBC Charlotte and a frequent contributor to this magazine. Reach her on Twitter at @MichelleBoudin.