Foundation for the Carolinas Hosts Community Open House Saturday
Foundation boasts a stunning art collection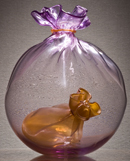 Foundation For The Carolinas is opening its doors to the community this Saturday, Feb 11 from 1 to 4 p.m. The open house is a special weekend opportunity for the community to visit and tour the new Luski–Gorelick Center for Philanthropy.
More than 500 people attended the Foundation's first community open house in December. Due to high demand, the Foundation is hosting Saturday's open house to give us another opportunity to tour all five levels of the 80,000 square foot facility.
One of the best reasons to visit is the stunning art collection housed within the building. The Sonia & Isaac Luski Gallery, an extensive collection of mostly glass art, was procured by the Luski family over decades. Pieces in the collection were donated and loaned to the Foundation with the intention of creating a free, accessible place for the public to enjoy great art. The Foundation's collection includes nearly 370 works. The gallery is open to the public year-round on weekdays from 10 a.m. to 5:30 p.m.
The building also features two rooftop terraces with views of uptown, one of which contains a vertical garden created by Parisian environmental artist Patrick Blanc. The wall contains nearly 1,500 plants and 153 different species.
The building, which used to house the Mint Museum of Craft + Design, is at 220 N. Tryon Street in uptown Charlotte. To learn more about the event, visit ww.fftc.org/OpenHouse.