Four Downs With Panthers Center Ryan Kalil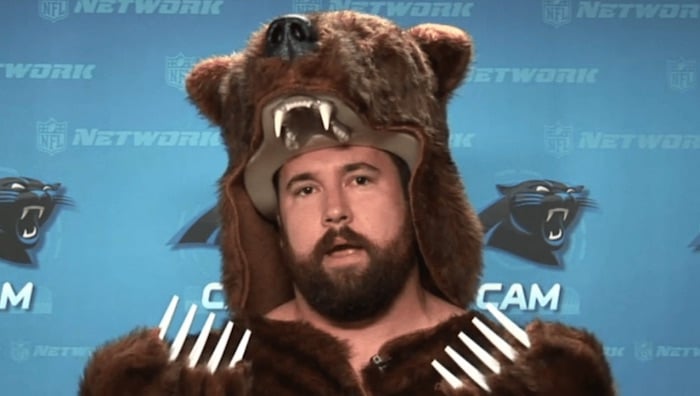 ​First Down – Movies
BV: Since you've recently gotten into the Hollywood producer business, I'm curious – what are your favorite categories of movies?
RK: I love genre stuff like big sci-fi, action, adventure. I'm a big blockbuster fan, so I like the big franchises which is what Hollywood's doing a lot of these days.
BV: And you're helping produce the sequel to "The Rocketeer." But what about critics who say rebooting all these things is sort of lazy?
RK: "I don't believe that because you can't just pull a known brand, then throw a little money at it and throw it up on the big screen. That's proven not to work. There still has to be great storytelling and great characters. But I don't necessarily think smaller movies or Indie movies are dead. There are a lot of movies in that world that are incredible that I thoroughly enjoy."
Second Down – TV
BV: Assuming you even have time for TV, what do you watch?
RK: A lot of comedy. "Son of Zorn," "The Last Man on Earth," "Silicon Valley." My new show that I'm in love with is "Westworld." And obviously, "Game of Thrones."
BV: Have a prediction for how "Game of Thrones" is going to end?
RK: It's going to end next season.
BV: Funny. But really, after two shorter seasons. Are you betting on Khaleesi?
RK: My hope is Jon Snow comes out on top.
Third Down – Halloween
BV: Do you have your Halloween plans settled?
RK: Business as usual. Trick-or-treat.
BV: But do your kids know what they're wearing yet?
RK: They pick out their own outfits. They've got Buzz Lightyear, Simba and Rey from "Star Wars."
BV: And you?
RK: They change it all the time for me. I'm either going as a pirate, Chewbacca or a crusty, grumpy, old center.
BV: So it's a game-day decision?
RK: Yeah. It's whatever they want.
Fourth Down – Fan Submitted Question
BV: That leads perfectly into what this fan wants to know. Justin Wright asks – Do you still have your bear costume?
RK: I do.
BV: He also wants to know if you'd let Cam Newton borrow the head to wear as a hat at a post-game press conference?
RK: No. That's mine. Plus, Cam doesn't need my help looking ridiculous in a post-game press conference. He does that enough on his own.