Four Downs with Panthers Coach Ron Rivera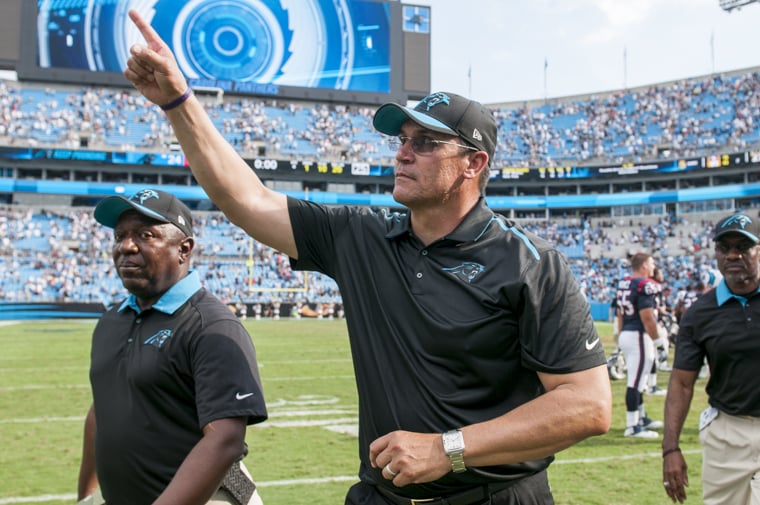 Panthers head coach Ron Rivera is this week's subject in our "Four Downs" series.
FIRST DOWN
BV: How have you seen the fan base grow in your five years here?
RR: The biggest thing is how the fan base has grown, not just in size, but in their understanding and recognition of the game itself. I think who they are in the stadium for us has really improved. You see them getting loud, you see them with the enthusiasm and excitement. They've been tremendous because they get it. They know when to cheer, they know when not to cheer. They have that knack and this year they've been unbelievable.
SECOND DOWN
BV: Is it tough for you to go on now because of all the attention?
RR: It is, but for the most part, people are very respectful and very nice about it. I appreciate that, I really do. I appreciate they recognize and they've been very good.
THIRD DOWN
BV: Which Charlotte-area restaurant do you and your wife Stephanie like best?
RR: There's a whole bunch of them. Everything from Del Frisco's to Bonterra to the Cajun Yard Dog. There's a couple little ones we love to go to. Saigon Palace. We go to this Columbian restaurant, Los Paisas, which we really enjoy. There's so many really good restaurants, but those are some of our favorites.
BV: So you don't have just one favorite?
RR: No, we don't … Cowfish is another we enjoy going to. It took me a while to get the name. For a while I was calling it the Moofish and Stephanie kept looking at me shaking her head. Baku, Zebra. Fahrenheit is another one. The view from Fahrenheit has been really nice for Stephanie and I. We've gone up there for everything from her birthday to our anniversary. There's a whole host of quality restaurants. Toscana, one of our favorite Italian restaurants. And probably one that's near and dear to me is Azteca. To me, it's one of the really good Mexican restaurants in this town.
BV: What do you get there?
RR: Carne Asada. It reminds me of my mom's and that's why I get it because it's very close to how my mom makes it.
FOURTH DOWN
BV: When you won a Super Bowl with the Bears, that city had already experienced championships. Charlotte's never won a major title. Would that make it a little extra special to bring one here?
RR: It really would. There's so many reasons why you want to win. Everything from this organization – the ownership, Mr. Richardson – to the players and coaches, this locker room and these offices. To the city, what a great city. And the city's been tremendous to Stephanie and I. To our region, North and South Carolina. And for all of our fans.