Four Downs with Panthers Cornerback Josh Norman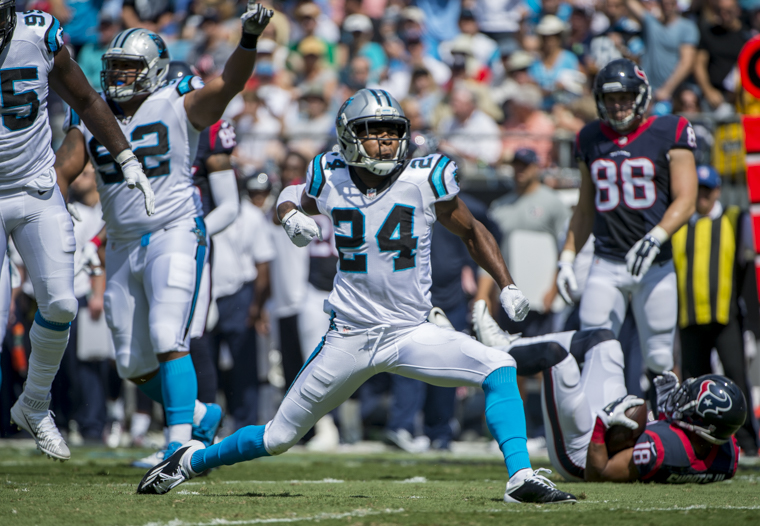 Josh Norman's star is quickly rising around the NFL. Not only are more noticing his solid play at cornerback, but his mouth brings him plenty of attention as well. The Coastal Carolina product is arguably the most colorful quote in the Panthers' locker room these days.
This week, he spent a couple minutes chatting about Charlotte for our weekly "Four Downs" Q&A.
FIRST DOWN
Q: You grew up in Greenwood, S.C. How does Charlotte compare to your hometown?
JN: "It's a city, but it's not like a big city. It's not too small; it's not too big. Everything is right in the middle. You've got your little places that you can go into and get into your own little mind, and yeah, you don't have that in Greenwood."
Q: So where do you go around here to get into your "own little mind"?
JN: "The movies."
Q: What's your go-to theater?
JN: "The one right now is the AMC in Northlake, but also the Epicentre."
SECOND DOWN
Q: What's your favorite Charlotte restaurant?
JN: "That's a good one. Panera Bread."
Q: Wait, a national chain? This is supposed to be about Charlotte.
JN: "All right, all right. Oh, the Midnight Diner!"
Q: What do you like about it?
JN: "Shoot, their breakfast is A1."
Q: Do you eat breakfast at breakfast or do you eat it at any time?
JN: "I get it any time, any time. That's how we grew up. We ate breakfast in the morning, in the afternoon, or late at night. That's all we ate, and I still do that today. So when I go to the Diner, I always get their grits. They're so good, oh my gosh. Eggs, cheese, bacon, French toast."
THIRD DOWN
Q: Are people starting to recognize you more when you go out?
JN: "Yeah. It happened last year, but now it's like wow. I go in with a ball cap and some casual street clothes, definitely no Panther gear."
Q: So you try to be discreet and they still notice you?
JN: "Definitely discreet, but even then, the die-hard fans are like, 'Are you Josh Norman?!'"
FOURTH DOWN
Q: How would you describe Charlotte to someone else?
JN: "Very, very laid back, cool city. It's almost stress-free and it's clean. It's so clean. If you want to do a lot, you can, but if you don't, you don't have to."