Four Downs With Panthers Defensive End Charles Johnson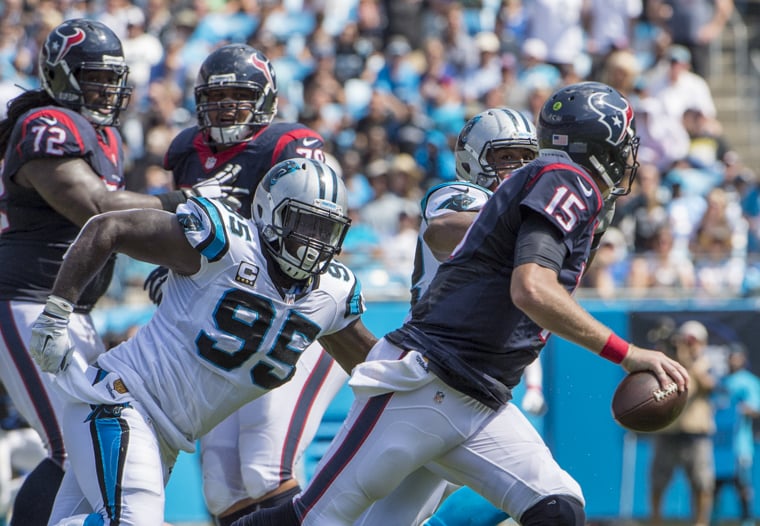 As we mentioned earlier this month, 'Four Downs' is back for another season, and this time, it features a weekly fan-submitted question. Panthers safety Tre Boston went first. Up next is defensive end Charles Johnson.
First Down – TV
BV: I know you like "Game of Thrones." There are only a couple short seasons left. What's your prediction for how it's going to end?
CJ: "I'm predicting that Jon Snow and the Queen get together and they're going to rule the whole kingdom."
BV: The queen as in Daenerys, not Cersei, right?
CJ: "Yeah. I hate all the Lannisters."
BV: Even Tyrion?
CJ: "The little dude? He just became cool because he teamed up with the queen."
Second Down – Food
BV: How's your 4th Ward restaurant coming along?
CJ: "It's coming along good."
BV: Are you getting tired of people asking about it, or do you want people to ask about it?
CJ: "You always want people to ask about it, we just haven't started on it yet."
BV: What kind of food should people expect?
CJ: "The first floor is going to be American cuisine, oven-based food. The second floor is going to be a nice sushi lounge. And the rooftop area is going to be appetizers and drinks."
BV: And it sounds like you don't have an opening date yet, right?
CJ: "Yeah, it's hard to answer that because permits take so long."
Third Down – Music
BV: What did you listen to on your way over here today?
CJ: "I listen to 97.9 when I get up in the morning."
BV: So you listen to the radio? Not satellite or anything like that?
CJ: "Nah, I listen to local radio."
Fourth Down – Fan Submitted Question
BV: All right, this question from a fan could be fun. Justin Wright wants to know who you'd choose as the top-3 ugliest players on the roster.
(FYI: The reference is to when Johnson and some of his teammates went back and forth on #whatyoulooklikewednesday)
BV: Now to be clear, you weren't making fun of people. Well, you were, but it wasn't anything cruel.
CJ: "Right. So my top-3 ugliest would be (Thomas Davis), Michael Oher and … hmm … "
(Fullback Mike Tolbert walks by)
BV: What about him?
CJ: "Nah, Tolbert ain't that ugly."
MT: "Say what?"
BV: We're going through his top-3 ugliest.
MT: "Ugliest? I'll give you some right now. Tre Boston … "
CJ: "Just add me in there."
BV: You're going to say yourself?
CJ: "Yeah, top-3 ugliest."
BV: Well, congrats … I guess.