Four Downs with Panthers Defensive Tackle Kawann Short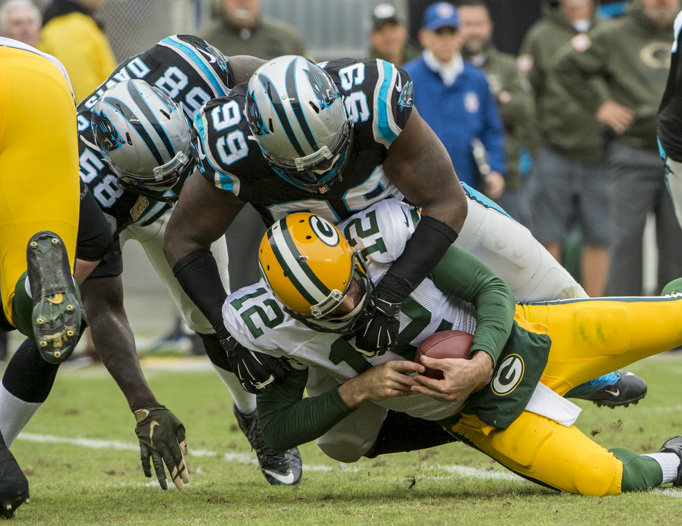 Panthers defensive tackle Kawann Short is this week's subject in our "Four Downs" series.
FIRST DOWN
BV: You grew up in East Chicago. How do you describe Charlotte to people back home?
KS: I just say it's a mixture. Something different between the East Coast and the South. Charlotte's a nice city. It's small, but it's growing and it's not too busy.
SECOND DOWN
BV: Obviously Southerners are known for being nice. You and I are both from the Midwest. We're nice, too, right?
KS: Yeah, we're nice to a certain extent. Everybody's nice to a certain extent. But it's just the Southern comfort down here. It's just so polite and welcomes you with warm arms. That's what it is compared to the Midwest. You've got to get to know somebody if they're going to let you in.
THIRD DOWN
BV: Do you like the weather down here better?
KS: The weather here is beautiful all year round, but I like the cold. I like to see snow on Christmas. So when it comes to the weather, I think I'll stay Midwest.
BV: Philly Brown said the same thing last week. I mean, yeah, it's nice to see snow on Christmas, but that's just one day. The problem is the rest of it from like October to April.
KS: That's the pace it goes, but it's just a part of it. Then when it starts melting in like April, you start having fun outside throwing snowballs at your friends and stuff like that compared to December when you're trying to get to your car from inside your house. It's got it's ups and downs.
FOURTH DOWN
BV: So what's your favorite Charlotte-area restaurant?
KS: The big one is Del Frisco's. I take my mom there every time she comes into town. Other than that, McCoy's over there by Woodlawn.
BV: What do you get there?
KS: What don't I get there? The pot roast is pretty good. The ribs are pretty good. The fried squash is pretty good. The smoked wings. Man, I could keep going.