Four Downs with Panthers Guard Trai Turner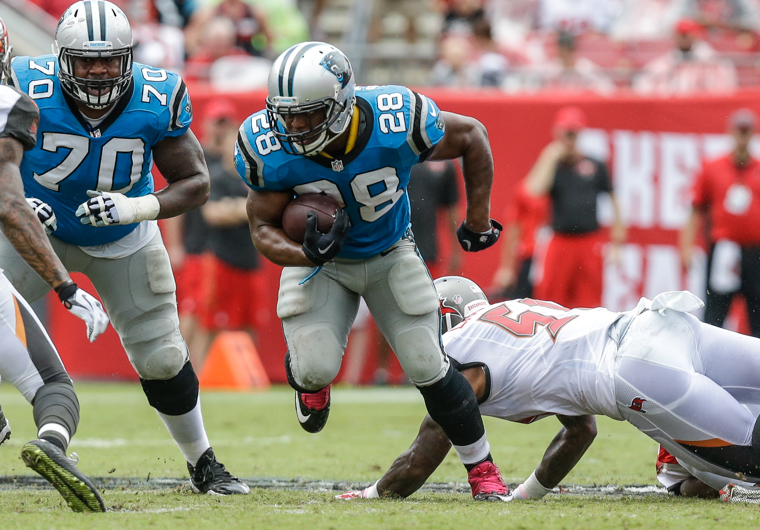 Panthers offensive guard Trai Turner is this week's subject in our "Four Downs" series.
FIRST DOWN
BV: I ask guys every week to name their favorite restaurant here. You're from New Orleans and I know you love food, so it's a great question for you. What's yours?
TT: "Ruth's Chris. It's New Orleans-based, it's close to my house and it's just really good."
BV: What do you get there, steak, obviously?
TT: "No. Honestly, I might have had, I don't want to say everything, but I've had the majority of the menu. I've had lamb chops, I've had chicken, I've had steak, I've had the calamari, I've had the shrimp, I've had the lobster, I've had the lobster bisque."
BV: You sound like Bubba from Forrest Gump.
TT: "Yeah, I've had everything from there. You see how big I am."
SECOND DOWN
BV: Since you live near the stadium, you get to walk to work. What's that like when you're walking through tailgates on game days?
TT: "A lot of people don't know. Some people realize and they're like, 'That's Trai!' I always see opponents' fans, they're funny to me and get me fired up."
BV: What do they say?
TT: "They don't say anything to me directly, I just hear them talking. And I'm like, OK, I know what kind of game this is going to be."
THIRD DOWN
BV: Now that you've been here for a year and a half, what are your overall impressions of Charlotte?
TT: "I don't know if it's a good or bad thing, but not too much goes on in Charlotte, which isn't bad for me. I love it. I like that it's a family city, it's clean and then, on top of that, it's growing. It's quiet; I like that."
FOURTH DOWN
BV: Do people back in New Orleans give you a hard time because you play for the enemy?
TT: "Nah, everybody's just happy that I'm in the position that I'm in and we're 8-0."
BV: But lots of them root for the Saints?
TT: "Definitely."
BV: Except when they play the Panthers?
TT: "Yeah, it's all Panthers then. At least, that's what they make it look like."