Four Downs With Panthers Linebacker Luke Kuechly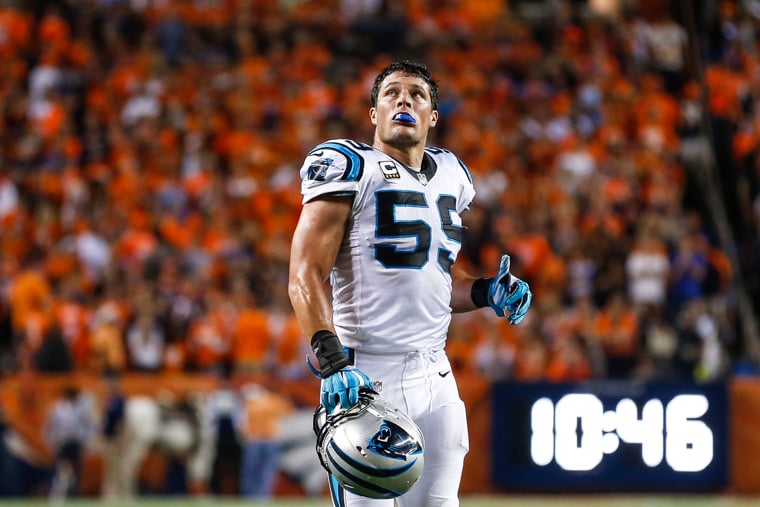 First Down – Fan-Submitted Question
BV: Let's start off with something from a fan. ‪@jamos14‬ – also known as Hog Molly on Twitter – wants to know your favorite food.
LK: "I love good Mexican food."
BV: Favorite Mexican place in Charlotte?
LK: Azteca's really good. That was the most authentic one I've been to.
Second Down – Movies
BV: You're a big movie guy. Seen anything good lately?
LK: Most recent was "The Magnificent Seven." That was good.
BV: Have you seen the original? You know there's an original, right?
LK: Absolutely.
BV: Hey, you're young. Just had to make sure.
LK: Good Western. Lot of action. There's good ones about to come out. "Deepwater Horizon" – that looks good. Mark Wahlberg. "The Accountant" – Ben Affleck. And "The Girl on a Train." Have you heard of that one?
BV: I haven't.
LK: It's a book they made into a movie. There's some good ones coming out.
BV: Any others you've liked over the past year?
LK: I thought "The Revenant" was really good and the last "Star Wars" was really good. Oh, and "1o Cloverfield Lane." That one's pretty good, but kind of weird.
Third Down – Tech
BV: Are you tech savvy? I feel like you don't usually jump on new stuff.
LK: I'm not tech savvy, but I do like it. Like, I don't have a new phone. I have an old one.
BV: You don't have an iPhone 4, do you?
LK: iPhone, I think it's the 6. My tech game is weak, not real strong.
BV: Favorite apps?
LK: Pandora. That's about it.
Fourth Down – Music
BV: So what do you listen to on Pandora?
LK: Jimi Hendrix has been the most recent. We'll look it up.
(Picks up phone)
LK: Adele. Big Tymers. 90's Hip Hop. Jimi Hendrix. Pink Floyd. Nelly. Chris Stapleton. Johnny Cash.
BV: Wow, you're all over the board.
LK: Dave Matthews. That's my most recent like like 7 or 8. And 2Pac.
BV: So you start with Adele and finish with 2Pac.
LK: Gotta get a little bit of everything. It depends on what kind of mood you're in.
BV: When do you bring out the Adele?
LK: It's good to relax. Like maybe at the house, making food.
BV: But not so much pregame?
LK: Not so much.