Four Downs With Panthers Linebacker Shaq Thompson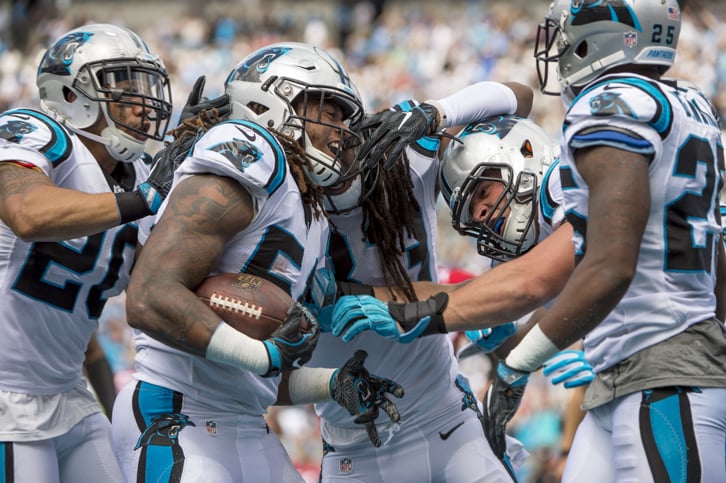 First Down – Golf
BV: You started getting into golf a bit last summer. Are you going to give it another go this offseason?
ST: I'm definitely going to give it a go. It's been a long, rough season, so I'll get my mind off lifting, getting in shape and all that. I think I'm going to go back to play some golf. I'm not good; I think I've told you that before.
BV: You have. But who is good? Very few people are.
ST: That's the fun of it.
BV: What are some of your golf goals for the offseason?
ST: To get my swing down and to keep my ball going straight. I have a tendency of slicing and it either goes wide right or right in front of me. When I swing, I come with all my force.
BV: You just want to hit it as hard as you can?
ST: Right. So that would be my biggest thing, plus getting down what to use and how far you're out? A nine iron or an eight? What do those do? To pop up the ball – to do pop-up distance. And putting. Putting is pretty hard.
BV: It's all hard.
ST: You've got to know the green, I guess. You've got to know how the course is, where the hills are at. That's a lot.
BV: You got new clubs last summer, right?
ST: Yeah, I got some from Nike.
BV: How are they?
ST: They're good, but I've got to put them to use again. They're kind of rusty right now.
Second Down – TV
BV: What's your favorite TV show?
ST: I'm a big HGTV guy.
BV: Really?
ST: It's interesting how they flip the houses. How they take something that's dirty, rusty, nasty and turn it into a beautiful, modern house. That may be something I want to do after I'm done playing.
BV: You'd want to flip them?
ST: Yeah, like a way of giving back. Fixing up a house and selling it to a family who's probably on their second time buying a house, first time buying a house.
BV: Is that something you can do now?
ST: It probably is. It's something I'd have to talk to my financial guy about. I've got a new kid, so it's kind of hard to play out.
Third Down – Fatherhood
BV: So how old is your little one?
ST: She's two months.
BV: And how's that going?
ST: It's going great. Really great.
BV: What'd she get for her first Christmas?
ST: Some stuffed animals and clothes. She was sleeping when we opened presents.
BV: What's her name?
ST: Kya.
BV: Pretty name. Has anything surprised you yet in the early stages of being a day?
ST: Nothing.
BV: You're not calling your mom saying, "What do I do?"
ST: No, I have nine nieces and nephews and took care of three of them, or just helped out when they were young and growing up. So I have a little bit of experience. But they're my nieces and nephews, not my child. So that's what's kind of different. But I just use what I did with my nieces and nephews and apply that to my fatherhood.
Fourth Down – Fan Submitted Question
BV: So this week's question from a fan comes from "DBC52" on Twitter. He wants to know if you have a post-game ritual.
ST: I just go home and chill.
BV: Do you watch Sunday Night Football?
ST: No. When I get home, I don't watch sports. No football, no basketball, no nothing.
BV: So no sports, but HGTV.
ST: HGTV, movies.
BV: Win or lose, you just go home and watch "House Hunters."
ST: No, I don't like "House Hunters." I like "Fixer Upper." "Flip or Flop," they broke my heart.
BV: Why's that?
ST: They're getting divorced.
BV: Oh, that's right. I've seen that big news.
ST: After I heard about that, I can't watch it anymore cause I just see his face. But the houses are ridiculous.
BV: How can we believe in true love when they're not together anymore?
ST: But "Flip or Flop," "Fixer Upper," "Love It or List It," and that's really about it. I don't mess with "House Hunters."
BV: Don't blame ya.