Four Downs With Panthers Long Snapper J.J. Jansen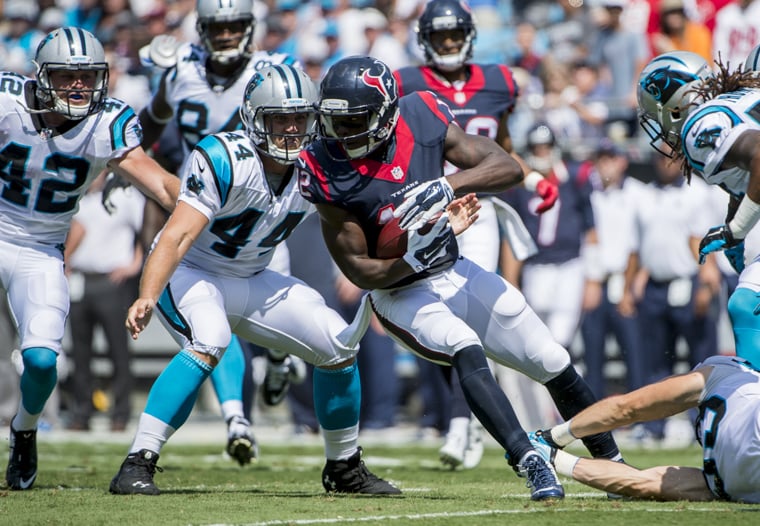 First Down – Fan Submitted Question
BV: Let's start with this from Zack Smith. He asks: "Who's the second-best long snapper on the team?"
JJ: That would be me because Greg Olsen is adamant that he's the best long snapper on the team.
BV: Do you believe that?
JJ: Of course not. But I don't believe much of what comes out of Greg's mouth.
BV: Does he believe that?
JJ: Oh, yes, Greg believes that. Absolutely.
Second Down – Computers
BV: Are you a Mac or PC guy?
JJ: I don't have a preference, but we're Mac people because that's what happened.
BV: Sounds like that's a preference.
JJ: I was a PC guy, then I was a Mac guy, but I'm not really sure why or how it happened.
BV: Do you have an iPhone, too?
JJ: Yes.
BV: So you're kind of an Apple dork?
JJ: Oh, I'm in it now, but it wasn't a conscious decision. It just sort of happened.
BV: Peer pressure.?
JJ: Wife pressure.
BV: So you're blaming it on her?
JJ: No, I'm commending her for getting us to this point. But it was more of a, "Will you just have what everyone else has so this can just be easier for everybody?"
Third Down – Music
BV: If I picked up your iPhone and looked at your recently played songs, I'd find?
JJ: Need to Breathe. Which based on your look, you don't know who that is.
BV: No clue.
JJ: South Carolina-based band.
BV: Should I know who that is? Am I a loser for not knowing that?
JJ: They did lead off for Taylor Swift at one point. So …
BV: So I'm actually OK with not knowing. That's not really selling it to me.
JJ: Well, that's not selling it to you. It sold it to a lot of people.
BV: People older than 15?
JJ: Definitely older than 15 because I'm 30 and I like them. It's sort of a Christian rock that's kind of folksy, kind of bluegrass.
Fourth Down – Relationships
BV: Usually I keep these to tech, pop culture and stuff like that.
JJ: Well, you've picked the wrong person for tech and pop culture.
BV: That's become pretty clear. Anyway, I'm going to try and get you emotional. Brad Nortman, who punted here for four seasons, is now in Jacksonville. How much do you miss your buddy?
JJ: I do miss Brad. It's fun to watch him from afar. See, the tears are rolling down my face … You can see it, which is great for print media. But, no, he was a good friend. It's not like he's dead or anything. He's just in Jacksonville.
BV: Well …
(awkward pause)
BV: So are there any quirky things about Brad you miss?
JJ: He was a huge dork and a big "Lord of the Rings" fan. He owned it, too. He and I related cause we're both dorks. We've got our own nerd world we live in. Mine's kind of numbers, which is why we related well – we were also numbers guys. We appreciate each other's nerdiness and dorkiness.
BV: That was a lovely tribute.
JJ: Thank you.