Four Downs With Panthers Receiver Kelvin Benjamin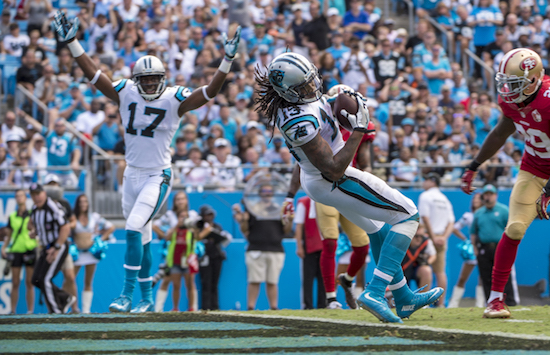 1st Down – Fan Submitted Question
BV: Let's start with this from a fan. Parker Stone wants to know your barbecue preferences.
KB: Oh, I can't think of the name that's over there in Mint Hill. What's the name of that place?
BV: I'll Google it. Mint Hill Rockstore?
KB: That's it.
BV: So what do you like about it?
KB: I like everything. Their barbecue's fine. They have these homemade sauces they put on it. Oh my gosh.
2nd Down – Tech
BV: You're a big gamer, right?
KB: XBox One. Probably the most underrated game that you probably won't think I'm playing is SMITE.
BV: What's that?
KB: It was a computer game, but it just came to the console.
BV: Philly (Brown) talks a lot of trash about gaming. Is he any good?
KB: He's Call of Duty. That's PS4. I don't really mess with them.
BV: So who in here do you play?
KB: Me and Joe Webb play. We play (NBA) 2K and Madden
BV: Is he any good?
KB: He aight. He ain't bad. FIFA. I'm a best FIFA player.
(Receiver Brenton Bersin chimes in)
BB: Ask him who the best FIFA player is.
KB: Me. And I play with Argentina. These guys play with club teams and they still can't beat me.
BB: He puts strikers on defense. Just pure speed.
BV: You know old school Nintendo? They had a game called Ice Hockey where you only got four guys.
KB: For real?
BV: Yeah, you're way too young to remember. Anyway, you could choose from fat to medium to skinny, and those guys were the fastest but couldn't shoot as hard.
BB: He would go skinny all day.
KB: You got to. Speed kills.
Third Down – Pardon the Interruption
(Receiver Damiere Byrd interrupts)
DB: But you're not even fast.
KB: Who? Hey, we just raced 10 yards and I beat him.
DB: No we did not.
KB: I did not beat you off the ball?
DB: You might have beat me off the ball, but when you …
KB: Put that in there. Put that in the piece.
Fourth Down – Movies
BV: Are you into movies?
KB: I'm a big movie fanatic. That's kind of hard, movies come out so quick, man.
BB: He made me watch "Warcraft." That was trash.
KB: That was trash. Favorite movies are hard. That's tough.
BV: Do you go out to see them?
KB: Yeah, I'm always at a movie theater.
BV: Which one?
KB: I think it's called Carolina Cinemas. They have La-Z-Boy chairs in there.
BV: And what kind of movies are you into?
KB: I'm all over the place. Horror.
BV: Horror?
KB: I love scary movies.
BV: Have you seen all the Screams? Or are you too young?
KB: Yeah. They weren't all that scary.
BV: No, but they have their moments.
KB: I look for that, "Oh? Oh!"
BV: So Freddy Krueger-type scary?
KB: Yeah, I look for roller coaster-type scary.