Four Downs with Panthers Safety Roman Harper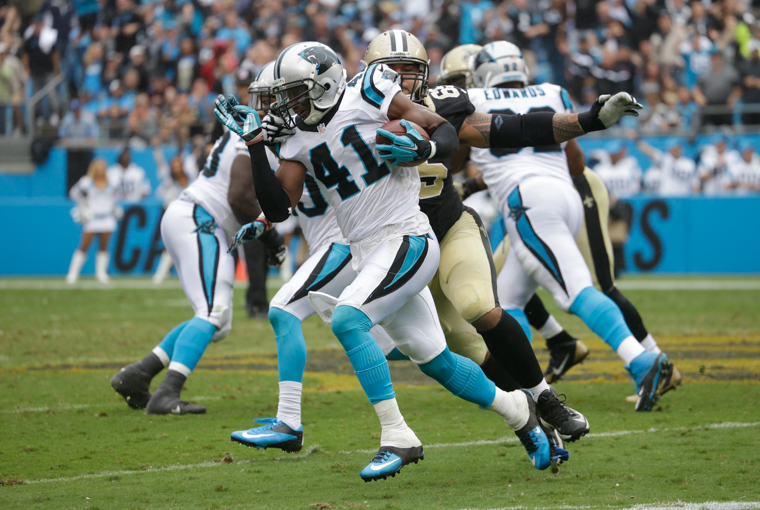 Carolina Panthers safety Roman Harper is this week's subject of our "Four Downs" series.
FIRST DOWN
BV: When you came to Charlotte last year, many Panthers fans weren't all that excited about welcoming a guy who played eight years with the Saints. Have most let go of that since?
RH: "They weren't very warm at first. Understandably why, I get it. But ever since I've started to settle in, it's been great. They've done nothing by accept me with warm feelings. Us playing well helps, too. Winning heals everything."
SECOND DOWN
BV: What's it like to be a Panther out in public these days?
RH: "People are excited, man. You can definitely feel we're changing the culture around here. Winning is becoming more of a normal thing."
THIRD DOWN
BV: What's your favorite Charlotte-area restaurant?
RH: "I don't know. I really have no idea."
BV: Let's try this – Is there one you and your wife go to more than others?
RH: "She's just a Ruth's Chris girl. She's kind of high class."
BV: And you?
RH: "I'm just middle of the road. I'm more of an Outback guy. Outback's my thing."
BV: What do you get?
RH: "I get the wings and I get a steak."
BV: Which one?
RH: "Filet."
FOURTH DOWN
BV: You guys were married at the Biltmore this summer. How did that come about?
RH: "Well, she found it. And I just wanted it to be nice for her day, cause it's all about her. She said, 'We're going to Asheville.' I had no idea where Asheville was, I'd never heard of it, and I was just like, 'Alright, cool.'"
BV: And what did you think of the setting?
RH: "Oh, I loved it. It was awesome. The people were great, the food was awesome. They treated us amazing. It couldn't have been a better backdrop."
Roman & Heather Official Trailer from Andrey Solo Films on Vimeo.