Four Downs with Panthers Safety Tre Boston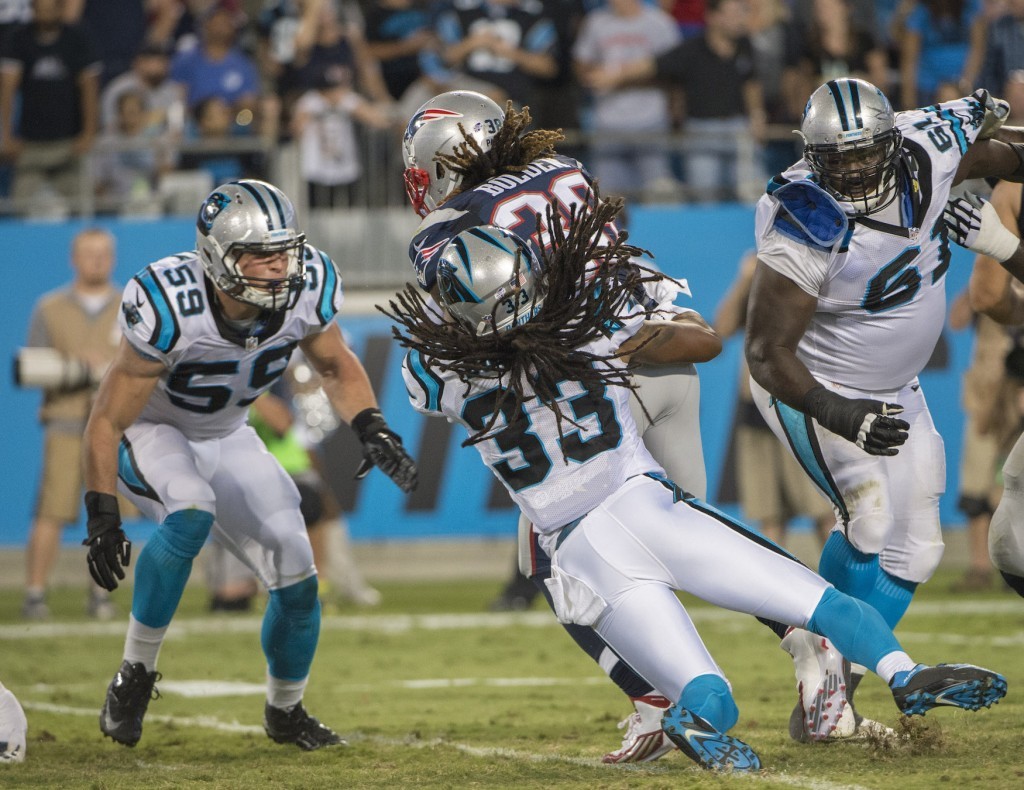 Panthers safety Tre Boston is this week's subject in our "Four Downs" series.
FIRST DOWN
BV: Now that you've been here for two seasons, what do you make of Charlotte?
TB: I love Charlotte. Being a UNC guy, it's been fun being in North Carolina for the longest now. I've got so many people when I walk around saying, "Go Heels" here and "Go Heels" there. It's a great place to live and I wouldn't mind making this place home.
BV: What were your impressions of Charlotte when you were in Chapel Hill?
TB: You had a lot of guys from around here that told you about it. Charlotte's big, that's what I knew coming into it. Salisbury claims it, Monroe. All the cities around claim 704, so I knew it was big coming in.
SECOND DOWN
BV: How would you compare Charlotte with your hometown of Ft. Myers, FL?
TB: Scenery. Here we have a downtown full of skyscrapers. Once you get outside of that you can have trees everywhere, woods. In Ft. Myers, you'd have a skyscraper, if that.
BV: But you're not going to go on spring break to Charlotte.
TB: Nah, you're not. We've got a beach. It's going to be sunny all around. That's pretty much the good part about Ft. Myers.
THIRD DOWN
BV: What's your favorite Charlotte-area restaurant?
TB: Ru Ru's Tacos.
BV: What do you get there?
TB: Any type of taco. They have crazy types of tacos with crazy names. It's not just like chicken taco. It's like, 'Run Over the Street Taco,' 'Duck Chicken Taco,' 'I'll See You Later Taco.' What is that? I just want a chicken taco. But that's one of my favorite places to go.
FOURTH DOWN
BV: Before we started this, you were mentioning how the defensive backs' part of the locker room is like NoDa. Why's that?
TB: At one time, it wasn't as popular, but once people caught on, everybody caught on. So now NoDa's the spot to go. People know there's some nice places to eat in NoDa. But you've got to catch on first. If you're not from here, you won't really know about NoDa. So if you're not from here, you wouldn't have known about our side of the locker room.
BV: So are there things to do around here other than just going to Josh Norman's locker?
TB: You can go to any locker that you want. Josh is the mainstream right now. He's our Cabo Fish Taco. So when you want to come down here, you usually eat there. We don't mind. We're kind of like the YMCA. You park here and you can just go over there to Cabo.
BV: What are you if he's Cabo?
TB: If he's Cabo and I'm two blocks down, I'm probably like the tattoo parlor. Maybe even the Cajun place on the end, or, Solstice.