Four Downs With Panthers Tight End Greg Olsen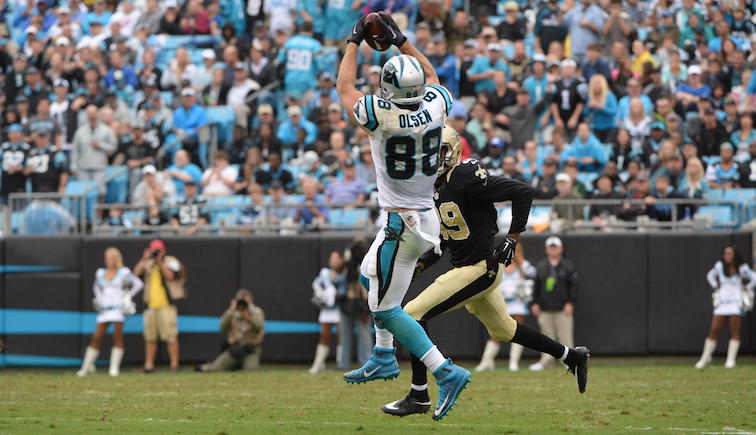 Carolina Panthers tight end Greg Olsen spent a few minutes going through "Four Downs," our weekly Q&A series.
1st Down
Q: You and your wife have done a lot with Levine's Children's Hospital after what they did for your son, T.J., who was born with a congenital heart defect. How grateful are you to be able to find that kind of care here in Charlotte?
GO: "We've been around the country, we've spoken to some of the top medical centers in the country, and to have one of the premier facilities in our hometown is something people in this community should not only appreciate, but cherish. It's rare. Most people in most cities have to travel outside their home to get high-end medical care and people in this region don't."
2nd Down
Q: You grew up outside New York City, went to college in Miami, then spent your first four seasons in Chicago. How would you compare Charlotte to those bigger cities?
GO: "It's just big enough, but not too big. It's big enough that there's great restaurants, there's great things to do, there's something always going on, but it's not so big that you get lost in the shuffle. I think it's a perfect size city to raise a family."
3rd Down
Q: And now you've made Charlotte your home, right?
GO: "Yeah, we've really taken a liking to the city. The people here have been awesome. The climate, the area, the city itself. There's really nothing not to like. Obviously, our son's doctors being here at the hospital was a big factor. We've had family move here in the last couple years, so everything about Charlotte has really appealed to us."
4th Down
Q:Favorite Charlotte-area restaurant to go with your wife?
GO: "We just went to a small little place on Friday night in Waxhaw, where we live, a mom and pop spot called Heritage. It was amazing, as good a meal as I've had in this city. Then for her birthday, we went with a bunch of our friends to Baku in SouthPark. And we always go to Del Frisco's."
Q: Any other hidden gems?
GO: "Another recent place we to called OGGI. My wife loves Italian food. It was in a little strip mall; we had never been before, and it was fantastic. All homemade, fresh, it was awesome."
Q: Favorite Charlotte-area restaurant for the kids?
GO: "Well, Friday's our pizza night. We mix it up; we go to Brooklyn Pizza or Mellow Mushroom or Hawthorne's. We're big fans of the Jersey-style pizza."
Q: So not Chicago-style?
GO: "No, we don't do Chicago pizza. We're Northeasterners. We're still thin-crust pizza people."