Four Downs with Panthers WR (and Native Charlottean) Brenton Bersin
No Panthers' player knows the city like this native Charlottean.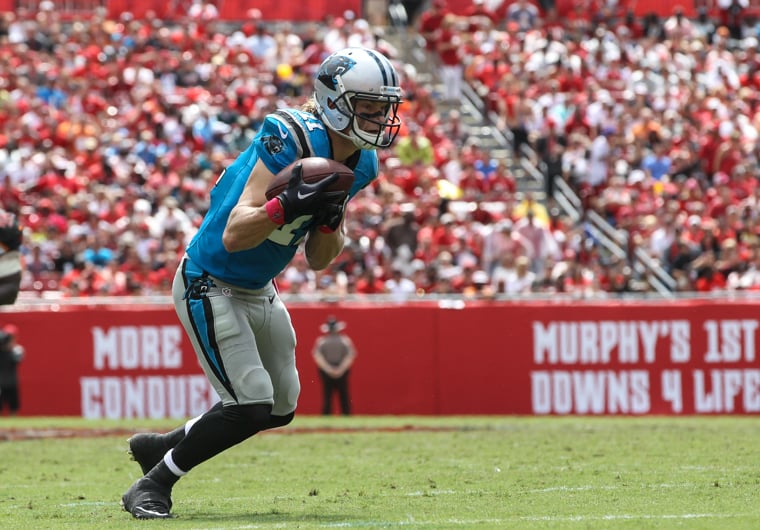 Carolina Panthers receiver Brenton Bersin is this week's interview subject in our "Four Downs" series.
FIRST DOWN
BV: How much has Charlotte changed in your lifetime?
BB: "It's gotten so big. I remember when I was a kid going out to golf, it'd just be like farm land. Cows and horses would be on the ride out to Piper Glen. We lived in Foxcroft and to drive from where we lived to Piper Glen, we'd have to go down Providence Road to the old Rea Road. So basically we'd have to drive all the way around. It would take us like 30 minutes. It was before Colony extension and Colony was created. Nothing was there. Now there's just so much new stuff."
BV: Where do you think Charlotte will be in 10-20 years?
BB: "I don't know; it could be the biggest city in the South. It could overtake Atlanta."
SECOND DOWN
BV: What about being from Charlotte gives you the biggest sense of pride?
BB: "Probably the sports teams. Being able to say we've been fans since we were born and since the Panthers were even a team. We went to the first Panthers game, so we've been Panthers fans our whole life. And growing up, I was a die-hard Hornets fan. I was so happy when the Hornets came back."
BV: Do you think you'll stay in Charlotte when your football days are done?
BB: "Probably. I like Charleston, but I'll probably stay in this area."
BV: You went to Charlotte Latin. Is that one of those dreams where you want to send your future kids to Latin?
BB: "Yeah. [tight end Greg] Olsen and [center Ryan] Kalil were talking about where to send their kids. They went on visits and stuff, so I'm trying to persuade them into going to Latin."
BV: Do you still have hard feelings for guys who went to Country Day?
BB: "Obviously back then, they were our rivals. But I have friends who went everywhere. Like [equipment assistant] Greg Almond, he went to Christian. [Football operations manager] Bryan Porter went to Country Day. So we always talk junk during the season."
THIRD DOWN
BV: From when you were a kid to now, what are your favorite Charlotte restaurants?
BB: "When I was growing up I liked Eddie's Place on Sharon Amity and Providence Road. We liked the breakfast there. We'd go all the time cause they'd serve breakfast all day, so we'd go for dinner sometimes. I liked Harper's and lately I've liked Bricktops. They have the best ribs."
FOURTH DOWN
BV: You mentioned golf earlier and you still play a lot. What courses around here are your favorites?
BB: "Charlotte Country Club. And I always play Revolution when I have a couple hours off, that little nine-hole course."
BV: I was talking to [quarterback] Derek Anderson a couple weeks ago and he said he's never played Carolina Country Club.
BB: "I've never played there, either. Have you?"
BV: Oh, gosh no. They wouldn't let me on. But we need to find someone to hook you and Derek up.
BB: "Yeah, get us on there."
BV: All right. We'll keep working on it.