Foursquare Phenomenon
A look at social networking app Foursquare--and Charlotte mayors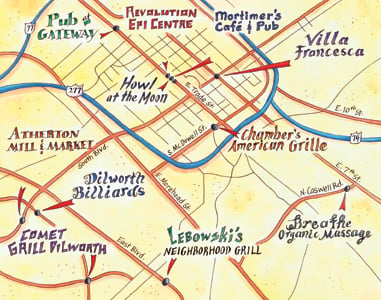 When Charles Canady first heard about Foursquare, it struck him as "silly and pointless." Members of the growing social network use their smart phones to let others know where they are, "checking in" at different locations and leaving tips along the way. Those who log the most check-ins at a particular spot become its "mayor." (Amelie's French Bakery in NoDa is Charlotte's most popular Foursquare destination, with more than 2,700 check-ins during the past sixty days.)
Sometimes a mayor gets perks. Matt Schafer, the mayor of McAlister's on Park Road, enjoys a free entreé on Mondays.)Mostly, though, the motivation seems to be bragging rights. And that's where Canady's competitive streak kicked in.
UNCC was the first college in the country to implement a location-based social network special via Foursquare on campus. The deal: free T-shirts to students who checked in at certain basket- ball games and other events.
Some mayors, such as the Penguin's Eric Redman (who recently renounced his mayorship) or Common Market's Scott Lindsley, make it a point to go after a choice locale or two, visiting often to keep challengers at bay. Canady is different. After trying out Foursquare in March and quickly getting hooked, as of mid-September he had 675 check-ins and was mayor of twenty-one spots.
Juggling them all has become a consuming task. Canady might use a day off from work to check in at ten. Strategy often dictates where he eats and shops, and even where he gets his hair cut. When he travels to a meeting for work, lunch is usually provided. "But I always eat somewhere else, so I can check in there," he says. "To me Foursquare is like leaving a little of yourself there to share."
The Perks
Who says social media can't get you free stuff?
Pub at Gateway: 10% off food purchase for mayor with every check in
Total people: 86
Total check-ins: 350
Revolution EpiCentre: 10% off purchase when you shop five times in 30 days
Total people: 24
Total check-ins: 41
Mortimer's Cafe & Pub: Half off one menu item of choice with every third check-in
Total people: 248 Total
Check-ins: 432
Villa Francesca: Free half-dozen garlic knots (every time!) when you show that you've checked in
Total people: 74
Total Check-ins: 141
Chamber's American Grille; Half price entrée with every fifth check-in
Total people: 9
Total check-ins: 13
Dilworth Billiards: Beer of your choice for 50 cents on 10th check-in. Requires that users physically enter bar and let bartender know they checked in each of the 10 times.
Total people: 78 Total
Check-ins: 649
Atherton Mill & Market: Free market tote every 5th check-in (must show check-in to market manager)
Total people: 57
Total Check-ins: 178
The Mayors
We checked in with prominent Foursquare mayors to get their takes on some of Charlotte's most popular spots
Charles Canady
29, manager at Best Buy Mobile in midtown
Mayor of: AMC Theatres in Concord Mills (11 check-ins in the past 60 days) and 20 other locations.* Toughest competition: "I acquired mayorship [at AMC] by taking it from a guy who was the mayor for months. The day I stole it from him, he sent me a message on Twitter informing me that he would be taking it back. A month later it was taken from me by another guy, who then got it taken by a female. She was mayor for a long time; almost two months had gone by, and every time I checked in she was still the mayor. Normally this could be a sign she works there, which could make it challenging to take it from her. Well, I needed to know if this was the case, so I showed her picture and name to people who worked at the theater, and they all told me she did not. A month later I finally took mayorship."
Melissa Skinner
30, employee at CMC
Mayor of: Freedom Park (41)
Time spent: "I started going to Freedom Park about six years ago when I got my first dog. I live just a few blocks away, so it's a great and free way to get exercise, and my dogs — I have two now — love it. I usually go anywhere from four to five days a week. I try to walk around the pond a few times or until the dogs get tired."
Tip: "I would say the best time to go is early on a weekday morning. Weekends are usually so crowded that I tend to try and avoid the crowds. If you're planning on going on a weekend, get there early for the best parking, and also for a prime spot for a picnic."
Matt Bolick
42, club manager and DJ
Mayor of: Coyote Joe's (seven) Time spent: "I visit about once a week, to see the bands, but recently for karaoke on Wednesday nights. They know my beer is Yuengling." Tip: "Be open-minded and ready for a good time. And bring cash. The bars don't take cards."
Nicholas Richter
19, student
Mayor of: Amelie's French Bakery (34) Time spent: "I try to be there as much as my schedule allows for, which is typically four or five nights during the week. If you happen to come looking for me, I can often be found on the front patio playing cards with my friends." Tip: "Although often overlooked due to their simplicity, Amelie's offers one of the best éclairs that I have come across in Charlotte. They offer them with your choice of either vanilla or chocolate filling, both of which I recommend."
Scott Lindsley
41, real estate agent
Mayor of: Common Market SE (14) Time spent: "We live across the street and a block down, so we go there almost every morning for coffee and breakfast, then a couple nights a week for drinks. We get lunch there a couple times a week as well." Typical order: "Coffee, breakfast, lunch sandwiches, cheese, or hummus plates. Any wine, PBR for beer, sake on some nights. Best sandwich is the Evil Homer." Toughest competition: "I've been booted at a couple other local places, but we are in and out of Common Market and utilize the place constantly. I know of others that want the title. They just can't compete."
Eric Redman
26, full-time student and employee at UNCC's Atkins Library
Mayor of: Penguin Drive-in (eight), though he recently renounced his mayorship in light of the new ownership at the Penguin. Typical order: "The foot-long hotdog, hush puppies, and a beer. It's too much for me to eat, but I rarely go there alone, and Penguin's food is best shared anyway. I usually get way too full for anything resembling a dessert. Don't make my mistake. Splitting a Tupelo Special is a great way to end an evening at the Penguin. Peanut butter and banana on Texas toast is magic." Perks: "I've told a few bartenders that I'm the mayor and then explained what that is. For some it's neat, and for others it's just confusing."
Jonathan Halter
41, ITS specialist at UNC-Charlotte
Mayor of: UNCC (45) Time spent: "It's my full-time job, so I'm here all week, but I also come out on the weekends for events, like sporting events, festivals, concerts. I'm an avid runner, and UNC-Charlotte is a great place to run; there are great trails." Toughest competition: "There are some other employees that I know who Foursquare, and the students are starting to do it more and more. I figure someone is close on my heels and ready to oust me at any point." Perks: "I've not gotten any perks for being mayor of UNC-Charlotte. Some men's basketball tickets would be nice."