Fourth Annual Brew Stash Bash this Saturday at U.S. National Whitewater Center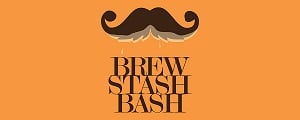 One of the local craft beer community's more popular events is back and bigger than ever, with a full morning, afternoon and evening of activities.
Saturday marks the fourth annual Brew Stash Bash, which takes place at the U.S. National Whitewater Center. More than 25 local, state and national breweries are taking part this year, and there are some new features to the day's events.
It all starts at 10 a.m. this year, as for the first time in the event's history there will be a Brew Stash Breakfast. This will be a buffet-style menu with the likes of shrimp and grits and breakfast tacos (click here for the full menu) along with a cash bar featuring "beermosas" made with NoDa Brewing's Cavu, regular mimosas and coffee as well. The price for the food buffet is $15, and it will be served at the Ridge Pavilion.
Next is the Brew Dash 6K for the more active crowd. As in past years, this is a roughly 3.75-mile trail race on the grounds of the USNWC. The race begins at 11:30 a.m., and preregistration runs through this Thursday, June 11. Cost is $35 or you can pay $40 and get a $10 beer sampling card (more on this below). Preregistration packets can be picked up Thursday at the Whitewater Center from 5 p.m. to 8 p.m. or Friday at NoDa Brewing from 5 p.m. to 7 p.m. If there are spots available the day of the race, it will cost you $42 or $47 with the $10 beer sampling card. Click here for additional registration details.
And that leads us to the main event, which is the craft beer tasting, which will run from 1 p.m. to 6 p.m. You'll be able to purchase a sample card (four 4-ounce samples) for $5, either onsite or you can buy online right now (you'll pick up the prepurchased cards the day of the event). This year's local participants are Birdsong, D9, Lenny Boy, Olde Mecklenburg, NoDa, Sugar Creek, Sycamore, Triple C and Unknown. Other breweries in attendance include Bell's, Founders, Terrapin, Natty Greene's, Westbrook and Dogfish Head, among others.
There's also live music throughout the day, beginning at 1 p.m. with Lefty Williams. Judah & The Lion has the 3 p.m. slot, followed by headliners J. Roddy Walston & The Business (5 p.m.) and Tab Benoit (8 p.m.). And of course, all USNWC activities will be available during the festival as well. Click here for more information about the Brew Stash Bash.