Fourth Down, And A Way to Go
As the city worried about protesters in the wake of the Kerrick trial this weekend, the Myers Park football team made a goal line stand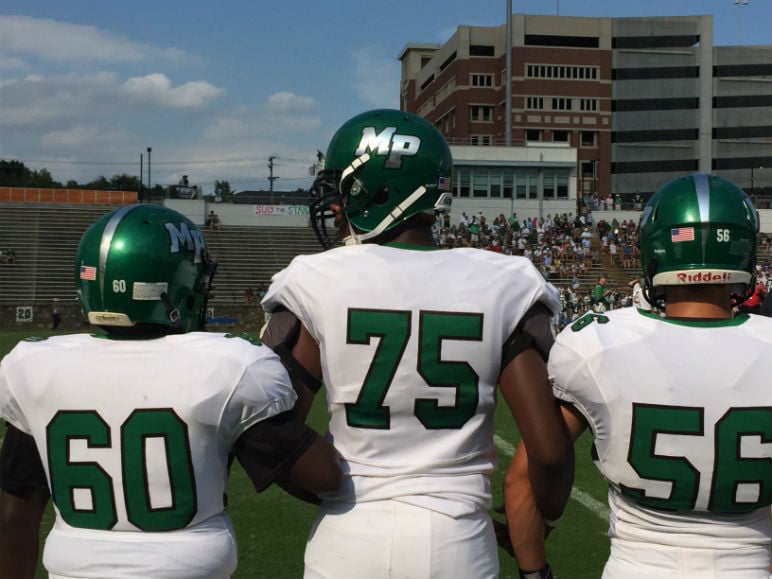 At the very same moment Saturday afternoon, a group named Charlotte Solidarity held a press conference in uptown to promote peaceful protests after a jury didn't send a white police officer to jail for killing a black man, and a middle-aged white football coach at Myers Park High School stood in front of a room of players that was almost evenly split along racial lines and tried to quote Eminem.
"And in this one he says um, it says here, uh, look: If you only had one shot …"
The players burst into laughter.
"… or one opportunity, to seize everything you ever wanted …"
The coaches laugh, too.
"Would you capture it, or let it slip?"
Seriously, he's still going. Some players are in tears.
"That's what you've got. One opportunity tonight. Are you going to capture it, or let it slip?"
Scott Chadwick, who's coached in three state championship games and won one, was three hours away from the most nerve-wracking game of his coaching career, a season-opener against Charlotte Country Day, the well-to-do private school that sits three miles from the public school where he works. It was the first-ever meeting of the two teams, despite the fact that Country Day was built in 1941 and Myers Park was built in 1951. They've had 64 seasons to arrange this game, but it didn't happen until this year, when Scholastic Sports Marketing and OrthoCarolina saw an opportunity to spice up the season-opening Charlotte Kickoff Night at Memorial Stadium.
All summer, Myers Park parents reminded Chadwick: "If you win only one game this year, it better be this one."
Adding to the pressure was a storyline that sounded like high school gossip: Country Day's head coach, Drew Witman, was one of Chadwick's assistant coaches at Myers Park until this year, when he switched sides, and everybody was like, "Oooh, he dumped you, big public school."
Myers Park is a rarity in the Charlotte-Mecklenburg Schools system—a school that's fairly diverse, with about 57 percent white students and 26 percent black students. But many of the students lead very different home lives. The school pulls from some of Charlotte's wealthiest zip codes, but it also has more than a third of its students on free and reduced lunch. This plays out every day on the football team. Some players are from Myers Park, the royalty of Charlotte neighborhoods, a place that has its own Southern accent, "Mahhyas Pahhhk," and comes fully decked with front porches and sweet tea. Other players live in Grier Heights, or Grier Town, as locals remember it, and they often spend their afternoons making rounds asking coaches and teachers for bus fare to get home after practice.
If anything can cross racial and socioeconomic divides, though, it's laughter, and for that brief moment at about 2 p.m. on Saturday, while elsewhere in the city people talked about rallies and justice, Chadwick had 32 white players and 29 black players and a few Asian and Latino players rolling before one of the biggest games in school history.
Two hours and a bus ride later, the Myers Park players walked out onto the Memorial Stadium field for warmups in a line of twos, each pair with arms interlocked. A little more than a mile away, protesters were gathering and preparing for a night of walking through the streets.
After warmups and stretches, the players returned to the locker room, all 64 of them, for one last Chadwick speech, a shorter one this time: "You're representing decades of people today that would love to be where you are right now. It's a big, big responsibility, but I wouldn't give it to any other group."
They roared out of the locker room and into a blow-up tunnel, ripped through a paper sign and took the field for kickoff, and then, for the most part, things fell apart. Myers Park, the largest high school in the state, clearly had bigger and stronger players, but that didn't mean much in the first half. One Mustang made a nice tackle on a punt but rubbed the Country Day player's helmet in the dirt. Penalty. Fifteen yards. A few plays later, a touchdown for the private school. More penalties for the public school. Country Day led 14-12 at halftime.
"I think what you're seeing here is," a man in a Country Day hat on the sidelines said to me at the beginning of the second quarter, "this is the case of the itty-bitty guys being better prepared."
Halftime happened at about 6 p.m. A little more than a mile away, protesters gathered outside of Bank of America Stadium, where the Panthers had a preseason game Saturday night. Cops on bikes positioned themselves between tailgaters and people who can't believe the white officer isn't in jail.
As much as people like to say football is a game of emotion and passion, it's more about repetition and doing things over and over until you do them right. Myers Park held non-mandatory practices throughout the summer. Then, in early August, camp hit, and the Mustangs went at it twice a day. They ate lunch in between. One day, Chadwick's assistant coaches asked him if they could keep the kids through lunch to work on football. "No," the head coach said. "For some of them, that's their only meal today."
In the locker room at halftime, Chadwick gave up on big speeches. Just details now. Emotion would only get in the way. He yelled, "Receivers!" and the passing team gathered around him. He drew up a series of routes that he knew would work based on what he'd seen from the Country Day defense. He asked the group if everybody understood, and the only one who nodded no was Jack Davidson, a junior with sandy-red hair and a slight issue with daydreaming. "Damn it, Jack," Chadwick said, trying to hold back a smile, "you're the quarterback."
The coach explained the play again. On the first series of the second half, he called it. Davidson was paying attention this time, and he floated a pass that, if you were standing in the right spot, crested beautifully atop the Charlotte skyline. As the ball came down, senior Brandon Adams ran under it, caught it, tiptoed along the sideline, then settled in for a dead sprint toward the end zone on the uptown side of the field. The 57-yard touchdown put Myers Park up 19-14.
Football brings people together; there are more than enough books and movies about that. But Charlotte is far too big and diverse to rally around one team or one game. Maybe, though, against the backdrop of a very tense city, the Mustangs were a small reminder of what's possible.
In the final minute of the fourth quarter, as the sun was setting and the field glowed orange, Charlotte Country Day moved the ball to within six yards of scoring a game-winning touchdown. Chadwick called a timeout and his defensive coaches talked details—this player will go here and that player will go there. None of that "if you only had one shot" stuff.
On second down, Ben Norris, Myers Park's 6-foot-2 junior linebacker, dropped Country Day's running back five yards behind the line of scrimmage. On third down, Norris again bolted into the backfield, and this time he sacked Country Day's quarterback for a nine-yard loss. In two plays, the public school had pushed the private school 14 yards in the opposite direction, and now it was fourth down, and now there were only 30.4 seconds left, and now there were 20 yards between Country Day and the winning score. The Myers Park band leader announced into his microphone, "Let's do 'Final Countdown,' " and soon the horns began to blare and the drums began to snap, and a man in a white hat on the field blew his whistle to start the last play, and a young quarterback in a Country Day helmet yelled hike, and two young girls in the bleachers rose from their seats and stood side-by-side in a "CD" shirt and an "MP" shirt, and the quarterback slung a low-lining pass toward the goal line.
Waiting there was a young man in braces named Jason Monastra. He's a starting wide receiver who scored a touchdown earlier in the game and was playing safety now because of injuries to other players. He's the son of two former Division I athletes, one white and one black. And in the glow of that sunset on a tough weekend in Charlotte, he snatched the interception that ended the game. Then he gave the ball back to the officials and sprinted to the sideline, where his teammates were dumping a bucket of water on their coach and hugging each other.
Michael Graff is the executive editor of this magazine. He can be reached at michael.graff@charlottemagazine.com, or on Twitter: @michaelngraff.