Fourth of July in Charlotte: Food, Arts, Social Events, Beer, and More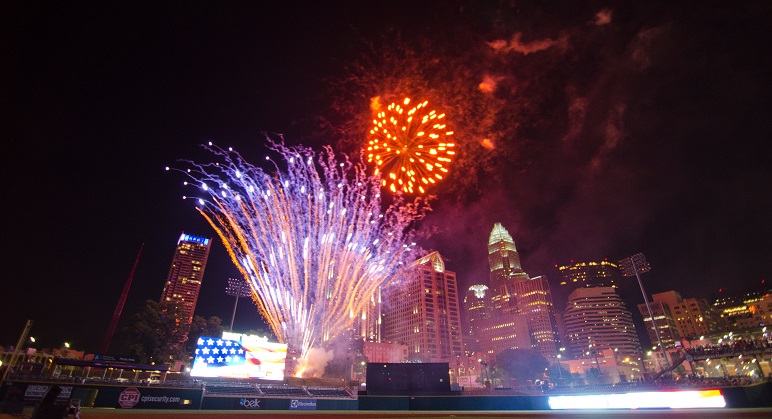 SOCIAL EVENTS
RED, WHITE, AND BREW BAR CRAWL
Get it? Like red, white and blue? But with brew! If there's something more American than a bar crawl, I don't want to know. This crawl will have you sampling beers from all over America at EpiCentre bars, including Blackfinn, Whisky River, Strike City, Rooftop 210, Vida, Vida Vida, Suite and Bubble. Registration begins at Rooftop 210 at 7 p.m., and a T-shirt is included with your $15 ticket. The crawl is at 210 E. Trade St. Buy your ticket here.
SKYSHOW 2015
If you'd rather see the Charlotte skyline illuminated by those rockets' red glare, the bombs bursting in air, this one's for you. This event is billed as the Southeast's largest fireworks display, and the event starts at 5 p.m. with live music, food, drinks, inflatables, kid crafts, carnival rides, games and prizes. Fireworks finish the evening when the sun goes down. The event at BB&T ballpark, 324 S. Mint St., is free, well, because this is America.
LET THE FREEDOM RING
With a great view of the Uptown fireworks without the hassle of Uptown parking, Whiskey Warehouse's second-floor rooftop bar is hosting a patriotic celebration to let the freedom ring. With $30 "Patriot Punch Pitchers" as the special of the day, we just hope you remember it. The bar at 1221 The Plaza opens at 11 a.m.
—Jared Misner
---
ARTS
JAZZ AT THE BECHTLER: GUEST VOCALIST MARIA HOWELL
Start your holiday weekend with one of the Bechtler's two weekend shows, Friday and Saturday. Howell tackles the jazz tunes of Billie Holiday and Nancy Wilson.
FOURTH OF JULY CELEBRATION
For the fifth year, the U.S. National Whitewater Center is packed with music, brews, and of course, the cornhole tournaments, a fixture of the center's festivities. The Honeycutters, Greensky Bluegrass, and Shook Twins play Friday; Saturday's line-up includes Kansas Bible Co., Stokeswood, and Donavon Frankenreiter.
LIBERTY WALK
Fifteen sites uptown are represented in the Liberty Walk, an interactive tour of bronze markers telling the early history of Charlotte and Mecklenburg County. Pick up a brochure at the Visitor's Information Center at 330 S. Tryon St., or just start in front of the Wells Fargo Plaza at 301 S. Tryon St., and follow the markers in the pavement for a trip through the historical adventure of the city's Revolutionary War days. A "Charlotte Liberty Walk" app is available at handheldhistory.com to help you along.
—Andy Smith
---
FOOD
15th ANNUAL 4TH OF JULY PIG PICKIN'
Plaza Midwood is set to host its annual pig pickin' in celebration of our country. The event takes place from 4 p.m. to 10 p.m. on July 4 with free music on stages at The Diamond; Sherwin-Williams; and Snug Harbor. In addition to the pig pickin', Plaza Midwood restaurants Midwood Smokehouse, Bistro La Bon, Zada Jane's, Thomas Street Tavern, and Pizza Peel will all have special July 4th menu options. Mac's BBQ and Mama's Caribbean Kitchen will be vending at the Sherwin-Williams stage.
JJ's RED HOTS
What's more American than a hot dog? JJ's is celebrating on Saturday, July 4 with $1 hot dogs (includes the dog, bun, relish, diced onions, and yellow mustard) at both JJ's locations; 1514 East Blvd. in Dilworth and 15105 North John J Delaney Dr. in Ballantyne.
BLUE
Live music by The Presley Group will accompany a three-course tasting menu for $34.95. Holiday-themed drink specials will also be served, including five-dollar glasses of red and white wine or a blue Mediterranean martini.
—Sarah Nowicki
---
BEER
SYCAMORE BREWING
Sycamore Brewing's festivities feature a July 4 concert featuring Pluto for Planet (2 p.m.) and Dirt Poor (6 p.m.). Hot Box will be the food truck on site, and there will of course be plenty of beer to choose from. I stopped by Sycamore last weekend and highly recommend the brewery's gose, "Gose Down Easy." The brewery nailed the style and it's quite refreshing, especially in this heat.
UNKNOWN BREWING
Located only a few blocks away, Unknown Brewing looks like the perfect spot to enjoy beer while watching the uptown Charlotte fireworks show. Unknown will open at 4 p.m. and there will be live music and, according to their Twitter page, "surprise explosives." As always, expect the unexpected at Unknown. Also, if you still need any U.S.A. apparel, Unknown just released a pretty fantastic shirt for sale at their taproom.
—Matt McKenzie
---
HOME
FARMERS MARKETS
Many of the farmers markets are open on Saturday, July 4th. The Matthews Community Farmer's Market (8 a.m. to noon) should have sweet corn, tomatoes, peppers, and berries. In addition to fruits and vegetables, pick up all the necessary provisions for your weekend festivities, including eggs, cheese, bread, pastries, and meat. The market includes a cooking demonstration and live music, as well. The Davidson Farmers Market will be open (8 a.m. to noon) with fish, cheese, eggs, bread, pastries, flowers, and plenty of fresh produce. A watermelon-eating contest will also take place.
SATURDAY MORNING YOGA
Daniel Stowe Botanical Garden in Belmont starts the day with Saturday Morning Yoga at 9:30 a.m. Beginners and intermediate students are welcome to find their center. Call 704-829-1294 to register. Cost is $40 for five classes or $12 for drop-in (discount for garden members). Then that afternoon from 1 p.m. to 2 p.m., join the horticultural staff for a Horticulture Highlight Walk to learn about what's in bloom and receive seasonal gardening tips. The walk is included in general garden admission.
—Leah Hughes