Fourth of July Parties, JJ's Red Hots Grand Opening, MINI Tour Stop, and More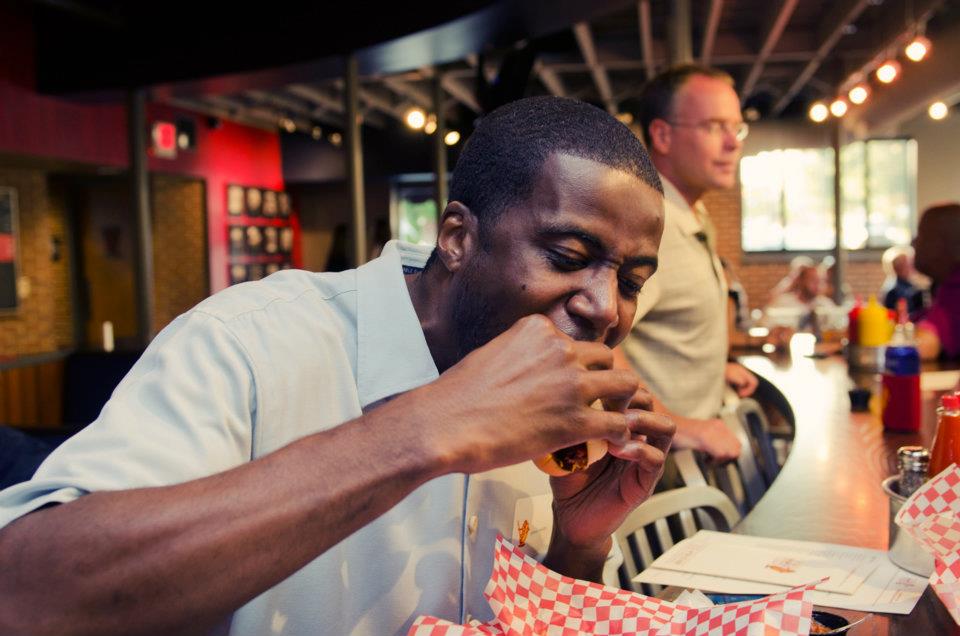 Beat the heat! And I'm not talking about LeBron and 'em. Enjoy this list of Fourth of July week parties in Charlotte.
Tuesday, July 3
Sounds of Uptown Concert Series (weekly event)
Enjoy live music on the terrace of this sleek bar. Plus, 5-7 p.m. (daily), great happy hour food and drink specials are offered, so bring your appetite. 5-10 p.m. Free. Ember Grille & Terrace, at The Westin, 601 S. College St., embergrille.com.
Throw Down to Your Home Town
Each Tuesday in July, WR is inviting college sports fans to represent for their team. Kicking off the series is N.C. State, followed by South Carolina (July 10), East Carolina (July 17), North Carolina (July 24), and Clemson (July 31). Doors open 5 p.m.; keg party 9-11 p.m. Wear your college gear for free admission. Whisky River, at EpiCentre, 210 E. Trade St., whiskyrivercharlotte.com.
Caffeine
For one night only, this dance club "will be transformed into an electronic playground, with an array of sensory stimulation," organizers say. Read: glow sticks, body paint, lasers, lights, and fire spinners. Plus, there are a dozen DJs on the lineup for the night, spinning in the various rooms, highlighted by DJ Micro and DJ Irene. Presented by Top Down Productions, Caffeine Promotional Group, Konkrete Jungle, Stellar Entertainment, and Queen City Bass. 9 p.m.-2:30 a.m. $15 and up. Marigny Dance Club, 1440 S. Tryon St., marignycharlotte.com.
Fireworks: No Work Wednesday
Experience the best in hip hop music, with sounds provided by Bad Boy Entertainment's and Ciroc Boyz own DJ SNS, along with DJ Paradime. Presented by King Entertainment and M. Simmons. 9 p.m.-2 a.m. $15 and up. Phoenix, 300 N. College St., fireworksphoenix2012.eventbrite.com, phoenixcharlotte.com.
Wednesday, July 4
Second Annual Fourth of July Block Party
Spend the afternoon, evening, and/or night barhopping along Seventh Street in Elizabeth. There'll be cornhole, flip cup, and beer pong tournaments, as well as a hot dog eating contest (6 p.m.). Drink specials include $2 Budweiser cans, $2.50 Bud Light bottles, $5 Bacardi Dragonberry cocktails, and $6 Jack Daniels Honey. 1 p.m.-until. Free. Jackalope Jacks, The Philosophers Stone Tavern, Kennedy's Premium Bar & Grill, corner of Seventh and North Caswell streets, kennedyscharlotte.com.
JJ's Red Hots Grand Opening
I had the privilege of visiting JJ's during a special preview event last week and, believe me, you will rave over these gourmet hot dogs. Dilworth's newest eatery opens to the public with a celebration, featuring the award-winning Nation Ford High School Drum Line, a soloist playing the Star Spangled Banner, and giveaways. Some lucky customers will win free hot dogs for a year. In addition to hot dogs and sausages, there are onion rings, fries, hand-spun milkshakes, fresh made orangeade and lemonade, wines by the glass, local craft beer, and more on the menu. 2 p.m.-until. Free. JJ's Red Hots, 1514 East Blvd., facebook.com/JJsRedHots.
Independence Day Party and BBQ
It's a day party happening at one of Charlotte's most popular nightclubs. Dance to music by Bad Boy Entertainment's and Ciroc Boyz own DJ SNS, while also enjoying drinks, complimentary food, and board games. 2-8 p.m. Free admission before 4 p.m. with RSVP to july4clt@gmail.com; VIP tables available, yussara@buttercharlotte.com. Butter NC, at NC Music Factory, 950 NC Music Factory Blvd., buttercharlotte.com.
Coca-Cola 4th of July Festival
It's day two of a festive celebration at this scenic attraction. Concert lineup features Have Gun, Will Travel at 4 p.m., Moreland & Arbuckle at 6 p.m., and These United States at 8 p.m. You'll be able to order food and drinks, plus there'll be free samples of Edy's Slow Churned Ice Cream. Then at nigthfall, a fireworks display will light up the sky above the whitewater river. 4 p.m.-until. General admission, free; VIP, $75, includes private open bar, dinner, and exclusive viewing areas. U.S. National Whitewater Center, 5000 Whitewater Center Pkwy., usnwc.org.
Shades of Democracy: Open Mic Night
It's described as "a fusion of art and activism, mobilizing passion into political action." Democracy NC presents this intriguing evening, highlighted by open-mic performances. All musicians and spoken word artists are invited to come express themselves–it is, after all, Independence Day. 7 p.m. Free. Red @ 28th, 2424 N. Davidson St., red28th.com, democracy-nc.org.
Pop Life: July 4th Edition
As if this weekly party doesn't already draw large crowds, you can expect it to reach capacity early on this holiday night. Music by Atlanta's DJ Sense of Gangsta Grillz, along with DJ DR. 9 p.m.-2 a.m. Free; VIP tables available, tami@republicofcharlotte.com. Re:Public, 314 N. College St., facebook.com/republic.charlotte, thesolkitchen.com.
Thursday, July 5
Alive After Five (weekly event)
Enjoy live music this week by Mo Money on the rooftop stage and Gold Mine on the courtyard stage. Expect to see plenty of folks from the Shriners Convention in attendance. There will be several drink stations, plus surrounding restaurants offering dining specials. 5-9 p.m. Free; VIP, $25, includes complimentary beer, wine, and food. EpiCentre, 210 E. Trade St., epicentrenc.com, aliveafterfives.com.
MINI Takes the States Tour Stop
Hundreds of MINI Coopers are rallying in Charlotte, and you can join in the fun on this evening. This special event features food, drinks, fireworks, giveaways, and live music by The Fabulous Swingin' Richards. 6-10 p.m. Free. Fountain Plaza at NC Music Factory, 1000 NC Music Factory Blvd., ncmusicfactory.com, miniusa.com.
Verify dates, times, prices, and other info at the web addresses listed for each event.
Be sure to bookmark www.charlottemagazine.com/Blogs/Dusk-Till-Dawn to stay plugged into Charlotte nightlife.