FOX News Meltdown
Rather than reporting sensational news, the on- and off-air talent at WCCB FOX Charlotte has been making it. Personnel shifts, some bizarre and scandalous, have plagued the station for the past year, leaving us to wonder what's actually breaking over there—stories, or sanity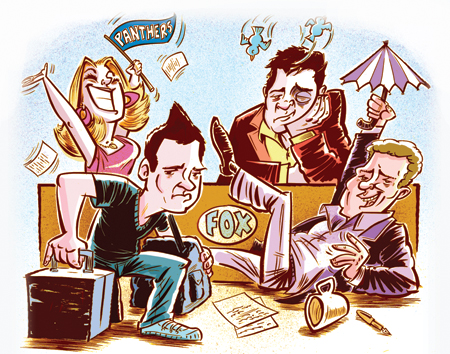 September 2010
Clouds start forming over the WCCB headquarters when weatherman Mark Mathis is let go for undisclosed reasons. This was, believe it or not, Mathis's second shot with FOX, having been fired previously in 2004 for failing to show up to work (a bout with the bottle, according to the Observer, was the crux of the issue).
December 16, 2010
Brotha Fred (Christopher Frederick) bails on his cohost duties at FOX News Edge to take a new gig in Chicago.
December 19, 2010
Sure, the future of journalism is uncertain, but you don't see us scavenging for provisions like fall squirrels, do you? News director Ken White, however, was apparently worried—he was arrested on charges of walking out of the Arboretum's Harris Teeter with Cokes, apples, water, and chips without paying.
January 4, 2011
The year starts off on an awkward note for FOX when, during a press conference, Panthers owner Jerry Richardson asks Morgan Fogarty to move up front so he can "abuse" her for her televised criticism of him and the Panthers' dismal 2010 season. The blogosphere agrees that Richardson should pay less attention to snappy female anchors and focus more on his nonexistent offensive line.
January 18, 2011
Weekend anchor Lyra Manning leaves WCCB. Probably a wise move.
January 20, 2011
In a news-station throw down reminiscent of the Ferrell-Vaughn tussle in Anchorman, anchor Brien Blakely and a producer get into a fight over a derogatory Facebook post by the producer. The squabble landed Blakely in the ER, and both of them unemployed.