Foxy Mixology, Pup Rally, Super Bowl Pep Rally, Super Bowl 50 Parties and More, Feb. 4 to Feb. 7
The name of the game this weekend is Super Bowl. We have a whole list of Super Bowl parties on Sunday, a Super Bowl pep rally and, wait for it, a pup rally, on Friday. Go Panthers!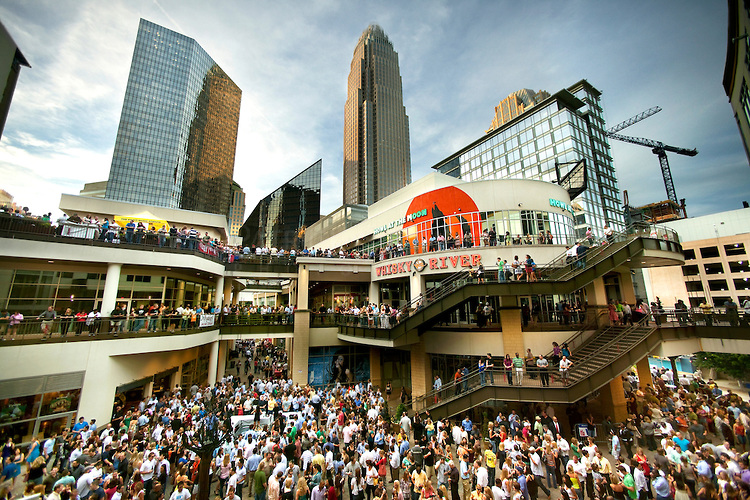 We know Sunday's a big day for our city. Maybe the rest of the country could find out what city the Panthers are from! We won't get too crazy, though. Aside from the big game Sunday, there's a whole slew of social events happening this weekend. Have fun, go Panthers and see y'all out there!
Thursday, Feb. 4
Foxy Mixology
Up your bar game at this event where a Leroy Fox mixologist teaches you how to perfectly pair your drink with your food. Bonus: you get three cocktails perfectly paired with a three-course meal for $35. The evening starts at 7 at Leroy Fox, 705 S. Sharon Amity Road. Buy tickets here.
Craft Cocktail Series: Coffee Cocktails
Coffe: good. Cocktails: good. Together: great. These cocktails match the uniqueness of its venue, Crown Station Coffee House and Pub, 1425 Elizabeth Ave. Crown Station is the city's only coffee house with a full liquor permit. For $35, you'll get to craft and enjoy three coffee cocktails. The event is from 7 p.m. until 9 p.m. Buy tickets here.
Friday, Feb. 5
First Friday Jazz, Soul and Blues
Lookie here. Dusk Till Dawn readers get a special discount to this event. Mention us, and you'll score a discounted ticket for $8 to this monthly music event at The Tavern, 300 E. Morehead St. Tonight's performer is Calvin Edwards. Doors open at 8 p.m., and the show starts at 9 p.m.
Pup Rally
The annual Puppy Bowl – the real Sunday event – isn't for a few days, but Charlotte-Mecklenburg Police Department Animal Care and Control is putting on this event, and it involves puppies dressed in Panthers gear, so you really need to clear your schedule now. The five puppies scheduled to play are named after Panthers players. Like we said, clear your schedule. The free event is at Disk Plaza, 101 S. Tryon St., from 11:30 a.m. until 1:30 p.m.
Super Bowl Pep Rally
It's a shame the Panthers don't play all year. That team has given this city so many excuses to party, and tonight's no different. This pep rally itself is free, but tickets, which cost about about $12, get you a T-shirt and entrance into Whisky River, Blackfinn, Strike City, Vida, Vida Vida, Bubble, Suite, Rooftop 210, Tin Roof, Wild Wing Cafe and Howl at the Moon. There will also be DJs, games, Super Bowl trivia and face painting. The party starts at 7 p.m. at 210 E. Trade St. Buy tickets here.
Saturday, Feb. 6
Art with Heart Auction and Gala
The sixteenth annual Art with Heart event raises money for Safe Alliance, a local organization that provides domestic violence, sexual assault or child abuse crises services to those in need. A $125 ticket to the gala gets you an open bar, heavy appetizers and access to the event's auction. The event is from 7 p.m. until 11 p.m. at Founders Hall, 100 N. Tryon St. Buy tickets here.
Mardi Gras Parade of Beads
Let the good times roll tonight! The EpiCentre, 210 E. Trade St., transforms tonight into the New Orleans French Quarter with decorations, street performers and the annual Mardi Gras parade. Grab your hurricane and walk through Uptown as if you're on Bourbon Street.The event begins at 7 p.m., and the parade begins at 8 p.m. Tickets are about $18 and include a T-shirt, cup, admission to all participating bars and, of course, beads. Buy tickets here.
Winery Grapes Indoor Wine Festival
With sampling of more than 100 wines, shelter from the cold and live jazz music, this seems to be the perfect Saturday in the making. The festival is at Slate Billiards, 200 E. Bland St., from 2 p.m. until 5 p.m. Tickets are $35 at the door.
Oyster Roast
Bring $65 and a big appetite. At the annual event – this year's event is at Sugar Creek Brewing, 215 Southside Drive – Charlotteans feast on an unlimited number of oysters, hot dogs, bowls of chili and glasses of beer. There will also be live music at this year's charity event, which benefits Carolina Family Connections, CART 19 Study at the Children's Hospital of Philadelphia and the Ronald McDonald House. The roast is from 4 p.m. until 8 p.m. Buy tickets here.
Sunday, Feb. 7
We have an entire list of Super Bowl 50 parties here. Go Panthers!
Verify dates, times, prices, and other info at the web addresses listed for each event.
Be sure to bookmark www.charlottemagazine.com/Blogs/Dusk-Till-Dawn to stay plugged into Charlotte's nightlife and social scene. Click here to sign up to receive the weekly Dusk Till Dawn e-newsletter.
Want your event featured in Dusk Till Dawn? Follow me on Twitter @Jared_misner and let me know about your event, or send me an email at dusktilldawnblog@gmail.com.
Send Jared an email at DuskTillDawnblog@gmail.com, or send him a tweet @Jared_Misner.

Also by Jared Misner:

→This Weekend's Social Events
→Bowling For Books, First Friday Fort Mill, Electric Luau Party, Soulmatic Carolina Music Fest and More, Aug. 6 to Aug. 9
→The Moon Walk, Candy Fest, Silly String Party, Booze Cruise and More, July 30 to Aug. 2
→Christmas in July, More Christmas in July, National Dance Day, National Tequila Day and More, July 23 to July 26