Frankly Speaking: JJ's Red Hots
JJ's Red Hots Heats Up Dilworth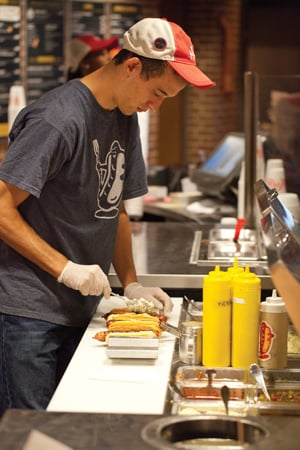 The latest addition to Dilworth's busy restaurant scene, JJ's Red Hots is a playful celebration of an American classic: the humble hot dog.
Located on East Boulevard in the building that once housed The Drum Restaurant, a Dilworth icon for more than fifty years, JJ's pays homage with a custom-built chandelier made from a drum set, the dining room's centerpiece. A larger-than-life mural of the restaurant's mascot—a smirking hot dog in a bun—greets you at the door.
Inside, the gleaming décor is both kitschy and modern. Black-and-white photographs of hot dog stands and burger joints that inspired the restaurant's founder and concept designer, Jonathan Luther, are on prominent display. (He's also the photographer.) A long, curved high-top table fills the center of the restaurant, and tall booths line the walls. The atmosphere is playful and lighthearted, with frequent live music and a spacious rooftop—a good match for a menu that includes almost nothing that requires a fork.
"We're a blue collar kind of brand," says Luther, who was the food critic for this magazine from 2007 to 2010. He created JJ's with his father, cofounder, and strategic adviser, Jon L. Luther. Both are veterans of the food-service industry, with more than seventy years of experience between them. "[The photographs] are sort of my way of paying homage to the people that came before us. I also felt like hot dogs were something that appealed to everybody, from eight to eighty," he adds.
Even with its irreverent, approachable charm and cheeky tagline, "Don't dis the dog," a glance at the menu makes it clear that there's one thing JJ's definitely takes seriously—its food. Eight signature hot dogs are the specialty, char-grilled for a satisfying crunch and stuffed in grilled potato buns. Sausages, salads, ice cream, milkshakes, and other Americana hits fill out the menu. Most of the toppings and sides are made in-house. Luther carefully selected the rest.
Each dog—from the JJ's No. 1 Red Hot ($3.49), a paradoxically mild dog loaded down with mustard, house-made hot pepper relish, diced onions, and a dill pickle spear, to The Whistle Pig ($3.99), smothered in shredded cheese, house-cured bacon, mustard, and chopped onions—has its own logo. The restaurant also offers interpretations of regional favorites with the Dirty Jerz ($3.49), with pickle relish, diced onions, and deli mustard (and house-cured sauerkraut for an extra 49 cents), and Chicago-style Joliet Jake ($3.99), which comes with tomatoes, sport peppers, diced onions, pickle relish, mustard, celery salt, and a pickle spear.
But there are also some surprises here, such as the tangy and sweet Maui Gold ($3.49), which arrives smothered in diced onions and grilled pineapple salsa, and the bold Sonoran ($3.99), which is topped with borracho beans (beans cooked in beer), fire-grilled salsa, shredded cheddar cheese, and diced onions. Sides include just-spicy-enough onion rings, slaw, and dusted shoestring fries.
Time will tell if the humble, albeit classic, hot dog can gain a foothold in this burger-obsessed city. But JJ's already has plans for expansion—Luther is scouting potential locations—and with its fun-loving atmosphere, attention to detail, and tasty dogs, JJ's is on its way to becoming as beloved as the iconic restaurant that once claimed this spot.
Location:
JJ's Red Hots
1514 East Blvd.
980-225-8880