Free Donuts for National Donut Day!
National Donut Day is the perfect end to a work week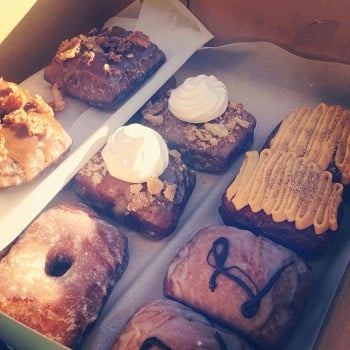 Friday, June 5, is the day we celebrate National Donut Day.
Throughout Charlotte, you can find an assortment of places serving up our favorite round confection as you prepare for this feast day:
Your Mom's Donuts: With daily flavors like orange coconut, apple-butterscotch-candied walnut, strawberry lavender, and so many more, Your Mom's Donuts are definitely worth the money so that you can properly celebrate National Donut Day. The shop is located at 11025 suite F on Monroe Rd., Matthews and is open from 7 am to 1 pm or until doughnuts are sold out.
Sugar Handmade Gourmet Donuts: You may have seen the truck, and the Sugar team will soon open a storefront in Ballantyne at 11914 Elm Lane. All of the glazes, toppings, jams, and creams are house-made.
Try flavors like toasted coconut with pineapple cream; candied jalapeno lime glaze; rocky road; white chocolate orange cardamom; and more. On Friday, June 5, you can find the truck at Food Truck Friday in Matthews at Stumpton Park South Trade from 5-9 pm.
MJ Donuts: Open from 6 am to noon and located at 325 S Polk St in Pineville, MJ's Donuts has a loyal following. Glazed, powdered, jelly-filled, chocolate, and more are just some of the varieties begging to be eaten at this mom and pop shop. Plus, you get free doughnuts holes thrown in the bag with your doughnuts !
Additionally, and, perhaps most importantly: Dunkin Donuts and Krispy Kreme will be giving out free doughnuts, all day, on June 5. To snag a donut at Krispy Kreme, simply walk in and ask – one doughnut per customer. For a free doughnut at Dunkin Donuts, you'll need to purchase a beverage first.