Free Pop-Up Picnic in Freedom Park on Friday
Bring your own picnic dinner or buy some grub from the Mayobird food truck that will be onsite.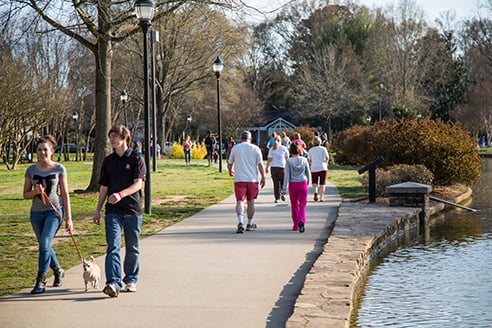 On any given day, Freedom Park is buzzing with activity. You'll see friends catching up on Little Sugar Creek Greenway, teens skateboarding the sidewalk, and dates unfolding underneath the trees. This Friday, the scene will have even more activity.
Catawba Lands Conservancy is hosting a free picnic in front of the band shell in Freedom Park (1900 East Blvd.) on Friday evening from 6 to 9 p.m. It's open to everyone, and you are welcome to pack a picnic dinner to bring. If you'd rather buy something instead, you can grab grub from the Mayobird food truck that will be onsite, and there will also be beer from Lenny Boy Brewing Co. and wine from Arthur's Restaurant available for purchase (hot tip: wine is cash only!). Though you can bring food, no outside alcohol is allowed.
Asheville bluegrass band The Greenliners will be performing, and REI will be offering free bike tune-ups along with an array of family activities to participate in. The picnic is a prime opportunity to ride in from the greenway and get your bike checked out while the whole family enjoys an evening of food, tunes, and fun.
Register here for your free ticket if you plan on going. You can also see more details about the event here.
If it rains, the event will be canceled.