Fresh Take: A Visit to Mico at Grand Bohemian Hotel Charlotte
The spot merges spicy Argentinean flavors with Bohemian design inside uptown's newest luxury hotel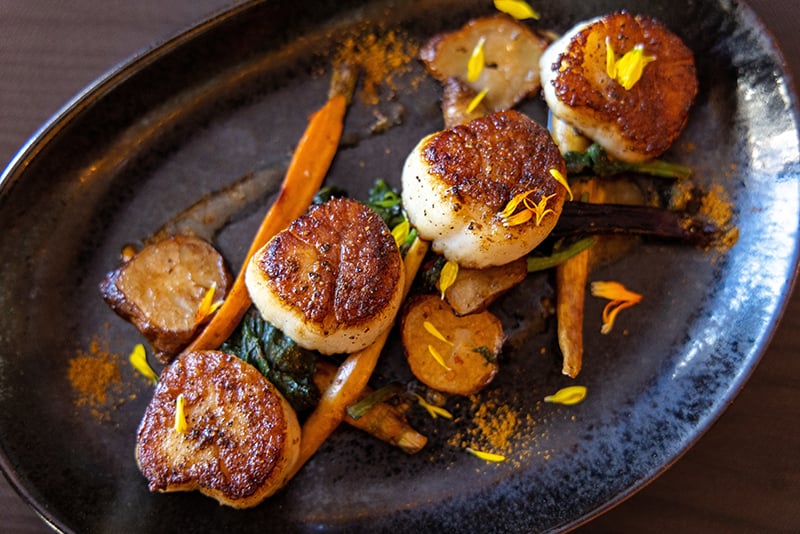 In a neighborhood already packed with luxury hotels, trendy restaurants, and rooftop bars, The Grand Bohemian still manages to stand out. Each room in the building, part of the Marriott's Autograph Collection, teems with glitzy accents and custom Bohemian chandeliers. Its ground-floor restaurant, Mico, is one of three dining options inside the hotel, which opened in uptown last August.
Mico (Spanish for "monkey") feels like both a restaurant and a museum with its rich wood floors, blue velvet seating, and vibrant Argentinean paintings. The South American-inspired menu is full of complex flavors and unexpected food mash-ups like harissa creamed spinach and brown butter bread crumbs. Chef de Cuisine Whitney Thomas arranges each dish with edible flowers and vibrant vegetables that frame the plate.
Start with a cerveza, a glass of Argentinean wine, or a specialty cocktail like the Trade Street Sangria ($14). Order some lamb kofta kebabs ($15) for the table, and dip them in muhammara, a walnut and hot red-pepper spread that's sweet, savory, smoky, and a little bit spicy.
There's plenty of fresh fish on the menu, but don't expect fried fare from a seafood shack. The Caramelized Queen Scallops ($36) come with Jerusalem artichokes, broccoli rabe, roasted carrots, lemon, and warm harissa vinaigrette. The Pan Roasted Grouper ($36) is dressed up with a medley of colorful vegetables and leche de tigre ("tiger's milk"), a spicy citrus marinade used to cure fish in Peruvian cuisine.
The asado side of the menu features Argentinean barbecue, with beef ribeye ($39), filet ($42), or skirt steak ($29) grilled and slathered in chimichurri, charred onion, roasted garlic, and a potpourri of exotic spices. For a less adventurous palate, there's steak or lobster (market price) with truffle blue cheese fries and chimichurri. Additional sides like smashed sweet plantains and crispy Brussels sprouts are $8 each.
Dessert at Mico is the highlight of an already decadent meal. The Iguazú Falls ($12) is a sphere of vanilla bean cheesecake with sweet potato mousse, oat streusel, candied ginger, caramel sauce, and edible flowers. The Glaciar Perito Moreno ($12) is autumn on a plate, with cinnamon apple purses, apple cider mousse, and cinnamon ice cream. But the Pampas ($15), a flourless dark chocolate cake garnished in gold leaf, is the dessert you'll think about long after you leave.
If you're not ready to call it a night, ride the elevator to Búho (Spanish for "owl"), the hotel's rooftop bar, and enjoy another cocktail or small plate by the fire pit. If you plan to stay at the hotel, visit the on-site Starbucks in the morning or grab a grain bowl at The Bohemian Garden's walk-up window when it opens for the season.
A hotel this grand is a draw for out-of-towners, but Mico will be a mainstay for locals who want to feel like they're out of town. It's still the reliable dinner-followed-by-rooftop-drinks routine that Charlotteans love, but perhaps the most un-Charlotte of uptown's nighttime hot spots.
---
Don't leave without trying: the Pampas ($15), a flourless dark chocolate cake with dark chocolate chili sauce and vanilla ice cream.