Fresh Take: A Visit to Orto in NoDa
What Paul Verica adds to the growing landscape of Italian spots in Charlotte—and what to order there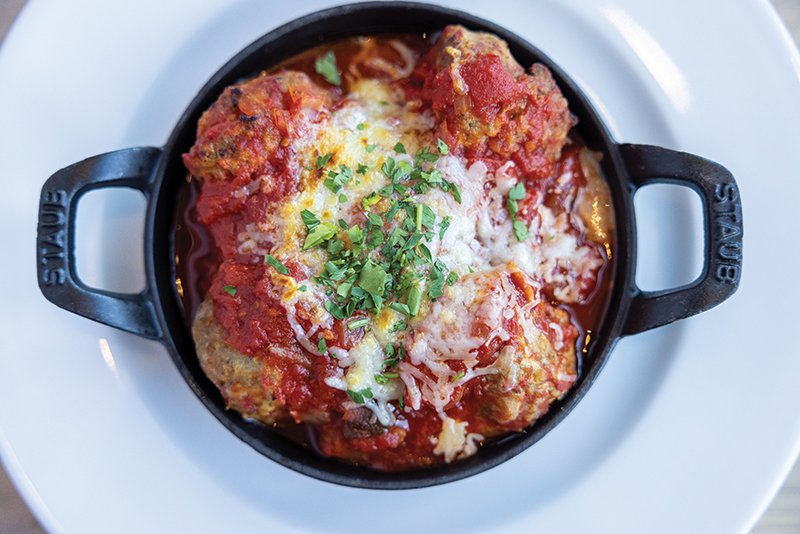 A wave of new Italian restaurants has crashed over Charlotte in the past two years: osterias, gourmet pizza places, Venetian wine bars. They've opened in affluent areas where upscale restaurants tend to congregate, like uptown, SouthPark, Dilworth, and Myers Park.
But Paul Verica, a two-time James Beard semifinalist, ventured outside the nouveau-Italian trend's bubble in February when he opened Orto in the Novel NoDa project. The menu is a departure from the farm-to-table style he's known for at The Stanley, but his Italian dishes are just as lovingly prepared. He doesn't go overboard with unnecessary garnishes or elaborate presentations, because he knows pizza and pasta don't need to be fancy or reinvented to please the dining public.
The 3,000-square-foot space is a few steps from the LYNX Blue Line's 36th Street Station, in the same building as Wooden Robot and Jeni's Splendid Ice Creams. Orto, which means "garden" in Italian, isn't a dimly lit trattoria with checkered tablecloths and dark stucco walls. The interior is open and bright with high ceilings, light wood tones, and framed watercolor images Verica brought back from Italy. One wall features a 13-foot mural of a vegetable garden by artist Duy Huynh, who owns Lark & Key gallery in Dilworth.
If you don't mind a little background noise from the light rail or the street traffic from North Davidson, grab a table on the covered patio and order a drink. Mixologist Amanda Britton, formerly of Bardo and VANA, mixes her versions of classic Italian cocktails. Try a You Must Be Mine ($13) with mezcal, Cappelletti, fennel, and blood orange soda or a Did I Do That? ($12) with Campari, Cocchi Rosa, orange, and prosecco for a refreshing summer libation. You can also order local brews from Resident Culture and Wooden Robot and wine by the glass or bottle.
Start with an order of Meatballs ($14) topped with tomato sauce and aged provolone. For something lighter, try the Scallops ($16), served with tomatoes, olives, capers, lemon, parsley, and olive oil. When your server asks if you'd like a complimentary bowl of rosemary focaccia, the correct answer is yes. You'll want to use the bread to soak up the savory, garlicky drippings from the scallops.
Orto's pizza is a nod to Verica's favorite 'za, from Pica's, a venerable joint in his native Philadelphia. His version is a square counterpart to the rectangular Detroit-style pie, but with a thinner crust. Choose from five varieties, like the traditional Pepperoni ($17) or the White Pizza ($19), with sprouts, onions, pancetta, arugula, ricotta, mozzarella, and Parmesan. Each one has 16 square slices, so it's plenty for two people to split as an entrée or share with a larger group if you want to sample more of the menu.
The pasta, made in-house daily, includes traditional Spaghetti and Meatballs ($17), Fusilli Bolognese ($17), and Lobster & Shrimp Ravioli ($27). Don't expect oversized American portions—these dishes are much daintier than anything you'd find at a chain restaurant, and Verica isn't heavy-handed with the olive oil or any of his sauces. Everything has just enough of each ingredient, so you'll leave satisfied but not stuffed.
The dessert menu has Tiramisu ($10), Berry & Ricotta Crostata ($10), and Rosemary and Olive Oil Cake ($10) topped with lemon sorbet. Pair them with an after-dinner cocktail or Italian liqueur like Cardamaro ($8), Fernet Branca ($9), or Cynar ($9). You can also head next door to Jeni's for a scoop of ice cream and stroll around NoDa if that caught your eye on the way in.
Orto is the neighborhood Italian spot NoDa was missing. The menu isn't overwhelming or full of ingredients you won't recognize, but it's consistently good—and a lot more exciting than your typical Friday night pizza delivery.
TAYLOR BOWLER is lifestyle editor of this magazine.