Fresh Take: A Visit to Roy's Kitchen & Patio in NoDa
The space was formerly Mango's Caribbean Restaurant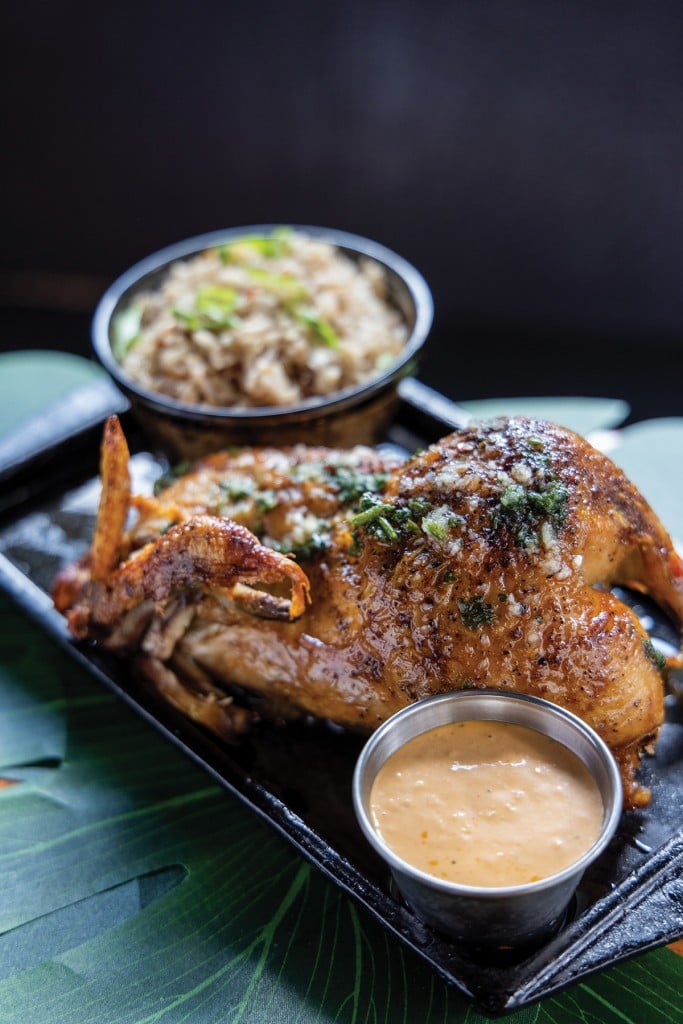 Roy's Kitchen & Patio quietly opened its doors in early July on the same stretch of North Davidson Street as The Goodyear House and Haberdish. The space, previously occupied by Mango's Caribbean Restaurant, still has an island vibe, and former Mango's owner Roy Grant has stayed on as co-owner alongside new partner Courtney Nesmith. They brought on executive chef Richelle Espinosa-Brewer to revamp the menu and updated the blazing orange interior with a more neutral palette. They've also added a patio in back with a Tiki bar where guests can listen to reggae tunes. But don't expect a trip to Margaritaville—this is a relaxed neighborhood hangout with cornhole, ping-pong, and rotisserie chicken you can smell cooking down the street.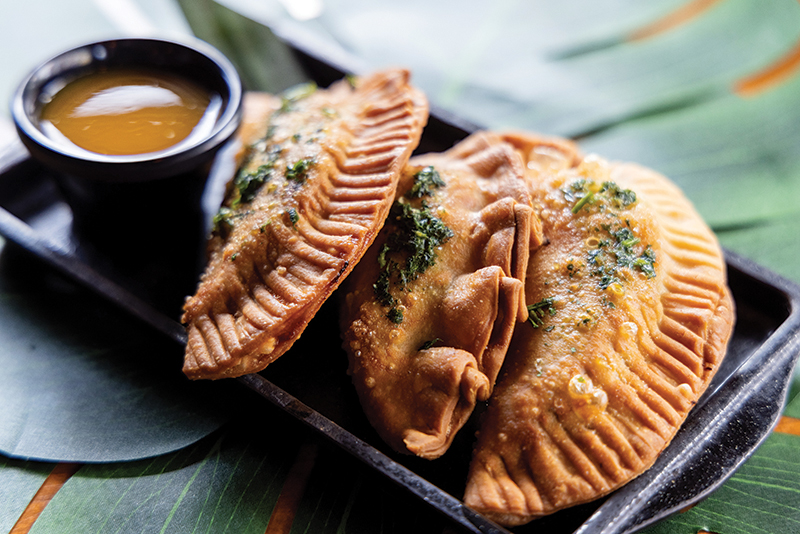 If you come on a warm night, grab a table on the covered patio beneath a ceiling fan and order a cold drink. Beverage director Erynn Greer makes vacation standbys like piña coladas and Mai Tais, but if you're feeling adventurous, try one of her house cocktails. Roy's Revenge ($9) is a magenta libation of rum, hibiscus tea, lime, wildflower bitters, and ginger beer. They go down really easy, though, so alternate with sips of ice water.
Start with a plate of plantain chips with tomatillo salsa ($6), which are fried to order. They're warm, crunchy, and great to nibble between sips of your cocktail. If you like hushpuppies, try the salt fish fritters ($8), which are crispy on the outside, chewy on the inside, and come with a side of sweet Tamarind sauce to balance the saltiness of the dried cod, or bacalao. For a lighter (and vegan) option, try the calypso salad ($6) topped with green mango, jicama, carrots, and a citrus pineapple dressing.
Fans of Mango's can still find staples like the jerk rotisserie chicken, made with Grant's family recipes from his native Jamaica. Roy's stuffs it with a secret spice mix and slow-cooks it over charcoal for the smoky flavor. Get half a bird ($15) or a whole bird for the table ($25.99) with a choice of two sides that include yellow rice, Yuca fries, and collards.
The jerk wings ($12) are a reliable alternative if you don't want to commit to a full order of rotisserie chicken. You get three whole wings marinated in Roy's jerk sauce, but they can be messy, so ask for extra napkins. For a Jamaican classic straight out of Grant's family recipe book, try the curry goat ($16), a spicy stew served with rice and pigeon peas (a traditional Caribbean side similar to lentils). This entrée requires the same dedication you'd need to de-shell a lobster, though. There are quite a few bones to work through, but it's worth it when you get to that savory center.
The empanadas ($8) come in three different flavors (beef, chicken, chickpea) with three dipping sauces (jerk, tamarind, habanero). These four-bite fried turnovers are all packed with delicious Caribbean seasoning, but the chickpea variety is the sleeper on the menu—so don't discount it as the obligatory vegetarian option. The curried chickpea filling is so good, you'll never miss the meat. And if you can't get enough of those addictive sauces, don't worry. You can order additional sides of curry, chimichurri, or oxtail gravy to smother your 'nadas. Nobody will judge you here.
So stick around, order another Roy's Revenge, and play some cornhole. You're on vacation tonight.
TAYLOR BOWLER is lifestyle editor of this magazine.
---
Don't leave without trying: The plantain chips ($6) with an extra side of tomatillo salsa. One plate might not be enough.