Fresh Take: Cantina 1511
The restaurant has a new outlook—and more changes on the way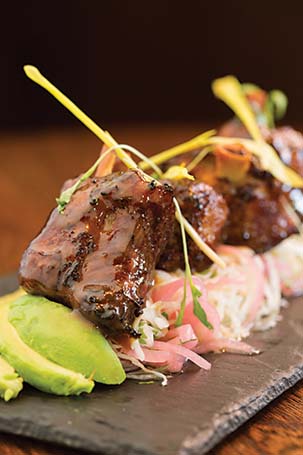 A year and a half after Frank Scibelli's FS Food Group sold Cantina 1511, the restaurant still hums with birthday celebrations and the frequent sizzle of fajitas in skillets. The Mexican restaurant—a favorite since its first location opened on East Boulevard nearly a decade ago—is now owned and managed by South Africa-based Quantum Development, creator of the Mugg & Bean, a coffee-themed restaurant chain.
With new ownership frequently comes new leadership, but executive chef Vincent Giancarlo, who's been with the restaurant for more than four years, is still in place. Under his leadership, Cantina has steadily focused on freshening up the menu, which hadn't strayed much from Scibelli's original concept. Recent diners might notice an increased focus on cuisine inspired by Mexico's many regional specialties—and upgraded presentations on the ubiquitous (albeit delicious) standards such as tacos, enchiladas, and burritos. Longtime favorites including the shrimp and jalapeño bacon-stuffed Marco Polo taco remain. The menu is rounded out by additions like the Guadalajara, with masa-battered scallops and shrimp, and the Pato Carnitas, filled with duck carnitas, pickled onions, avocado, and jalapeño tomatillo salsa. Each dish is $7.35 for one taco and sides; additional tacos are $3.50. The menu will get a seasonal update twice a year, the latest of which was rolled out last month.
A new daily bar menu offers street-food-inspired Mexican fare. Not keen on sitting at the bar? A few items usually make their way onto the hot sampler ($9.95) platter. On a recent weekend night, the sampler included dulce de leche-glazed plantains; fries topped with cheese and brisket (a sort of Mexican version of poutine); fall-off-the-bone pork shanks topped with a dense, citrusy glaze; and finger-sized sections of a wild-mushroom quesadilla. Also new: a broad selection of tortas and two Mexican-inspired burgers (available at lunch only). Deftly handled oven-roasted blood orange duck breast ($16.45) served with a fresh Valencia orange salsa is a must-try, as is the pan-seared diver scallops and shrimp dish ($18.95), served over an elote-inspired corn salad.
And there are more changes to come in the next year. The East Boulevard location will get a complete renovation from VisionBuilders and Design, including new flooring, light fixtures, furniture, reupholstered booths, and a brighter, more contemporary feel. There's talk of adding a fresh-tortilla-making station that would be visible from the dining room. A renovation of the StoneCrest location will follow, along with a third Cantina location in Charlotte and a fourth in South Carolina.
Even without the cosmetic updates, though, Cantina's new outlook and fresh presentation of this varied and versatile cuisine—that has a tendency to be one-note in less-skilled hands—is a welcome infusion of enthusiasm and talent into the city's Mexican food scene.