Fresh Take: Cloud Bar by David Burke, Uptown's Newest Rooftop Spot
Head there for a socially distanced night out, in the sky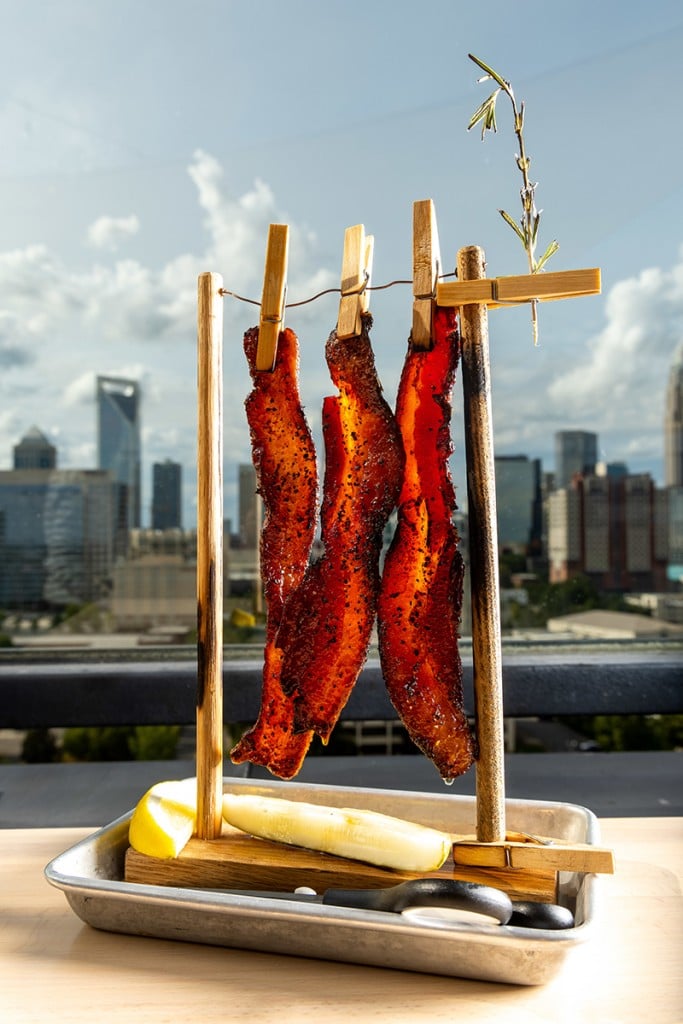 Merchant & Trade, Nuvolé Rooftop TwentyTwo, and Fahrenheit all host plenty of date nights and happy hours in uptown, but there's always room for another rooftop bar in Charlotte. The setup is remarkably conducive to COVID-era dining, too, so Cloud Bar landed in the right place when it opened in August.
Cloud Bar by David Burke is the first of two restaurants the celebrity chef opened in uptown's Le Méridien Hotel this year. (Burke's second venture, Red Salt, opened in mid-September in the space formerly occupied by Evoke.) Enter through the Sheraton, which connects to Le Méridien's lobby, then take the elevator to the 18th floor. From there, climb a flight of stairs to the rooftop. The bar is in a glass-enclosed area with high top tables if you prefer indoor seating. If you came for the skyline views, keep walking toward the outdoor patio.
Oversized planters brim with greenery, and canvas canopies keep you shaded as the sun goes down. Once it gets dark, white string lights illuminate the terrace. Have a seat on one of the cushioned love seats or club chairs, or grab a table and order a drink. Start with a cold glass of prosecco or try the Firebird cocktail ($14), a refreshing mix of tequila, ginger syrup, lime, and pomegranate soda. There's a full wine list, too, and local brews from OMB, Triple C, and NoDa Brewing.
Burke's avant-garde approach to food presentation is on full display with the DB Bites menu. The maple-glazed bacon clothesline ($21) is exactly as it sounds: long strips of bacon that clothespins fasten to a string. The crispy Brussels ($11) is a heaping bowl of fried Brussels sprouts topped with bits of pancetta, shaved parmesan, and drizzled balsamic. Feel free to pop them in your mouth with the toothpicks provided; utensils are optional here.
If you're a fan of food on a stick, order the chilled shrimp and mozzarella skewers ($16), which stand upright on a red wood block. Each skewer holds a jumbo shrimp, mozzarella ball, prosciutto slice, and a hunk of watermelon. The chicken wings and shishito ($15) also come on standing skewers, with seasoned wings, not-too-spicy shishito peppers, radish, cucumber, carrots, and a side of blue cheese-chipotle ranch.
The vertical display carries over to the dessert menu, too. The French macarons and mochi ($12) are three stacks of meringue sandwich cookies, strawberries, and bite-sized balls of sticky rice filled with ice cream. The cheesecake lollipops ($19) arrive on a silver display stand in chocolate, hazelnut, and strawberry flavors, which make a traditionally heavy dessert feel light and delicate.
Cloud Bar checks all the boxes for a safe night out in the year of coronavirus. There's plenty of space between tables, the waitstaff is properly masked, and you're outside in the fresh air. So go ahead. Treat yourself to a flashy cocktail and some skyline views. This is still Charlotte, after all.