Fresh Take: Ilios Crafted Greek in South End
Fast casual Mediterranean is ready for pickup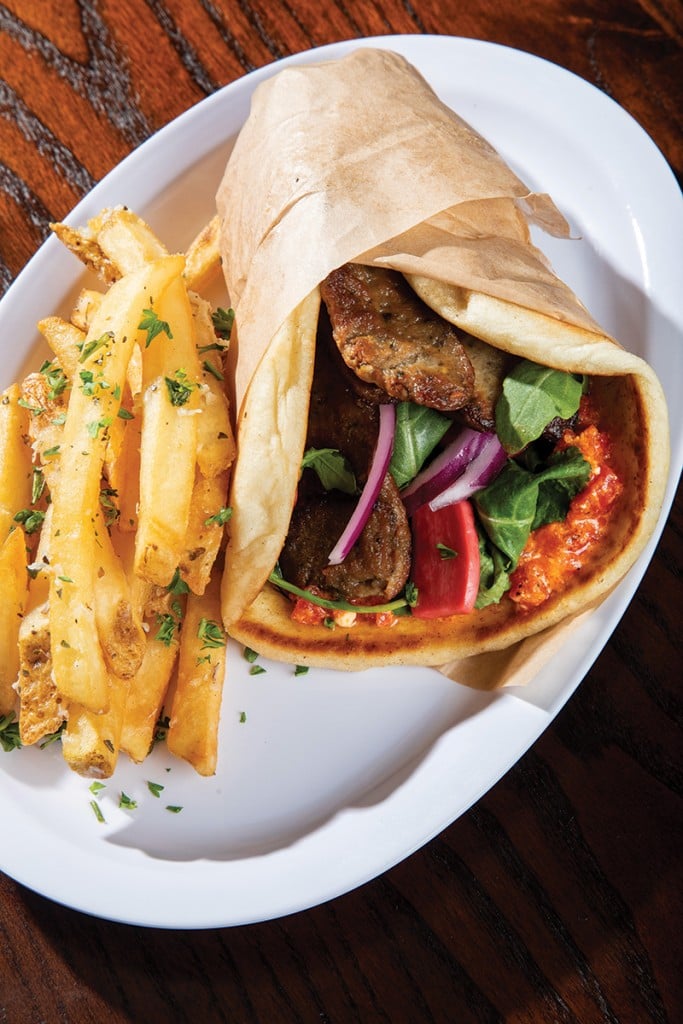 After nearly 18 months of construction delays, Ilios Crafted Greek is finally open for business in South End. Stratos Lambos and Angelo and Frank Kaltsounis, the team behind Ilios Noche, transformed the 2,000-square-foot former bike store at Church Street and West Summit Avenue into a fast casual Greek eatery, which they'd originally planned to open in December 2018. By the time they were finally ready to open this spring, the city was locked down.
But they decided they'd waited long enough. The longtime restaurateurs, first-generation Greek brothers and friends, come from a restaurant dynasty that includes the Landmark Diner and Big View Diner. They had always planned to target the grab-and-go crowd in this youth-driven neighborhood, and in this season of the Great American Takeout, they knew their concept would work. At press time, Ilios Crafted Greek had entered Phase 2 of the state's reopening with limited dine-in service, but the bulk of their orders were carry-out. When they open at normal capacity, the dining room will accommodate about 40, and the patio will seat 15 to 20.
Expect a few signature items from Ilios Noche, like the spinach and feta pie ($11.95) and falafel plate ($11.45), but in a fast-casual setting: Order at the counter (or online) and build your dish. Start with your choice of roasted chicken, lamb, or pork, and customize a salad, sandwich, or entrée plate. Behind the counter, you'll see a 60-inch horizontal flat rotisserie grill, a "souvla," where meat cooks on a long skewer over charcoal.
Pita sandwiches like the lamb gyro ($8.95) and pork souvlaki ($8.45) come in three styles: traditional (with tomatoes, red onions, and tzatziki spread), Ilios-style (with greens, pickled radish and onions, and red pepper feta spread), or in a wrap with fries (for an additional 75 cents). Craft your salad ($7.95) and add on a protein (chicken, pork, and falafel $3.95; gyro $4.45), or feast on an entrée plate like the Greek chicken rotisserie ($12.95), which comes with two sides. Side dishes like chickpea salad, Aegean slaw, and zucchini fritters rotate throughout the year.
If you have a crowd at home, try the family meal ($26.95), which feeds four to six people and includes two sides and a salad. The limited menu also includes baklava ($3.75); the regular dessert menu will have loukoumades—fried doughnut holes tossed with honey and walnuts and made to order. (Rumor has it they'll unroll frozen yogurt baklava sundaes as well.)
Look for a rotation of local brews from Sycamore Brewing, Unknown Brewing, and Wooden Robot, or sip on Greek soda ($2.50), Kombucha ($5), or fountain drinks and tea ($2.75). It's an easy, accessible spot to pick up lunch or have a casual weeknight dinner. Come as you are, enjoy some souvlaki on the patio, or grab some falafel to go. Just don't forget the baklava.
---
Don't leave without trying: The lamb gyro ($8.95), Ilios-style, with plenty of red pepper feta spread.
Ilios Crafted Greek
1514 S. Church St.
980-237-1949