Fresh Take: Osteria LuCa on Park Road
Charlotte's infatuation with Italian food reaches popular shopping center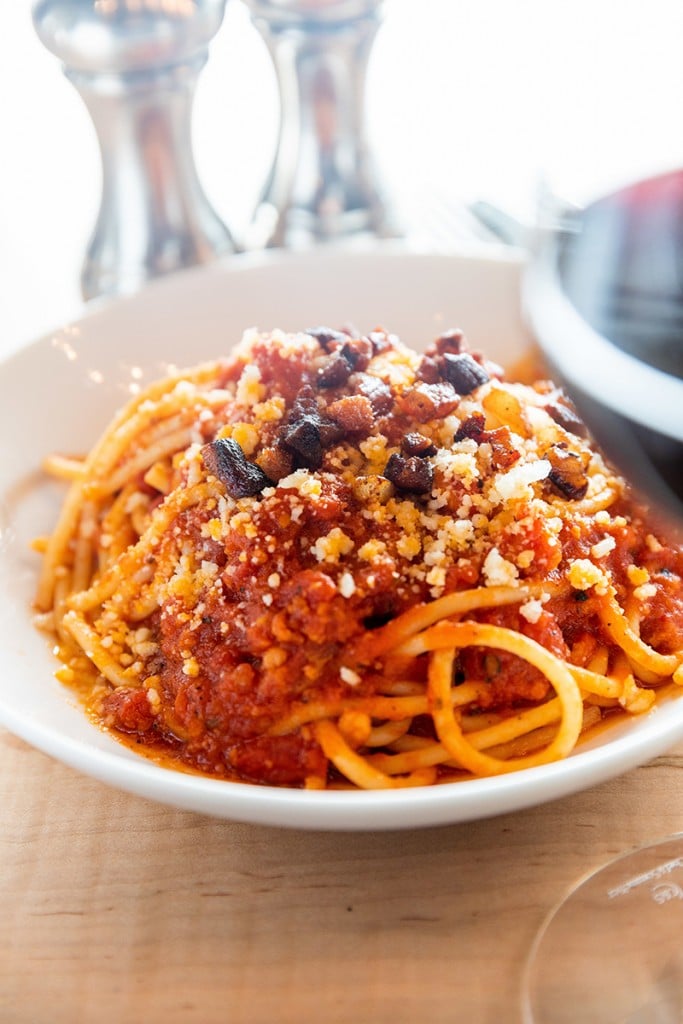 The team behind TRUE Crafted Pizza added another name to Charlotte's growing roster of Italian eateries in 2020. Osteria LuCa opened in January in the space previously occupied by Charlotte Café, and there's still a wait for a table after 6 p.m. most nights, which proves we're a city willing to stand in line for really good wood-fired pizza.
Co-owners and spouses Tricia and Ken Martino transformed the spot, once marked by black-and-white checkerboard flooring and tattered leather booths, into a modern osteria, the Italian word for a local, family-run restaurant. "LuCa" is a nod to their children, Lucas and Caroline.
The renovated space has an exposed brick wall behind the bar, a wall-to-wall wine display, industrial lighting, and artwork for sale from Anne Neilson Fine Art Gallery. The dining room has sleek wood-plank tables, booths with banquette seating along the walls, and, in the back, an eight-seat pizza bar from which guests can see into the oven.
Brendan Treyball, executive chef at TRUE Crafted Pizza, developed the menu with Chris McDade, who owns Popina, a popular Italian restaurant in Brooklyn. Osteria LuCa's wood-fired pizzas are the main attraction—rightly so—but if you come with a group, order a few other dishes to get the full experience.
Start with a hot appetizer like the TRUE meatballs with marinara sauce ($14) and ask for plenty of grilled bread for dipping. If you've come for the pizza, the classic cheese ($12) gets everything right, with crispy edges, bubbling cheese, and smoky flavor. For something a little more complex, try the Prosciutto di Parma ($15) with arugula, shaved Parmesan, fig spread, and balsamic glaze. The pasta offerings are solid and predictable, with Italian standards like Pappardelle Bolognese ($19) and Bucatini Amatriciana ($16). But the portions aren't enormous, so you might not want to share.
If you save room for dessert, order the Bread Pudding ($10) with bourbon caramel sauce. Osteria LuCa rotates seasonal desserts throughout the year, but the bread pudding has been such a hit, it's earned a permanent spot on the menu.
Osteria LuCa is casual enough to bring your kids on a weeknight but fancy enough to celebrate a birthday or anniversary. While Charlotte certainly doesn't lack Italian restaurants, Park Road Shopping Center did. So the Martinos landed in the right place.
Taylor Bowler is lifestyle editor of this magazine.