Fresh Take: RH Rooftop Restaurant in SouthPark
It woos design fanatics with fine dining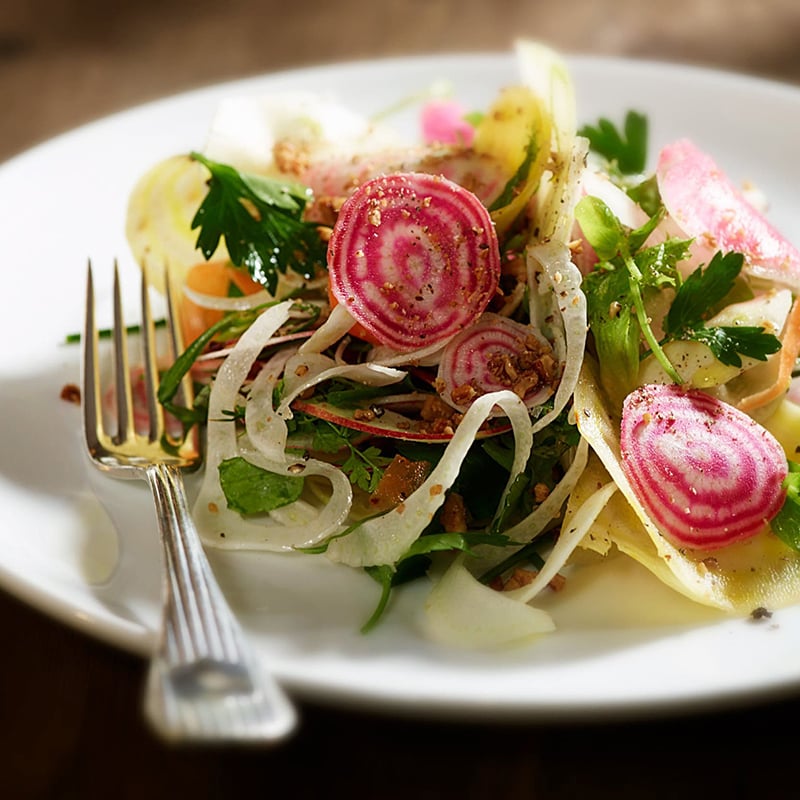 When RH Charlotte, the furniture store formerly known as Restoration Hardware, opened in SouthPark in June, Charlotte joined New York, Chicago, West Palm Beach, Florida, and six other cities with a super-sized RH design gallery and rooftop restaurant. The company operates 68 galleries and 38 outlets in the U.S. and Canada, but the design gallery concept is bigger, grander, and more upscale than the other stores. It might seem hard to believe that you can eat a great meal atop 50,000 square feet of home furnishings, but that's exactly what this is. Dining at RH Rooftop Restaurant is people-watching for design junkies, with crystal chandeliers, manicured hedges, and elegant banquette seating to accompany your meal.
It's best to arrive a few minutes prior to your reservation (which we recommend) so you have time to peruse two levels of designer sofas, accent chairs, and lighting before you ascend the grand double floating staircase to the rooftop restaurant. The year-round, skylit garden is open for brunch and dinner—as of this writing, at 50-percent capacity in compliance with COVID-19 restrictions.
The dining room offers retractable glass walls, Japanese boxwood hedging, and a fountain in the center. But the menu isn't overwhelming or full of words you can't pronounce. Expect standard American fare, with starters like shrimp cocktail ($23) and crispy artichokes ($19). This menu is sophisticated enough for a seasoned foodie but straightforward enough for a fifth-grader's palate.
The lineup of entrées includes a lobster roll ($28), ribeye steak ($46), and broiled salmon ($30). Each entrée is served a la carte, so if you want a side of French fries with garlic aioli ($8) or simple green salad ($8), you have to order those separately. The RH burger ($18) is everything a burger should be when it's served over a marble tabletop—two patties, sharp American cheese, pickles, onion, and Dijonnaise artfully arranged on a brioche bun. The $6 pork belly bacon upgrade makes it a $24 ($24!) burger, so you'll want to savor it.
If you're craving something with a little more pizzazz, try the shaved ribeye on charred garlic bread ($22) topped with Swiss cheese and cherry peppers. Think of it as a dressed-up cheesesteak with a silver gravy boat full of au jus. And because this is the kind of place where you come to splurge, order the truffled fries ($16) for the table. You won't regret it.
RH Rooftop Restaurant doesn't serve cocktails, but it's a California-based company, so you can count on a long list of wines available by the glass or bottle. There's a limited dessert menu, too, with three flavors of ice cream and one sorbet ($5) from Golden Cow Creamery and warm chocolate chip cookies ($9). And if you came just for an adult beverage and want something to nibble with your vino, order the artisanal prosciutto board ($21) with seasonal fruit and a warm baguette. Then sip slowly, take in your surroundings, and try to ignore the bill when it arrives. Remember, you came here to splurge.
When you're done, head downstairs for another look at that $3,000 leather chaise you admired on the way in. You have to admit it pairs really well with a glass of wine.
Don't leave without trying: The truffled fries ($16). Topped with black truffles, parmigiano-reggiano, and truffle aioli, they just taste extravagant.
---
The Gallery at Phillips Place
6903 Phillips Place Ct.
704-790-4970
Monday-Saturday: 11 a.m. to 7 p.m.
Sunday: 11 a.m. to 6 p.m.