Fresh Take: Southern Pecan Brings Gulf Coast Flavors to SouthPark
The story behind the spot—and what to order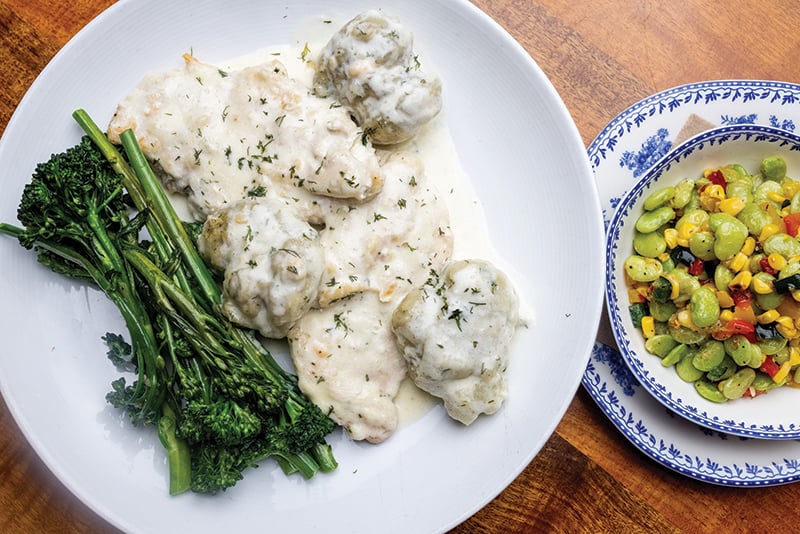 Southern Pecan's Gulf Coast-inspired cuisine is a nod to owner Monte Smith's Galveston roots, and it's a specific type of southern. You won't find fried chicken, grits, hush puppies, or beignets. This menu is heavy on shrimp, catfish, oysters, and rice. It's cornmeal-crusted, not deep-fried. You order corn soufflé instead of cornbread and flatbread instead of biscuits. It's Texas-meets-Louisiana packaged for an upscale SouthPark customer.
Smith, who also owns Café Monte and is a former general manager of The Palm in SouthPark, opened his latest venture in the former Wolfgang Puck Kitchen + Bar space in October. Diners accustomed to Wolfgang Puck will notice that Smith made mostly cosmetic changes to the interior. The booths, with their teal velvet bench cushions, are now separated by glass partitions. In the center of the room, orange leather barstools line Wolfgang's original hexagonal wood bar, over which flatscreen TVs still hover. Oversized canvas pendant lights hang from the ceiling; on the walls, portraits of jazz and blues legends like Muddy Waters, Ray Charles, and Willie Nelson give the space some swagger.
The drink menu has bottled beer and local brews like Juicy Jay, Captain Jack Pilsner, and Triple C Baby Maker Double IPA. Order wine by the bottle or glass, or try a Gulf Coast-inspired cocktail like the Lonestar ($13) or Hurricane Connie CAT-5 ($14).
Start with Louisiana BBQ Shrimp ($14.95), and use the toasty bread to grab as much of the New Orleans BBQ au jus as you can. If you like corn soufflé—and you will after you try it here—you can order it as a side with your entrée or get the Roasted Corn Cakes ($7.95) from the shareables menu. It's a bigger plate of the sweet soufflé topped with a savory heap of pulled pork and green chili creme, and it's enough for a light lunch or an appetizer for two.
From the fryer, there's Gulf Oysters ($18), Jumbo Shrimp ($16.50), or Catfish Nuggets ($15.50) served with your choice of a side and sauce. Sides, which you can also order à la carte for $6.95, include red beans and rice, baked mac and cheese, and scalloped potatoes. For sauces, you have remoulade, tartar, Creole honey mustard, and a handful of others. (Ask your server to bring a few if you can't decide.)
If you stop in for lunch, try a Po' Boy ($14.95) with fried shrimp, oysters, catfish, or New Orleans BBQ shrimp. For a hearty dinner, there's Chicken and Dumplings ($16.95) and a Southern Pecan Shrimp Boil ($18.95), which comes in a spicy shrimp au jus, so ask for plenty of toasty bread for dipping. The dessert menu changes regularly, but look for a rotation of sweet potato cheesecake, chocolate chess pie, and key lime pie.
A meal at Southern Pecan doesn't transport you to the Gulf Coast the way Leah & Louise sends you to a Memphis juke joint, and it's not a family-run place steeped in history like Price's Chicken Coop. You won't see bowls of empty clamshells on the tables or leave with the smell of Old Bay seasoning on your fingers. It's just solid, reliable seafood with some southern flair to enjoy after a day of shopping or a Saturday matinee.
---
Don't leave without trying: The Roasted Corn Cakes ($7.95) topped with pulled pork and green chili creme.
Southern Pecan
6705 Phillips Place Ct., Ste. C
704-749-2949
Hours: 11 a.m.–11 p.m. daily
TAYLOR BOWLER is lifestyle editor of this magazine.