Fresh Take: The Goodyear House in NoDa
Chef Chris Coleman promises a good time—and a really good meal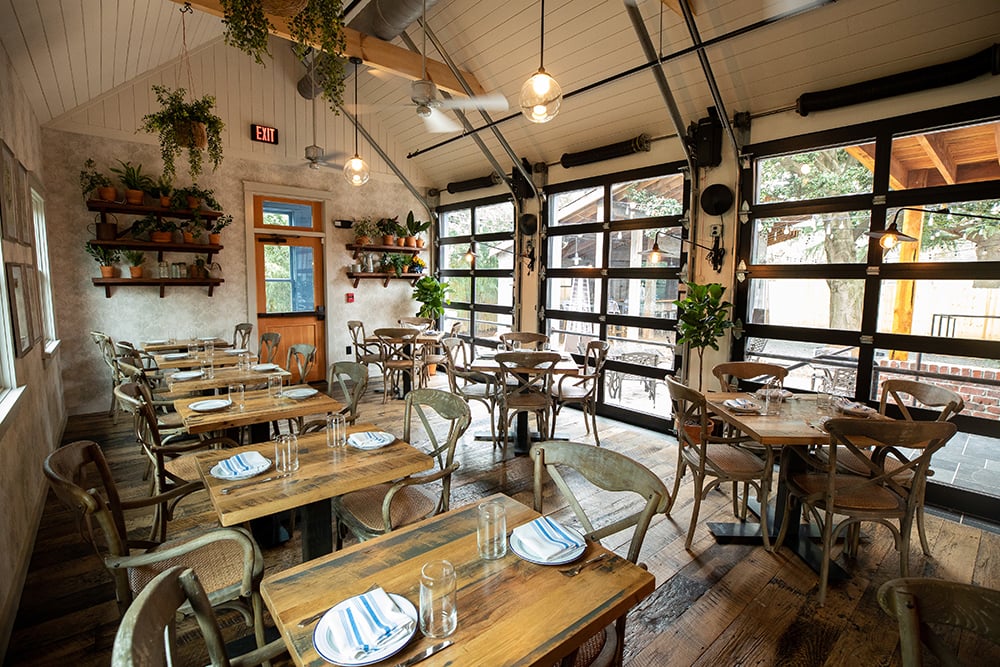 The Goodyear House in NoDa teased its February opening for months—and it was worth the wait. The historic mill house, under construction for more than a year, stretches into multiple dining rooms modeled on different eras. It's a nod to the early 1900s, when a family would add a new room to the home after a successful year.
On a warm evening, grab a table in the botanist room, which brims with green potted plants and framed floral prints. Its glass garage doors open to a patio with string lights and an outdoor bar that serves drafts, bottles, and cans. Inside, another bar serves cocktails like the Highland Park Mill ($12) and Caldwell Street ($11), named for well-known spots in the neighborhood.
Leading the kitchen is Chris Coleman, former executive chef at Stoke and recent Chopped winner. Each meal starts with complimentary pull-apart sour cream and onion brioche with honey butter, which might last five minutes at a table of four. (You can order another for $4.) The dinner menu has a "Bites" section with shareable snacks like marinated East Coast shrimp ($9), served with mignonette butter on a saltine cracker. In the "Smalls" section, plates include smoked cashew mac and cheese ($8), a dish you'd never guess is vegan, and pork schnitzel ($16) with apple mustard, apples, arugula, and cheddar. The "Biggies" section has grilled mountain trout ($28 for half fish, $50 for a whole) and a prime rib dinner ($32 for 8 oz., $64 for 16 oz., and $90 for 24 oz.).
The menu demonstrates Coleman's talent for taking simple, straightforward ingredients and creating complex yet familiar flavors. His lemon chess pie ($5), a combination of eggs, butter, sugar, and lemon juice, does exactly that. And if you were a fan of his legendary one-pound doughnut at Stoke, the apple fritter doughnut ($5) drizzled with sour cream glaze is another culinary triumph. You won't need eight friends to help you with this dessert, but if you can't finish it in one sitting, take the rest home and eat it for breakfast.
Don't leave without trying: BBQ pork skins ($5) on the bar snacks menu. Each bite-sized skin is filled with a dollop of French onion dip.