Fresh Take: The World on Your Plate at Mariposa
It gathers dishes from around the globe and serves them under the lights of uptown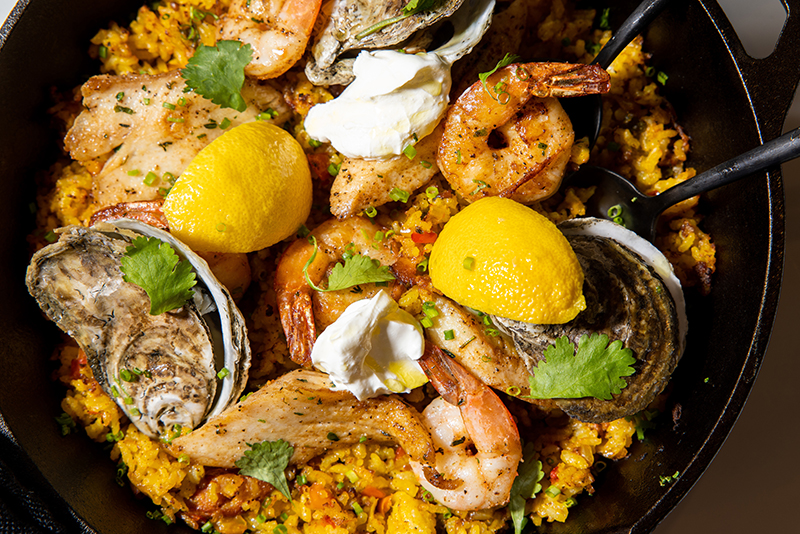 You're walking down Tryon Street as the sun sets over uptown. The office buildings and high-rises, which look like cement blocks by day, light up, and their windows twinkle like Christmas lights. At the top of the Mint Museum's grand staircase is a new restaurant everyone's buzzing about, and you've snagged a coveted reservation.
Mariposa—Spanish for "butterfly"—opened in October, and it's one of those places that makes you want to don high heels or a button-down shirt and have a proper date night. It replaces Halcyon, the farm-to-table restaurant that closed in December 2020, and got a sexy makeover with prism chandeliers, velvet couches, and murals by local artist Owl. The team behind Mother Earth Group, which also owned Halcyon, created a menu to match their new theme. They call it a "multicultural culinaria," inspired by founder Jill Marcus' travels around the globe.
Brad Grubb is the master maître d' and a level 3 sommelier, and he says his goal is for you to try something new. If you normally order prosecco, try the Aix en Provence cocktail ($16) with gin, lavender syrup, and sparkling white wine. If you prefer wine, allow Grubb to recommend a Spanish Txakoli or Grecian Assyrtiko. Their namesake wine, Mariposa, is a Chilean red blend and a nice alternative if you like a robust cabernet in winter.
Executive Chef Jonathan Moore, who also led the kitchen at Halcyon, traded "farm-to-table" for "world-to-table." The menu begins with "small shareables." Try the Crispy Hot Chicken Skins ($10) for some Southern flavor, the Ceviche Aguachile ($13) for a Peruvian kick, and the Lamb Belly Bulgogi Lettuce Wraps ($16) for a taste of Korea. A party of four with a hearty appetite can start with three or four shareables and have plenty of room for two larger plates.
The "large shareables" include Chipotle-Crusted Short Ribs ($38), so tender you don't need a knife, and Piri Piri Chicken ($18), marinated in a tangy cilantro-lime sauce. If you order only one large plate, though, get the Gullah Paella ($35), a heaping skillet of crisped Carolina gold rice pilaf, andouille and chorizo sausages, Gulf shrimp, oysters, soffritto, and saffron. And if you find your order was too ambitious, bring the rest home for an encore meal tomorrow, because you'll regret it if you miss dessert.
Pastry Chef Sam Carrasquero-Chappelle developed a "sweet conversations" lineup of shareable confections. The Coconut Semifreddo ($8), a kind of frozen mousse, tastes like a tropical vacation, with chocolate coconut, tamarind, mango, and dulce de leche. The Manjari Torte ($8) looks like an edible present: a perfect cylinder of pistachio cake wrapped in a layer of Manjari chocolate, topped with namelaka cream and whipped mascarpone, and garnished with raspberries, mint leaves, and edible flowers. It's the kind of decadent dessert you order on your birthday and dream about for the rest of the year.
Your meal is winding down, but you're not ready for the evening to end. So you order another glass of Mariposa and pretend you have nowhere to be in the morning. That's the thing about restaurants like this. They invite you to shake off the day, settle in on a velvet couch, gaze out the floor-to-ceiling windows, and take in the glittering skyline.
---
Don't leave without trying: The Gullah Paella ($35) with crisped Carolina gold rice pilaf, andouille and chorizo sausages, Gulf shrimp, oysters, soffritto, and saffron.
Mariposa
500 S. Tryon St.
Hours:
5-10 p.m., Tuesday-Saturday