Freshly Minted
A guide to the Mint's grand opening event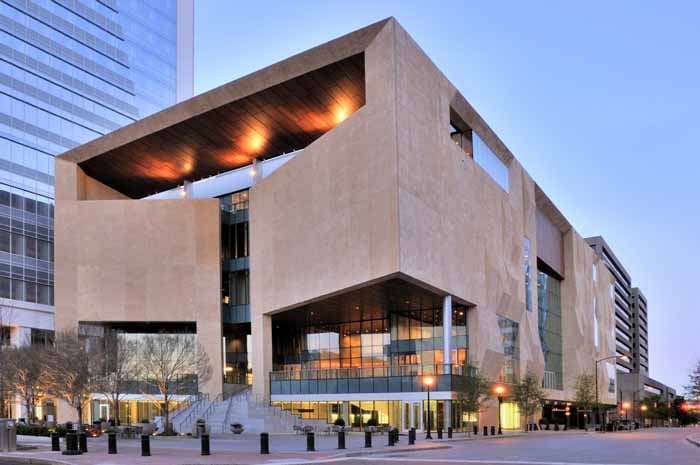 Smell that? That's the Minty-fresh aroma of Charlotte's brand new, squeaky clean, state-of-the-art museum opening its doors for the first time. The buzz you've heard is true: the new Mint Museum Uptown (cutting its ribbon at 5 p.m. this afternoon) is hosting a 24-hour community event to celebrate. Of course, you'll want to see museum's new exhibitions, Contemporary British Studio Ceramics: The Grainer Collections and New Visions: Contemporary Masterworks from the Bank of America Collection, but this is a party, after all, and there's going to be a lot going on both inside and outside the gorgeous new facility. We've decided to spell out some of the schedule's highlights, from family-friendly activities (i.e., the ones happening during daylight), as well as events for those who like to burn the midnight oil.
For the record, admission to the museum is FREE on Saturday from 2 a.m. to 5:30 p.m., and (though you won't be able to join the festivities) from 1 p.m. to 5 p.m. on Sunday.
Friday
5:00 p.m.: The ribbon-cutting. This is going to be the most important thing a pair of scissors has done in Charlotte in a long time, so don't miss it.
5:30 p.m.: Doors open!
5:30 p.m.-9 p.m.: If you've got little ones in tow who might not be riveted by the British Studio Ceramics exhibit, they're bound to get a kick out of the Entanglement Circus—an aerialist will be performing (artistically) acrobatic stunts in the museum's Morrison Atrium. Also, they'll find Paperhand Puppet Interventions throughout the museum. This is a puppet troupe that creates multidisciplinary sketches for your viewing pleasure.
6 p.m.-9 p.m.: Watch the artistic process in the 2D and 3D studios, as local artists do demos of their work for visitors. In addition, the galleries on the 3rd and 4th floors will have curators answering questions and leading discussions about the new collections.
8 p.m.-10 p.m.: Jazz! The Ocie Davis Trio will mellow the mood outside on the Level 2 Terrace.
10 p.m.-Saturday, 2 a.m.: It wouldn't be an Uptown event without a teensy dose of Epicentre thrown in. Good thing, then, that the Takeover Dance Party is…well…taking over the 5th floor, in the Marc and Matty Silverman Special Events Pavilion. There'll be a DJ, a cash bar, and (wait for it) go-go dancers. And, of course, plenty of groove.
Saturday
12. a.m.-2 a.m.: Pecha Kucha, Vol. 7. If you're not familiar with this extraordinary event, here's the dope: selected speakers get 20 slides, and 20 seconds per slide to make a presentation on a topic of their choice. The event draws some of Charlotte's most creative minds, and you can expect to see and hear everything from performance and visual artists, to designers, to community activists. No matter what the menu, it's bound to spark the kind of discussion crucial at such a major cultural event.
2 a.m. and on: Admission is FREE! No Groupon necessary.
2 a.m.-4 a.m.: Concrete Generation will hold a poetry slam in the new Duke Auditorium; we can't think of a better way to heighten the witching hour hood than with some free verse.
10 a.m.-noon: After listening to another jazz selection from the Calvin Edwards Trio outside, you're definitely going to want to stop in the 2D and 3D galleries for the Artists Respond Demos. Artists from across the region were invited to Charlotte a month ago, and then asked to create a work of art inspired by the new Mint Museum. They'll be completing this open-ended assignment on Saturday, and we're anxious to see the outcome of this open-ended assignment.
10 a.m.-4 p.m.: If you missed it on Friday, here's another chance to catch some of the curators wandering the 3rd and 4th floor galleries. Ask questions, hear about the process, and find out a little more about the new collection.
1 p.m.-3 p.m: As the opening winds down, check out Art Cozart's "Cup Art" demonstration, or take the kids outside for the Plaza Family Band.