Friday's Find: Erin McDermott Jewelry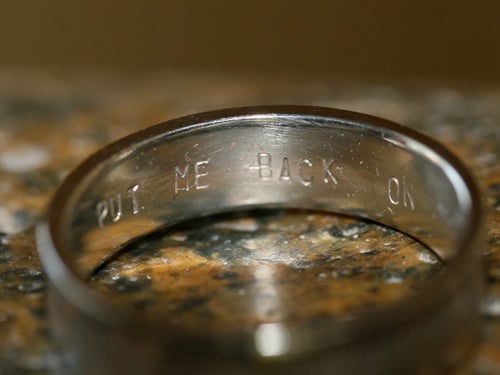 Typically, bridal jewelry is either pearls, bling, or both. I like that Erin McDermott Jewelry is neither. It's modern, fresh, unique, refreshingly affordable, and most of her work is custom-designed for each and every bride.
McDermott hasn't stopped creating since the semester she spent at the Fashion Institute of Technology in New York City (she attended the University of Virginia) to learn the art of jewelry making.
Her materials of choice: a mix of semi-precious stones like freshwater pearls, amazonite, quartz, turquoise, and coral with sterling silver and 14k gold. Hand-blown glass, leather ,and organic elements are also favorites. (I'm in love with a turquoise and leather style I saw in her studio.) Frequent trips to NYC to source materials keeps her SouthPark studio stocked.
McDermott, who's tying the knot herself this weekend in Charlottesville, Va., most recently put her talents and inspiration to work when she designed her fiance's wedding band (pictured above) with the help of Charlottesville jeweler Jason McLeod. "I'm glad that Bryan will finally have some Erin McDermott jewelry to wear around his finger everyday," she says. "As for what I had inscribed inside the band ["Put me back on"], I just thought it would always be a good reminder." (I think it's genius!)
Erin McDermott bridal jewelry ranges from $30 to $100 and she's always happy to work with brides to create custom looks for their wedding day, bridesmaid jewelry, and bridesmaid gifts. See more of her designs at erinmcdermott.com.