Fried Chicken Friday: A Recipe from Kindred & Poole's Diner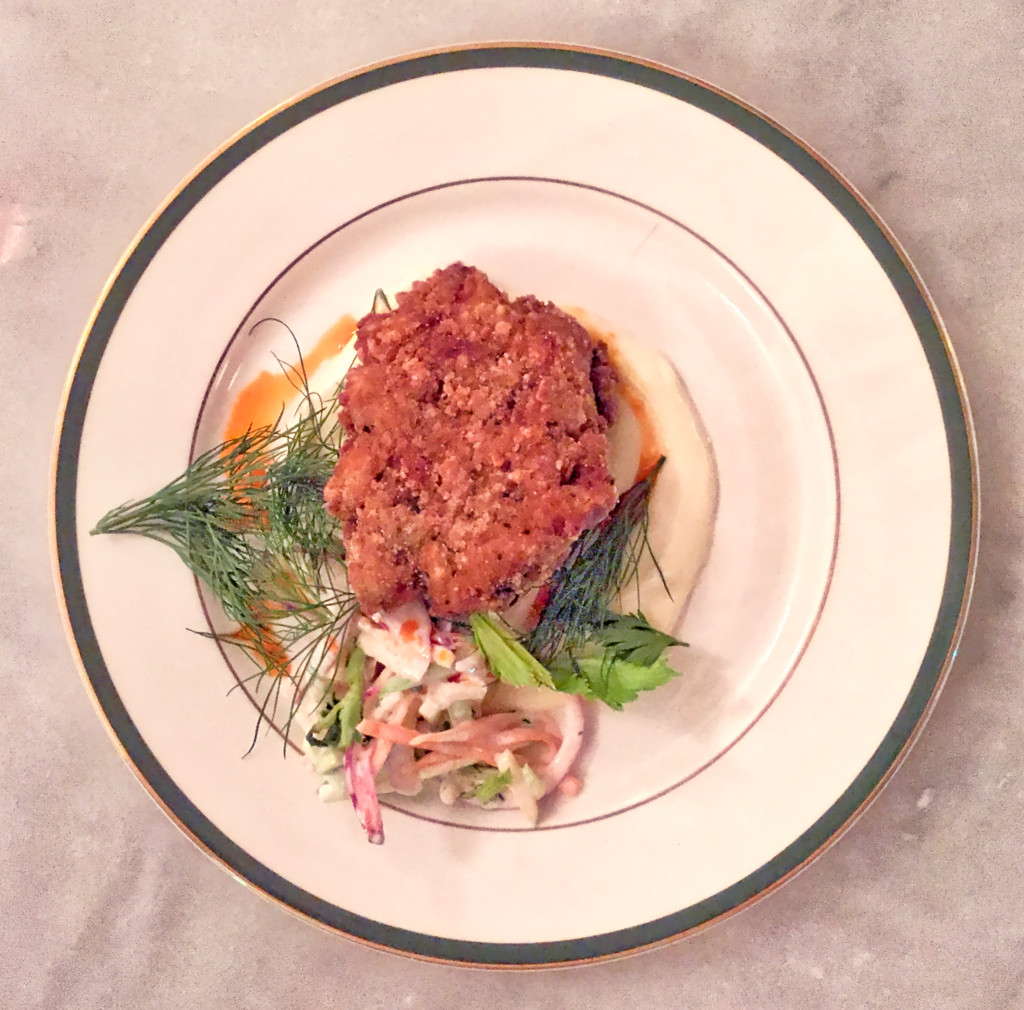 Special dinners like the one that Kindred restaurant hosted for Chef Ashley Christensen's book launch are full of memorable dishes. After enjoying a meal like that, it's fun to compare notes with other guests at the table to see what was everyone's favorite.
It's also fun to trade notes with yourself over time. Sometimes the dish I favored most the night of the dinner slips in the rankings the next morning. A couple weeks or even months later, the memory might call an entirely different dish to the fore.
Sometimes, though, the one that was your favorite that night stays your favorite. Such is the case with the chicken schnitzel dish served at Kindred that night in late September. Inspired by Chef Christensen's fried chicken recipe in her new cookbook, Poole's Diner, its breading was crunchy, savory, and flecked with black pepper. An apple and kohlrabi slaw made it only better, and hiding underneath was a simple but devastatingly good whipped buttermilk, lighter and tangier than any mashed potato—a more obvious choice—could ever be.
Lots of people enjoyed this dish, but favored one of the others: the scallops with whipped tahini, or the creamy rigatoni dotted with pomegranate. Perhaps it was the combination of all those flavors and textures on the plate. Perhaps it was because it rained that night, and I was so very ready for fall and for cozy fare. Or maybe it's because I'm sentimental about schnitzel, a dish that I grew to love during my childhood but can't find just anywhere in Charlotte. It may have just been the combination of crispy breading with that soft, whipped buttermilk.
Whatever it was, it led me to ask Chef Joe Kindred whether he'd share the recipe for the breading, which you'll find below. I learned that dried mushrooms are part of the secret; they add a noticeable depth of flavor. I also learned another little secret: the restaurant staff uses 'SP' as secret lingo for a VIP or special customer. Over time, says Kindred, it has evolved into sayings things like, "make that SP." So here you go: fried chicken especially designed for VIPs.
'SP' FRIED CHICKEN BREADING
Makes about 5 cups
2 pounds button mushrooms, sliced
1 1/2 cups panko bread crumbs
1 cup rice flour
1/2 cup potato starch
1 cup corn starch
1 cup all-purpose flour
1/2 cup mushroom powder (see instructions below)
For breading the chicken
4 cups buttermilk
4 cups all-purpose flour
10–12 boneless, skinless chicken thighs
Salt and coarsely ground black pepper
To make the mushroom powder, take about 2 pounds of sliced button mushrooms and place them in a single layer in an oven that is on as low as it can go. Leave the oven on for 1 hour then turn off (if you leave the oven on for too long it will cook the mushrooms, not dry them). Leave the mushrooms in the oven over night to allow them to dry out completely. You are looking for them to be fully dehydrated; you should be able to snap them in half.
When they are fully dry, place them into a food processor and buzz until all the large pieces are gone. Transfer the mushrooms into a spice grinder (a coffee grinder will work as long as it has been wiped out). Buzz the mushrooms until they are powdered. Save until use.
In a food processor, take the panko crumbs and buzz until it is half the original size. In a large dry mixing bowl, mix together the rice flour, potato starch, corn starch, panko, all-purpose flour (1 cup), and mushroom powder until thoroughly combined.
To bread the chicken, take three containers and place regular flour in one, buttermilk in another, and the special mixture in the last one. Take your chicken and place it in the plain flour, toss it around, and shake off the excess.
Dip the floured chicken into the buttermilk. Pull it out and drain off the excess. Place the chicken in the final breading mixture. Make sure to use a little force when breading the chicken to help adhere the breading to the meat.
We suggest breading your chicken at least 1 hour ahead of time to allow the flours to hydrate. This will cause a better crust to form when fried. This can be held up to four hours in the refrigerator. Fry as you normally would, then season with salt and coarsely-ground black pepper before serving.