Friend of a Friend: Project Life
About 23 million people are on the bone marrow donor registry. But to those who can't find a match, that's not enough. Now, some of Charlotte's most influential people are rallying around one of their own to build the list of a lifetime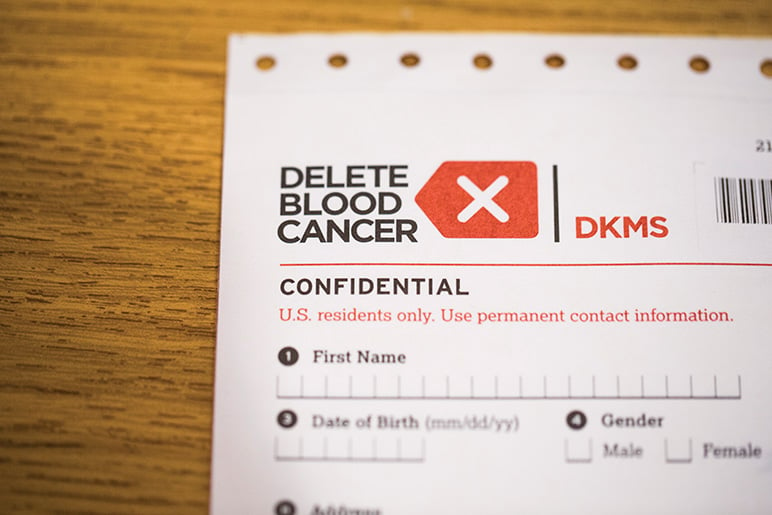 Steve and Vicki Luquire brought their adult children to the doctor's appointment because they wanted to hear the news together. They sat in the sterile room with fluorescent lights and listened to 11 life-altering words.
"Well, I can tell you it's not cancer," the doctor said. "But it's serious."
Steve swallowed hard.
A few nights earlier, the Luquires were part of an exclusive group of people invited to a dinner party to celebrate the 2013 Wells Fargo Championship. They sat at a table with broadcasters from CBS. The next morning, Vicki woke up and complained that the lymph glands in her neck were swollen. The swelling was uncomfortable, and she decided to skip the final round of the tournament.
It had been just weeks since Vicki became violently ill and spent several days in the hospital in March. At that time, doctors thought her white blood cell count was dangerously low, weakening her immune system. But the count rebounded and the doctors sent Vicki on her way.
Her symptoms the week of the golf tournament worried Steve. He picked up the phone and called a friend who's a doctor.
"I think it's time to do a bone marrow biopsy," the friend said.
By the end of that week, the Luquires were sitting in those chairs and hearing the words "myelodysplastic syndrome" for the first time, listening to a doctor explain that it's a kind of bone marrow disorder in which the body doesn't produce enough healthy red blood cells, white blood cells, or platelets. The doctor told them that it's the illness Good Morning America anchor Robin Roberts had a bone marrow transplant to treat.
"We were there for probably two hours," Steve recalls, "but the only thing I remember is, 'If you do nothing, you have 12-18 months to live.' That sticks with you."
Vicki wrote two words on her calendar for that day: Bad news.
The Luquires immediately made a two-step list in their heads. Step Two: Vicki needed a bone marrow transplant in October at Duke University Medical Center. Step One: She needed a donor.
***
Steve Luquire is a powerful man in Charlotte. He started his ad agency, Luquire George Andrews, in 1984, and his fourth floor corner office reflects a life's work of building relationships in the city. There are pictures with Jerry Richardson, Hugh McColl, and Harvey Gantt—men who, quite literally, built the city we know today. The walls are covered in sports memorabilia, including a banner from when the city hosted the 1994 Final Four and a framed set of tickets from the Carolina Panthers' Super Bowl season a decade later.
His network is one of Charlotte's deepest and strongest. If you need to reach a decision-maker, chances are Luquire can find the person's number, and he probably knows the person.
He didn't need to dig deep into his contacts to find a bone marrow match for his wife. Vicki's brother, Chris, was a perfect match. A sibling is the best kind of bone marrow donor, doctors told the Luquires, so there was no need for them to have to deal with the trouble of tapping into the national bone marrow donor registry. She had a match.
But while Steve and Vicki waited to make sure Chris was the right fit, one of Luquire's professional contacts told him about a small Charlotte nonprofit called Project Life. The charity, which began as a grassroots, student-organized program at Davidson College, works to get college students on the national registry.
The ad man immediately saw its potential—the opportunity to build names and save a life—and he also saw how much help the project needed.
"I quickly figured out, boy, they don't have much to work with," Luquire says. "Maybe they don't really know how to best tell their story."
While his wife had her brother's bone marrow transplanted into her, Luquire began to turn his attention to Project Life, marshaling his sizeable network of friends and business contacts to support the organization. At its basic level, Project Life is about making a long list longer, and Luquire knows a thing or two about that.
***
We all make lists. Groceries. Errands to run. Emails to return. We have contact lists in our phones. We make lists of life goals. A list, at its core, exists because of its parts. They fall in a sequence, one above the next. We strike though some items to feel accomplished; other times, making it onto a list is cause for celebration.
In the winter of 1998, David Lindsay was gearing up for the first basketball game of his senior year at West Charlotte High School. The Lions—one of the best teams in North Carolina—would face East Mecklenburg. Lindsay wasn't a star player, and he was low enough on the roster that his playing time was minimal. But he still had hopes of catching on and playing in college somewhere the following year.
Before the opening game, Lindsay drove to his pediatrician's office in Eastover, his No. 23 jersey in the back seat. Lindsay felt fatigued during preseason practices, and his doctor had written him a prescription for medication to boost his iron levels. When Lindsay walked into the waiting room, his face was ashen.
The doctor wanted to run a few tests.
"Anytime the doctor wants to do more than give you a couple pills, it makes me nervous," Lindsay remembers.
Lindsay grew nervous when the doctor said he needed to go straight to Presbyterian Hospital for more tests. Eventually, Lindsay learned he had acute leukemia. He was 18 years old.
"At that time, I still had hopes of walking on at Chapel Hill or Davidson," says Lindsay, now 43 with a scruffy, rust-colored beard and black framed glasses. "But that was the end of it. It was a scary, scary time."
Lindsay underwent chemotherapy, and his cancer went into remission. He was accepted at Davidson and began his freshman year; his roommate was a fellow West Charlotte graduate named Anthony Foxx, who said he liked politics. Foxx and Lindsay played pickup basketball together as Lindsay started to get in shape to try out for a walk-on spot with the Wildcats. But after a routine blood test, his hoops dreams were cut short.
The cancer was back. And this time, doctors told Lindsay, he needed a bone marrow transplant. His doctors found a perfect match—what Lindsay calls the medical jackpot—in his sister, just seven years old at the time. Lindsay received his sister's marrow on February 28, 1990.
"In bone marrow years, I'm 24," he says. "I prefer that birthday."
While recovering at a transplant hospital in Minneapolis, Lindsay met dozens of people with cancer waiting for bone marrow transplants. The national marrow registry was only three years old at the time, and there weren't many names on the list.
"As an idealistic 19-year-old, [I thought,] 'That just doesn't make sense.' "
When Lindsay returned to Davidson, he and his classmates arranged the first Project Life marrow drive during the spring semester of 1990.
For the next two decades, as Lindsay became an ordained Presbyterian minister and started his own family, Davidson students and administrators kept the drives going. The scope of Project Life's impact wasn't clear until supporters gathered in 2010 for a celebration of the registration drive's 20th year. By then, Davidson students had registered thousands of potential donors—and created nearly 50 matches. Why, Lindsay wondered, hadn't they thought to expand Project Life's reach to other universities?
"We can save so many more lives if we plant chapters all over the country," Lindsay said.
He decided to focus his energy toward making Project Life a true nonprofit—raising money, establishing a board of directors, and becoming executive director.
"Why are we not trying to franchise this like McDonald's?"
***
Bone marrow transplants can treat or cure more than 70 diseases—what doctors call hematologic malignancies—including leukemia, sickle cell anemia, and lymphoma. Despite that fact, there are fewer than 23 million registered bone marrow donors worldwide. By contrast, more than 100 million people are registered organ donors in the U.S. alone.
In many cases, the best option for a marrow donor is a patient's sibling. But if a brother or sister doesn't match or isn't in good health, the next best option is a young person who's a qualified match.
"The way we type people has gotten much better," says Dr. Edward Copelan, who leads the transplant unit at Carolinas HealthCare's Levine Cancer Institute. Unlike the early days of bone marrow transplants, today's technology allows doctors to look more closely at a potential donor's DNA to determine more precisely the degree of match with the recipient.
What was deemed a perfect match in 1990 may be less qualified today. "For a given patient there may not be as many perfect matches because we're down to a much more detailed level. It makes having donors available critical."
Copelan, a nationally recognized leader in transplant medicine, says he wishes he'd come up with Project Life's idea himself.
"Most donors are older, and yet we know that younger donors are the best donors," he says.
But there are challenges with having young donors. Most notably, they don't have any money. Project Life works to underwrite the cost of testing for a student to add a donor sample to the national registry.
"A college student, typically, is not going to be able to stroke a check for 60 or 70 bucks and want to sign up," Lindsay says. "If we can remove the barrier of expense and the barrier of misinformation about donation, we feel like people are going to come running."
The need for donors is especially great among minorities. Patients who are black, Latino, or Asian have a more difficult time finding a perfect match than white recipients. Project Life has made attempts to start chapters at historically black colleges and universities. This spring, more than 200 students registered at Johnson C. Smith University, and roughly 300 signed up at Livingstone College in Salisbury. Lindsay's team also started a partnership with the CIAA basketball tournament, and he says he hopes to create a similar agreement with the Mid-Eastern Athletic Conference this year.
"This generation of young adults," Lindsay says, "when equipped with the information that they can save lives with a couple of cheek swabs, they want to sign up for that."
In even the worst cases a bone marrow transplant can improve a patient's chance of survival from 0 percent to as much as 30 percent. Someone who has a 10 percent chance of survival with chemotherapy may have a 50 percent chance after a transplant.
The transplant process is relatively painless for the donor, and it's often conducted as an outpatient procedure. A matched donor arrives at the hospital in the morning for general anesthesia. Doctors then use needles to remove about a liter of bone marrow from both hips. The removal takes less than an hour. After the anesthesia wears off, the donor can go home.
Only about 10 percent of people still have lingering soreness after two weeks, Copelan says. By that time, the donor's marrow is already transferred to the recipient, helping give rise to a new immune system that can recognize leukemia cells and attack them.
Yet despite their success, and despite the low levels of pain, marrow transplants often come with a stigma.
"People picture a bone being snapped," Lindsay says. "If it weren't keeping people from signing up, it would be funny."
***
College kids are inundated with pleas to support. So for Project Life to succeed, Luquire believes, it needs a young face at the front.
That's why he enlisted Luke Kuechly, the baby-faced 23-year-old Carolina Panthers linebacker and reigning NFL Defensive Player of the Year.
During the spring, Kuechly took part in a photo and video shoot for Project Life. In one shot, Kuechly, wearing a green T-shirt with bold, white lettering that reads "I'M ON THE LIST," holds a cotton swab out to the camera. He's grinning.
"I think people have a preconceived notion that it's painful to get on the registry," Kuechly says. "And it's not."
Although Kuechly has supported his teammates' foundations, Project Life is the first cause he's joined as a true ambassador, lending his face and name to marshal support for the movement. And, on a more personal level, Kuechly now counts himself among the many people on Luquire's extensive contact list, and the two remain in close contact, pushing Project Life.
"When you see his passion for this cause," Kuechly says of Luquire, "it's hard not to want to get involved."
***
In mid-April, Luquire and I go out to lunch at Napa on Providence. We are not far from Carolinas Medical Center, where Vicki is fighting an infection in the intensive care unit. He's talking about how much has changed in a year.
After her diagnosis in May 2013, Vicki started a tough regimen of chemotherapy treatments in Charlotte to prepare for the transplant that October. The Luquires rented a two-bedroom apartment in Durham, seven minutes from the Duke cancer center where Vicki would receive her brother's bone marrow. The hospital requires that recipients stay within a 10-minute drive. The apartment complex caters to hospital patients, so the unit was completely furnished when Steve and Vicki arrived.
"It was almost like being back in college or being newlyweds," Steve tells me.
The week of Vicki's transplant, the Luquires' son, Brooks, got married. Vicki watched the ceremony and reception from her iPad.
They spent 109 days in Durham, each day more or less the same as the previous. Six hours at the hospital for treatment, then back to the apartment. They used FaceTime to talk to their grandsons. Vicki used a spreadsheet to keep track of her overwhelming list of medications—as many as 27 pills a day at one point.
Then, in early 2014, Vicki and Steve came home.
A couple of months later, Steve went out to lunch with one of his old friends, Panthers owner Jerry Richardson, at Belle Acres Golf & Country Club, a members-only social club on South Boulevard that's more pub than power-lunch spot. The place is dimly lit, with exposed brick walls and wooden booths.
Luquire and Richardson have been friends for 20 years, yet Luquire still calls the sports executive "Mr. Richardson." They've met countless times for lunch at Belle Acres, but this was different. Luquire was there to ask Richardson to underwrite Project Life's mission.
Richardson wanted a dollar figure.
"How much?" Richardson asked.
"I can't ask for an amount," Luquire replied.
"Well just tell me," Richardson said.
Luquire danced around the question and backed off for a bit. But Richardson stopped him again: "Just give me a number."
"About $50,000," Luquire said.
"Do you have your phone on you?" Richardson asked. "Call my office."
Luquire pulled out his phone, dialed the number, and passed it to Richardson.
"I'd like you to write a check—Steve what's the name of the organization again?" Richardson said to someone in his office. "Write a check to Project Life for $100,000 and mail it to Steve."
Luquire chokes up when he tells the story.
"Once it became obvious Vicki was going to need a bone marrow transplant everyone—family, friends, business contacts—all asked, 'What can I do?'"
Luquire stops talking and sets down a fork full of salmon. He rubs his arms. His eyes start to water.
"I'm getting chill bumps thinking about it."
Only three days after our lunch, with her immune system weak and unable to fight off the infection, Vicki's yearlong fight ends. She dies at 64 years old. The line at her visitation is four hours long.
***
The week after the Wells Fargo Championship this spring, nearly a year to the day after he first heard the words myelodysplastic syndrome, Steve Luquire is in the corner office of the business he's built. The only thing on a small, round table against the windows is a cardboard box of Project Life envelopes.
It's been 19 days since Vicki died.
"It's been difficult," Luquire says, talking slowly and more quietly than usual. "But it was not for lack of effort."
I ask him if his passion for the project has wavered.
Luquire says he thinks about the statistics. He thinks about those days after Vicki found her match in her brother, and he remembers the gut-punch he felt when he found out the realities of the current limitations of the list.
The doctors said that without a sibling donor, Vicki would have roughly a 30 or 40 percent chance of finding a perfect match. Not a 30 or 40 percent chance of surviving, but a 30 or 40 percent chance of finding a match that would give her the chance to survive.
She at least had a chance.
"I've thought about that question to myself: 'How committed do [I] feel today compared to a year ago?' "
Luquire starts to list the reasons someone should join Project Life, why signing up to be a donor is such a simple thing with the possibility of big returns.
​He leans forward in his seat with the kind of intensity you'd expect in a business meeting. A shift is clearly taking place. He's still the owner of the business he built, and he can still sell and promote sporting events or drywall businesses or vacations with the best of them. But his new purpose is Project Life.
He mentions Kuechly and Richardson and all the others who've already joined to help, and he thinks about all the people who might benefit, and again he thinks about Vicki. And his voice trails off as he asks,
"How could someone not want to be a part of that?"
Adam Rhew is a regular contributor to this magazine. Reach him on Twitter: @AdamRhew, or by email: adam.rhew@gmail.com.