Friends Without Borders
Our most powerful tool to help might be as simple as this: our willingness to be a friend.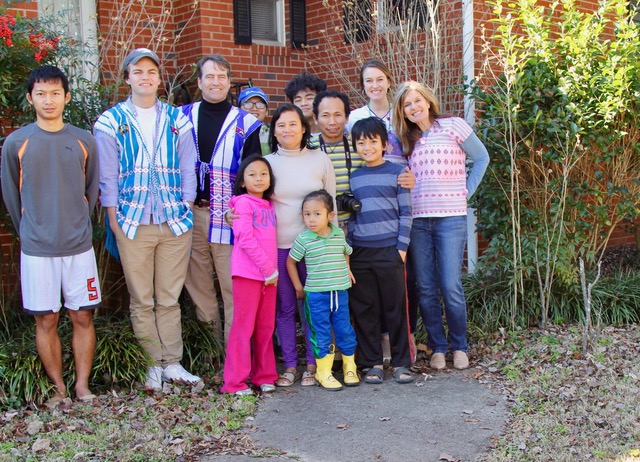 Turning off the news has become a form of self-care. It's overwhelming to watch families flee war zones toward uncertain futures. If you need any excuses to look away, you can borrow some of mine: It's so far away; there's nothing I can do anyway.
But those aren't true, and I know it. 
Recently, I visited the home of Esther Mwanza. We live an eight-minute walk from each other in east Charlotte. We go to the same library, the same grocery stores; we share an annoyance with Independence Boulevard drivers. Until recently, however, we didn't share the same hemisphere. Esther, her four siblings, and her father arrived here as refugees from Lusaka, Zambia, in 2021.
Some of the people we see on the news as they flee war zones and wait in refugee camps are now our neighbors. This year, refugees have arrived here mainly from Ukraine and Afghanistan. Resettlement agencies handle their immediate needs, such as housing and job resources, but they have the same longer-term needs as anyone who's moved to a new country. Newcomers need a friend to call for advice, help with never-ending paperwork, or simply someone to invite for dinner.
Refugee Support Services has turned friendship into activism. Since 2006, it's offered Fruitful Friends, a program that pairs established Charlotteans with their new neighbors. Some participants have been friends for all 17 years. Recently, more than 115 Fruitful Friends came together for a potluck at Reedy Creek Park.
"You don't have to be in the U.N. to make a difference," says Rachel Gorman, Esther's Fruitful Friend. "You can make a difference every weekend by befriending people and welcoming them to the city that you live in and the city you share together."
The premise of Fruitful Friends is simple: Be there for each other. RSS Executive Director Lindsay LaPlante says friends' outings may start with drives around town to point out schools, stores, and libraries. But soon, they become visits to the hospital to celebrate new babies, trips to funerals to grieve together. The big stuff of life, she says.
"In the beginning, some people enter Fruitful Friends like, 'I'm here to volunteer and support others,' but very quickly, it turns into, 'I'm here and we are friends, and I'm learning just as much from you as you are from me,'" Lindsay says. "People become part of each other's families."
The Mwanzas and Gormans have been a great match. Rachel, a physical therapist, can advise Esther, a CPCC student preparing to enter the physical therapy program. Esther's father, who's multilingual, coaches Rachel in French. Rachel taught Esther how to drive in the parking lot of Bojangles Coliseum. Esther's younger siblings invite Rachel's daughters over to ride skateboards and scooters.
"Through this bonding, people learn more about each other beyond the status of a refugee," Esther says. "They see people as who they are, learn the stories of where they come from, and they see that there's so much more than the word 'refugee.'"
The families trade food traditions, too. Esther's family went to Rachel's house in 2021 for their first Thanksgiving—first pumpkin pie, first stuffing. Esther introduced Rachel's family to fufu, a Zambian dish made of cornmeal ("a little thicker than grits," Esther explains).
"Being able to expand our worldview and our friendships beyond our little triangle of home-work-school is absolutely priceless," Rachel says. "That's what life's about, getting to know different people and places and experiences."
Our conversation reminds me that, every day, I pass people who've traveled far to start over here, learn a new language, earn new degrees, and navigate a new culture. Maybe they need a new friend. Maybe I do. It's good to look away from the news sometimes. I get it. But it's far better to look over a table of new friends and eat fufu or pumpkin pie together. We're not so far away. There's something we can do.
As Rachel and Esther sit on the couch and share stories with me, I hear only one point of disagreement: Each believes she's gotten the better end of the friendship. From what I see, they're both right.
JEN TOTA McGIVNEY is a writer in Charlotte.