Friendsgiving, Moonshine Festival, Science on the Rocks, Thanksgiving Bash and More, Nov. 19 to Nov. 22
Enjoy a final weekend before the Thanksgiving holiday descends upon us, Charlotte.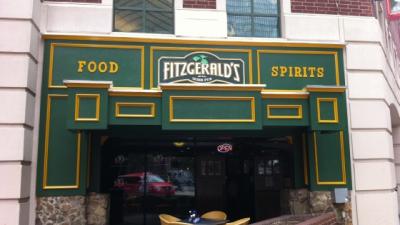 Many of you are headed out of town soon to celebrate Thanksgiving with your families next week, so enjoy one last weekend here in the Queen City with this batch of events. We even have a Thanksgiving-themed bash in which dressing like a Pilgrim is encouraged. You sure you want to leave Charlotte for the holidays? See y'all out there!
Thursday, Nov. 19
Friendsgiving
Passion8 hosts this charity cocktail party tonight to benefit Safe Alliance. The Elizabeth restaurant will have heavy appetizers and cocktail specials to celebrate the evening of giving. The hosts of the event request you bring any one of a number of items to donate. The evening starts at 6. For a list of items to donate, visit here. Passion8 is at 1523 Elizabeth Ave.
Network After Work
If you're looking to make some new connections, this event is the one for you. For less than $17, you'll get access to more than 150 professionals, a free cocktail and appetizers for the first hour. The event is from 6 p.m. until 9 p.m. at Draught, 601 S. Cedar St. Buy tickets or RSVP here.
Friday, Nov. 20
Charlotte Moonshine Festival
We'll be darned if there's anything more Southern going on this weekend in the Queen City than this festival celebrating the darling of Southern liquors. The bootlegging party starts at 7 p.m. at Rooftop 210, 210 E. Trade St., and includes moonshine mixology and sampling. Tickets are $15. Buy them here.
Science on the Rocks
In the monthly adults-only night at this museum, Discovery Place takes you "Back to the Future." This Uptown locale features time travel-themed activities tonight to celebrate the passing of the day Marty McFly went back to the future in the movie, Oct. 21, 2015. Yes, there will be hoverboards. The evening is from 5 p.m. until 9 p.m. at 301 N. Tryon St. Tickets are $8 in advance or $10 at the door. Buy them here.
Friday on Fifth
You get a whole lot tonight for just $5. A ticket gets you free entrance into Fitzgerald's, The Local, Connolly's, Prohibition, SIP, RiRa, Roxbury, Dandelion Market, Tequila House and 5 Church, drink specials at all these bars and restaurants and a ticket to a raffle for a free happy hour. Registration is at Fitzgerald's, 201 E. Fifth St., from 8 p.m. until 11 p.m. Buy tickets here.
Pre-Thanksgiving Bash
Come dressed in your best Pilgrim or turkey attire tonight for the last Friday before Black Friday descends upon us all. There's no cover, but there are $3 Coronas on hand tonight. The party is at Blue Olive Lounge, 14021 Conlan Circle, beginning at 9 p.m.
Saturday, Nov. 21
Oyster and Beer Festival
You should pretty much be aware of what you're getting yourself into with this festival's name. Sycamore Brewing hosts this shellfish and brew party from noon until 4 p.m., and, in addition to the namesakes, it features crab, shrimp wine and cider. Late Nite Special will provide the live music. A ticket to the party gets you a free beer as well. Sycamore Brewing is at 2161 Hawkins St.
A Night in the Garden
Come and enjoy a preview of MiikelleDeFo's 2015 collection while giving back to the Leukemia and Lymphoma Society. The evening, which starts at 6, will feature wine tastings, live music, a silent auction and a fashion show. Ticket prices for the party at The VanLandingham Estate, 2010 The Plaza, are $40. Buy them here.
South End Tree-Lighting Festival
Get a jump on your holiday game with this neighborhood tree-lighting party. Along with the tree lighting, the evening features treats from the Sugar food truck, hot chocolate and cider and holiday performances. The tree lights at 6 p.m. with the festivities continuing after. This free Christmas party is at Atherton Mill, 2140 South Blvd.
Sugar Creek Brewing Company's First Anniversary Party
Sugar Creek Brewing is celebrating its first year of business in the Queen City, and you're invited to the party. The brewery boasts the free event will include good music, good food, good beer and, of course, good fun. Sugar Creek Brewing Company is at 215 Southside Drive.
Carolina Renaissance Festival Final Huzzah
Here's your last chance to check out the annual festival celebrating all things medieval. Bring a canned good and get a free admission for kids aged 5 to 12. Tickets are $24, and the fest is at 16445 Poplar Tent Road in Huntersville. The festival runs Saturday and Sunday from 10 a.m. until 5:30 p.m. For more information, visit here.
Sunday, Nov. 22
Carolina vs. Washington
Our Panthers are now one of only two National Football League teams to remain unbeaten. Our team tries to keep that record alive today as it takes on Washington at 1 p.m. Here are two bars serving up great specials to help you enjoy the game.
WFNZ Doghouse
You'll practically be at the stadium if you're at this bar. Located literally just steps away from the stadium, this is as close as you can get to the game without actually being there.
Tilt on Trade
Enjoy $3 domestic bottles and $4 well drinks today as you watch the Panthers keep pounding as you keep pounding. Tilt on Trade is at 127 W. Trade St.
Verify dates, times, prices, and other info at the web addresses listed for each event.
Be sure to bookmark www.charlottemagazine.com/Blogs/Dusk-Till-Dawn to stay plugged into Charlotte's nightlife and social scene. Click here to sign up to receive the weekly Dusk Till Dawn e-newsletter.
Want your event featured in Dusk Till Dawn? Follow me on Twitter @Jared_misner and let me know about your event, or send me an email at dusktilldawnblog@gmail.com.
Send Jared an email at DuskTillDawnblog@gmail.com, or send him a tweet @Jared_Misner.

Also by Jared Misner:

→This Weekend's Social Events
→Bowling For Books, First Friday Fort Mill, Electric Luau Party, Soulmatic Carolina Music Fest and More, Aug. 6 to Aug. 9
→The Moon Walk, Candy Fest, Silly String Party, Booze Cruise and More, July 30 to Aug. 2
→Christmas in July, More Christmas in July, National Dance Day, National Tequila Day and More, July 23 to July 26